701 South Dellwood Street

Cambridge

,

MN

55008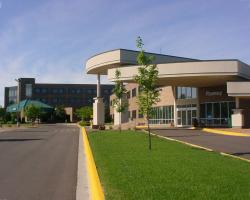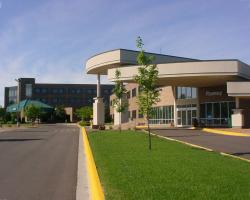 About Us
Cambridge Medical Center is a regional health care facility providing comprehensive health care services to more than 30,000 residents in Isanti County. The medical center is comprised of a large multi-specialty clinic and an 86-bed hospital located on one large campus. A same day clinic, retail pharmacy, and eye care center are also located in the facility.
One of the most unique aspects of the medical center is its size. Although located in the small community of Cambridge (population 5,520), the medical center has over 150,000 clinic patient visits each year, 4,000 inpatient hospital admissions, and has over 100,000 outpatient visits annually. There are more than 65 physicians and providers on staff and 27 consulting physicians providing specialty care such as cardiology, oncology, ENT, and urology, among others. The medical center has more than 900 employees and is the largest employer in the city of Cambridge.
Cambridge Medical Center is a part of Allina Health, a family of hospitals, clinics and care services in Minnesota and western Wisconsin.
As part of Allina Health, we share a common mission and vision.
Our mission
We serve our communities by providing exceptional care, as we prevent illness, restore health and provide comfort to all who entrust us with their care.
Our vision
We will:
put the patient first;
make difference in people's lives by providing exceptional care and service;
create a healing environment where passionate people thrive and excel; and
lead collaborative efforts that solve our community's health care challenges.
The Community
The Rum River meanders through the 7.9 square miles of Cambridge which is also known as The Opportunity Community! We begin with the 135 year old charming and vibrant downtown to a wide variety of many excellent shoppiong areas. Cambridge has great biking, walking, skateboard, recreational fields, playground parks, and even fishing...all within City limits!
Cambridge has approximately 8,100 residents and encompasses special features that set it apart from other communities. The Rum River, a thriving downtown, many city parks, and a Performing Arts Center are just a few highlights.
As a County Seat, Cambridge is a hub for activity that has government offices, a community college, and a multi-specialty full service hospital which services more than 30,000 area residents. A new industrial park offers tax credit incentives to new businesses, and an existing industrial park houses several large corporations providing many job opportunities.
About Allina Health
Allina Health is dedicated to the prevention and treatment of illness and enhancing the greater health of individuals, families and communities throughout Minnesota and western Wisconsin.
A not-for-profit health care system, Allina Health cares for patients from beginning to end-of-life through its:
62 Allina Health clinics
49 rehabilitation locations
23 hospital-based clinics
12 hospitals
15 retail pharmacies
2 ambulatory care centers
specialty medical services, including hospice care, oxygen and home medical equipment and emergency medical transportation