306 Stanaford Road

Beckley

,

WV

25801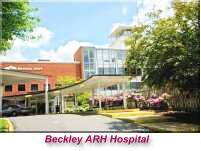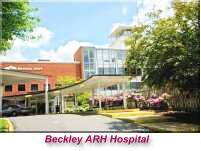 Facility Information
Beckley ARH Hospital is a not-for-profit, 173 bed acute care facility. Comfortably nestled in beautiful mountains and at the crossroads of interstate highways 77 and 64 in Raleigh County, our community is big on nature and dedicated to a strong family atmosphere. Beckley ARH also has a 60 bed Behavioral Science unit, Cath Lab, state of the art Imaging including a fixed MRI and a new Advanced Wound Care Unit.
Appalachian Regional Healthcare (ARH) is a not-for-profit health system serving 350,000 residents across Eastern Kentucky and Southern West Virginia. Operating nine hospitals, multi-specialty physician practices, home health agencies, HomeCare Stores and retail pharmacies, ARH is the largest provider of care and single largest employer in southeastern Kentucky and the third largest private employer in southern West Virginia.
The ARH system employs 4,700 employees and has a network of more than 600 active and courtesy medical staff members representing various specialties. Firmly committed to its mission of improving the health and promoting the well-being of all people in Eastern Kentucky and Southern West Virginia.
If you are a physician seeking a high quality lifestyle and a high quality medical practice, then you have found a home with ARH. We invite you to join the ARH team!

ARH Selected as the 2010 Outstanding Rural Health Organization in the Nation
Friend us on Facebook, Follow us on YouTube
Community Description
Raleigh County is the standard of excellence in Southern West Virginia. The county has six high schools, six junior high schools, two middle schools, and a vocational-techinal center. Mountain State University, along with several cooperative colleges, offers a wide range of studies for those seeking a higher education. For more information visit the Beckley-Raleigh County Chamber of Commerce or Glade Springs.

It is easy to enjoy the outdoors in Raleigh County! Known for its whitewater rafting, sking, and picturesque landscapes, the Beckley area attracts more than 150,000 people each year. Winterplace is a ski resort offering 21 slopes for beginners and experts. Nearby Grandview National Park offers scenic overlooks of New River Canyon and lots of recreational activities. There's no doubt about it opportunities for fishing, hiking, rafting, boating, biking, golfing and winter sking are abundant. Tamarack, a new cultural center, offers a variety crafts and collectibles made in West Virginia, as well as shopping, dining, demonstrations, and entertainment.