CHI - Lisbon Health
905 Main Street

Lisbon

,

ND

58054
About Catholic Health Initiatives
Catholic Health Initiatives (CHI) is a part of CommonSpirit Health™, a nonprofit, Catholic health system committed to building healthier communities, advocating for those who are poor and vulnerable, and innovating how and where healing can happen—both inside our hospitals and out in the community.
CommonSpirit was created by the alignment of Catholic Health Initiatives and Dignity Health as a single ministry in early 2019.
Our commitment to serve the common good is delivered through the dedicated work of thousands of physicians, advanced practice clinicians, nurses, and staff; through clinical excellence delivered across a system of 137 hospitals and more than 1,000 care centers serving 21 states; and through more than $4 billion annually in charity care, community benefits, and government program services.
With a large geographic footprint representing diverse populations across the U.S. and a mission to serve the most vulnerable, CommonSpirit is a leader in advancing the shift from sick care to well care, and advocating for social justice.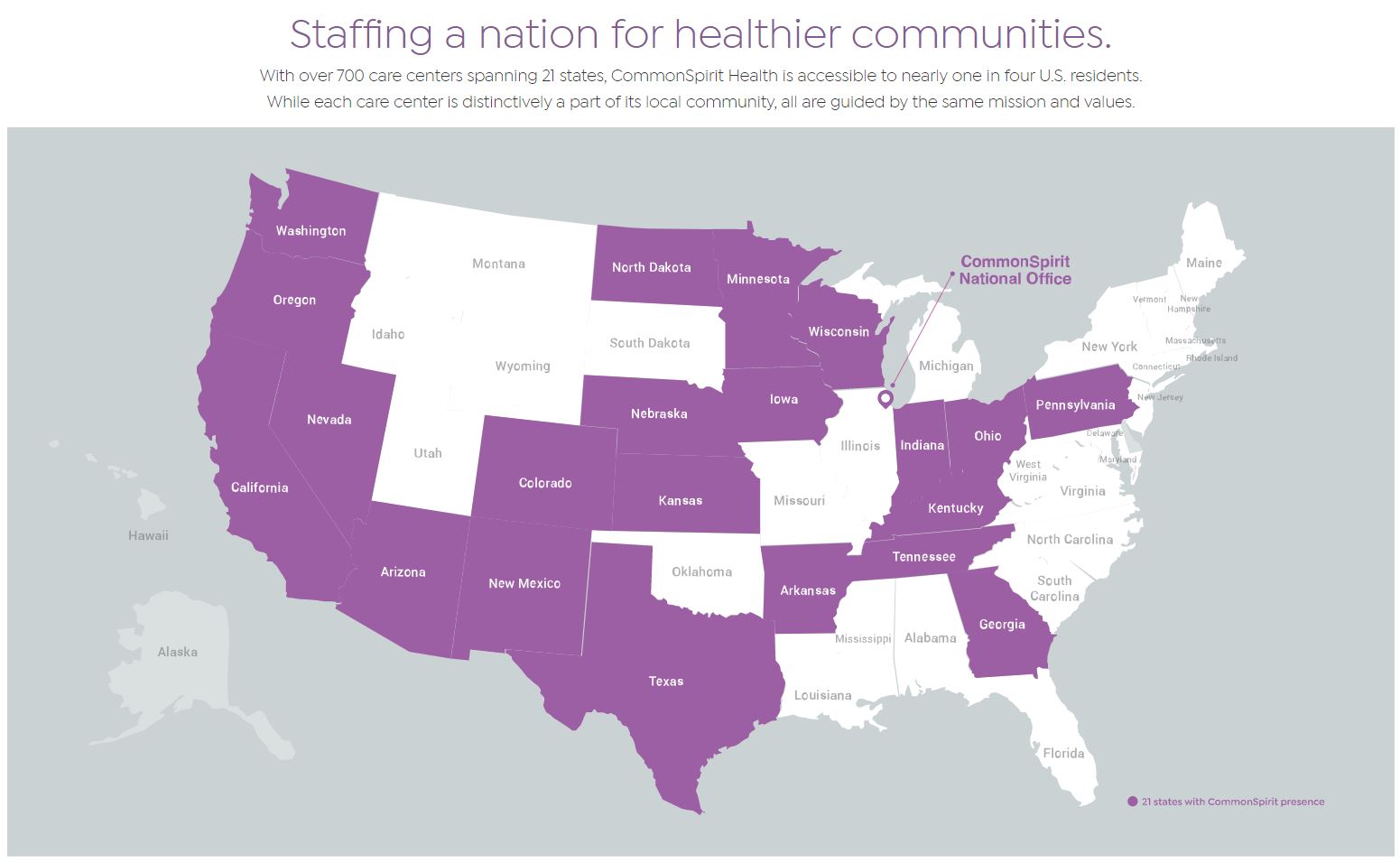 CommonSpirit Health also supports a range of community health programs, research programs, virtual care services, and home health programs addressing the root causes of poor health such as access to quality care and health equity, affordable housing, safe neighborhoods, and a healthy environment. Learn more at www.commonspirit.org.
Committed to welcoming everyone.
At CommonSpirit Health, we believe in cultivating a workplace in which diversity is celebrated and all people are included, respected, valued and celebrated. We lean on the variety of our colleagues' perspectives and backgrounds to challenge ourselves and to create a workplace that supports diversity, equity, inclusion and belonging.
CommonSpirit Health™ and its organizations are an Equal Opportunity/ Affirmative Action employer committed to a diverse and inclusive workforce. All qualified applicants will be considered for employment without regard to race, color, religion, sex, sexual orientation, gender identity, national origin, age, disability, marital status, parental status, ancestry, veteran status, genetic information, or any other characteristic protected by law.
About Lisbon Area Health Services
Our History:
CHI Lisbon Health originally known as Community Memorial Hospital opened it's doors on February 1, 1952. Lutheran Hospitals & Homes Society (LHHS) of Fargo worked on this project with the local Community Memorial Hospital Association and assumed operations of the hospital.
In 1967 an addition was added to the northeast portion of the hospital, which became a 20-bed nursing home wing. It was determined that additional space was needed and another addition was made to the south of the existing structure. This was completed in 1976 and became the new hospital wing. The previous hospital wing was converted to 25 nursing home beds.
In 1992, Community Memorial Hospital and Nursing Home celebrated 40 years of dedicated service to the sick.
By 1996 a remodeling project had been completed and a clinic was moved into the facility. At this time the facility's name changed to Lisbon Medical Center.
CHI Lisbon Health changed to Critical Access Hospital status effective January 1, 2001.
The facility was acquired by Catholic Health Initiatives on October 1, 2002 and changed their name to CHI Lisbon Health.
Many specialized services have been added to CHI Lisbon Health over the past years for the benefits of the patients. Services currently offered include: 24-hour Emergency Care, Medical, Surgical (General, Laparoscopic, Urology, Cataracts, Colonoscopy, and Endoscopy), Swingbed, Home Health, Nuclear Medicine, MRI, CT Scan, Ultrasound, Mammography, EEG, Echo-Cardiogram, Chemotherapy, Radiology, ECG, Occupational Therapy, Physical Therapy, Clinical Lab (Chemistry, Hematology, Blood Banking, Microbiology), and Cardiac Rehab.
CHI Lisbon Health is served by physicians and allied professional staff from Family Medical Clinic and Essentia Health.
The posted compensation range is a reasonable estimate that extends from the lowest to the highest pay CommonSpirit in good faith believes it might pay for this particular job, based on the circumstances at the time of posting. CommonSpirit may ultimately pay more or less than the posted range as permitted by law.