2525 de Sales Avenue

Chattanooga

,

TN

37404
About Chattanooga, TN
#1 OUTSIDE CITY by Outside Magazine!
Chattanooga, Tennessee is noted as "The Scenic City" and "GIG City" – fastest internet in the South; nestled in the heart of the mountains where the states of Georgia, North Carolina and Tennessee meet.
Two hours to Atlanta, Nashville, and Birmingham.
"America's Top-Rated Cities" and "Top 10 City" in which to live and play; "Top 10 Southern Mid-Markets with Highly Diversified Economies" and one of the "Smartest Cities in the World" in which to live. Voted "Best Town Ever" by Outside Magazine in 2015 and 2011.
This vibrant city blends "Big City" amenities with an ease of a smaller city offering: a family friendly and safe atmosphere in which to live, easily commutable, moderate cost of living, $120 million revitalized riverfront, very active Arts Council, Museums, and an extensive green way system.
Outdoor activities are abundant ranging from hang-gliding off Lookout Mountain, to floating down the Sequatchie River, to biking and horseback riding through the scenic countryside. If you are a water sport enthusiast, you will want to visit nearby Nickajack and Chickamauga Lakes or kayak/raft down the Great Ocoee River (host to the Summer Olympics). Chattanooga also has numerous challenging golf courses (Chattanooga plays host to the PGA Event - Provident Classic).
The public school system in the area is very good and offers excellent local private schools providing unsurpassed educational opportunities from Signal Mountain to Lookout Mountain.
The University of Tennessee at Chattanooga offers a wide range of majors in undergraduate, graduate courses and medical education - 9 residency programs and 4 fellowship program
City Information:
Population: 180,273
Metro Population: 574,922
9% growth in population
Median Age: 39.7
Average Temp: 60.5 degrees F
Moderate climate with four distinctive seasons
No State Income Tax
Great Public & Private School options
Foothills of the Appalachian Mountains and Cumberland Plateau
Area Attractions:
Tennessee Aquarium
Hunter Museum of American Art
Creative Discovery Museum
IMAX 3D Theater
Chattanooga Choo Choo
Chattanooga Zoo
Rock City
Ruby Falls
Chattanooga Symphony Orchestra
White Water Rafting
Rock Climbing – Largest Indoor Facility - Mountain Climbing
Hamilton Place Mall is TN's largest mall - 5 Regional Shopping Malls
Chattanooga Look Outs AA Baseball Team (Cincinnati Reds affiliate)
Parks:
106 sites throughout Chattanooga
800+ acres maintained
35 miles of greenway & trails
53 tennis courts
41 playgrounds
8 outdoor fitness zones
6 youth athletic association facilities
3 dog parks
21 Golf Courses
About Catholic Health Initiatives
Catholic Health Initiatives (CHI) is a part of CommonSpirit Health™, a nonprofit, Catholic health system committed to building healthier communities, advocating for those who are poor and vulnerable, and innovating how and where healing can happen—both inside our hospitals and out in the community.
CommonSpirit was created by the alignment of Catholic Health Initiatives and Dignity Health as a single ministry in early 2019.
Our commitment to serve the common good is delivered through the dedicated work of thousands of physicians, advanced practice clinicians, nurses, and staff; through clinical excellence delivered across a system of 137 hospitals and more than 1,000 care centers serving 21 states; and through more than $4 billion annually in charity care, community benefits, and government program services.
With a large geographic footprint representing diverse populations across the U.S. and a mission to serve the most vulnerable, CommonSpirit is a leader in advancing the shift from sick care to well care, and advocating for social justice.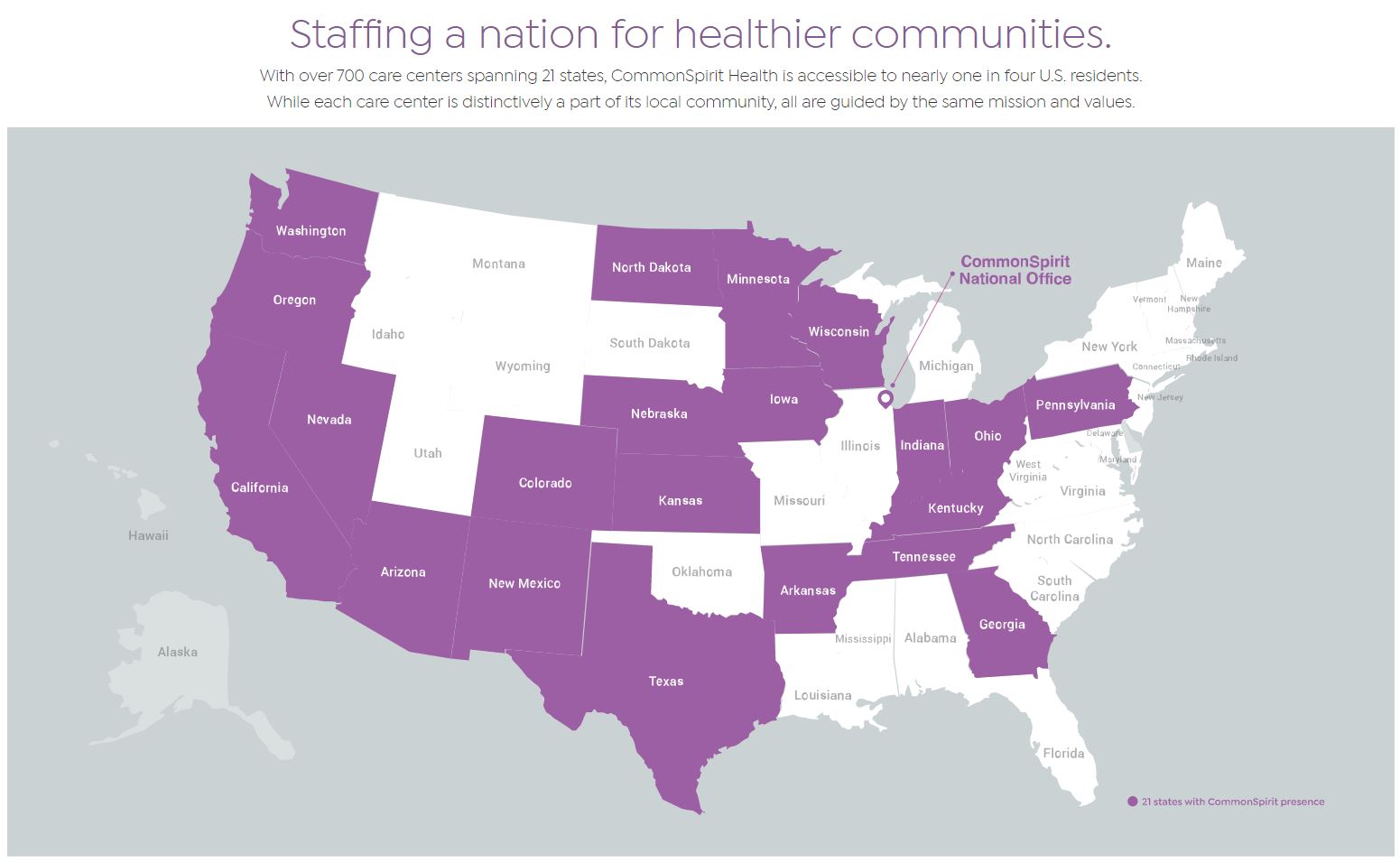 CommonSpirit Health also supports a range of community health programs, research programs, virtual care services, and home health programs addressing the root causes of poor health such as access to quality care and health equity, affordable housing, safe neighborhoods, and a healthy environment. Learn more at www.commonspirit.org.
CommonSpirit Health™ and its organizations are an Equal Opportunity/ Affirmative Action employer committed to a diverse and inclusive workforce. All qualified applicants will be considered for employment without regard to race, color, religion, sex, sexual orientation, gender identity, national origin, age, disability, marital status, parental status, ancestry, veteran status, genetic information, or any other characteristic protected by law.
About CHI Memorial
Chattanooga's ONLY 5 STAR rated hospital. CHI Memorial tops CMS list in the region.
CHI Memorial is ranked the 2nd BEST HOSPITAL in TN by US News.
CHI Memorial is recognized as one of the nation's 100 Top Hospitals® by Thomson Reuters, the health care industry's leading source of information on hospital quality and "100 Great Community Hospitals" by Becker's Hospital Review.
A survey, by Medicare.gov, intended to help consumers purchase the best health care insurance ranks CHI Memorial Healthcare System as tops in the Chattanooga area for patient satisfaction.
To see the story, Control and click on the link:http://www.timesfreepress.com/news/local/story/2016/jan/07/memorial-ranked-top-local-hospital-patient-sa/343529
CHI Memorial is a not-for-profit, faith-based 443-bed healthcare system with 3 campuses (Chattanooga and Hixson in TN and Fort Oglethorpe in GA). The acquisition of formerly Cornerstone Medical Center was completed in December 2017.
CHI Memorial is a Regional Referral Center of choice… over 700 Physicians on staff and over 4,000 associates, and 550 very active volunteers providing healthcare throughout Southeast Tennessee and North Georgia. Our Center of Excellence core service lines include Oncology, Cardiac, and Orthopedics.
With the completion of our 320 million dollar renovation in July 2014, 300,000 sq. ft. have been added to the campus, added 96 patient rooms to a brand new seven-story tower, St. Anne's Chapel with original stained glass windows, a 52 bed, State of the Art, ICU; Guerry Heart and Vascular Center, 7 cardiac catheterization rooms, State of the Art Cardiac Short Stay and Critical Care Unit and grew our patient navigation program to encompass all cancer centers of excellence and the congestive heart failure program.