CHI - Saint Joseph Medical Group, London, Kentucky
About Catholic Health Initiatives
Catholic Health Initiatives (CHI) is a part of CommonSpirit Health™, a nonprofit, Catholic health system committed to building healthier communities, advocating for those who are poor and vulnerable, and innovating how and where healing can happen—both inside our hospitals and out in the community.
CommonSpirit was created by the alignment of Catholic Health Initiatives and Dignity Health as a single ministry in early 2019.
Our commitment to serve the common good is delivered through the dedicated work of thousands of physicians, advanced practice clinicians, nurses, and staff; through clinical excellence delivered across a system of 137 hospitals and more than 1,000 care centers serving 21 states; and through more than $4 billion annually in charity care, community benefits, and government program services.
With a large geographic footprint representing diverse populations across the U.S. and a mission to serve the most vulnerable, CommonSpirit is a leader in advancing the shift from sick care to well care, and advocating for social justice.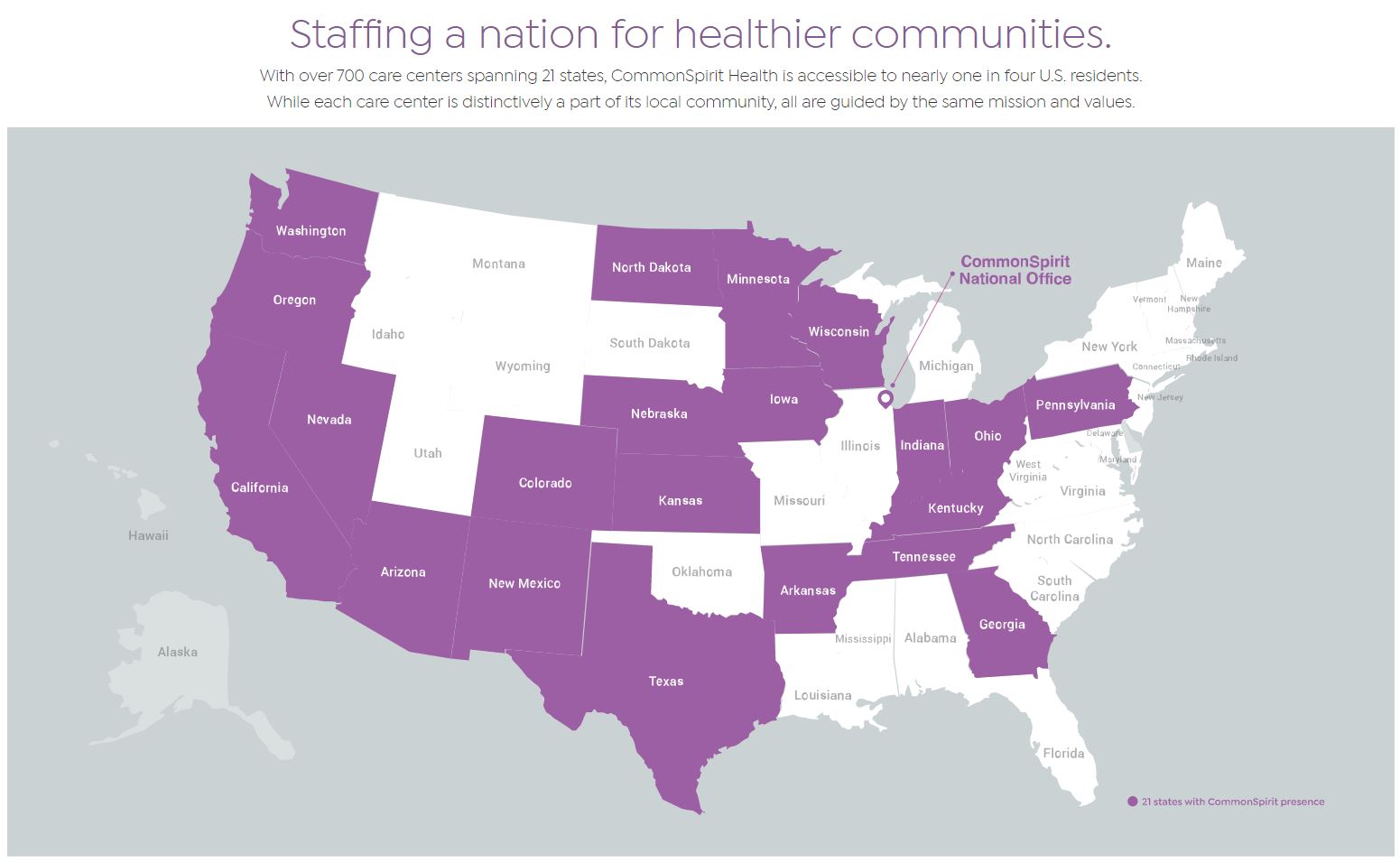 CommonSpirit Health also supports a range of community health programs, research programs, virtual care services, and home health programs addressing the root causes of poor health such as access to quality care and health equity, affordable housing, safe neighborhoods, and a healthy environment. Learn more at www.commonspirit.org.
Committed to welcoming everyone.
At CommonSpirit Health, we believe in cultivating a workplace in which diversity is celebrated and all people are included, respected, valued and celebrated. We lean on the variety of our colleagues' perspectives and backgrounds to challenge ourselves and to create a workplace that supports diversity, equity, inclusion and belonging.
CommonSpirit Health™ and its organizations are an Equal Opportunity/ Affirmative Action employer committed to a diverse and inclusive workforce. All qualified applicants will be considered for employment without regard to race, color, religion, sex, sexual orientation, gender identity, national origin, age, disability, marital status, parental status, ancestry, veteran status, genetic information, or any other characteristic protected by law.
About Saint Joseph London
Saint Joseph London opened a new $152 million, 340,000-square-foot regional facility which features the latest technology in 2010. The facility design incorporated the patient centered design, which includes 150 private patient rooms that enhances patient and family privacy.
Saint Joseph-London is a member of KentuckyOne Health and Catholic Health Initiatives based in Denver, Colorado. Catholic Health Initiatives is a healthcare system comprised of over seventy hospitals located in 19 states. The hospital is also a member of the Saint Joseph Healthcare System based in Lexington, KY comprised of seven hospitals all located in Kentucky.

Services include cardiovascular care, orthopedics, outpatient pediatrics, endocrinology, obstetrics/gynecology, and neurology. The hospital's primary service area covers Laurel, Jackson, Clay and Whitley counties.