800 4th Street N

Carrington

,

ND

58421
About Catholic Health Initiatives
Catholic Health Initiatives (CHI) is a part of CommonSpirit Health™, a nonprofit, Catholic health system committed to building healthier communities, advocating for those who are poor and vulnerable, and innovating how and where healing can happen—both inside our hospitals and out in the community.
CommonSpirit was created by the alignment of Catholic Health Initiatives and Dignity Health as a single ministry in early 2019.
Our commitment to serve the common good is delivered through the dedicated work of thousands of physicians, advanced practice clinicians, nurses, and staff; through clinical excellence delivered across a system of 137 hospitals and more than 1,000 care centers serving 21 states; and through more than $4 billion annually in charity care, community benefits, and government program services.
With a large geographic footprint representing diverse populations across the U.S. and a mission to serve the most vulnerable, CommonSpirit is a leader in advancing the shift from sick care to well care, and advocating for social justice.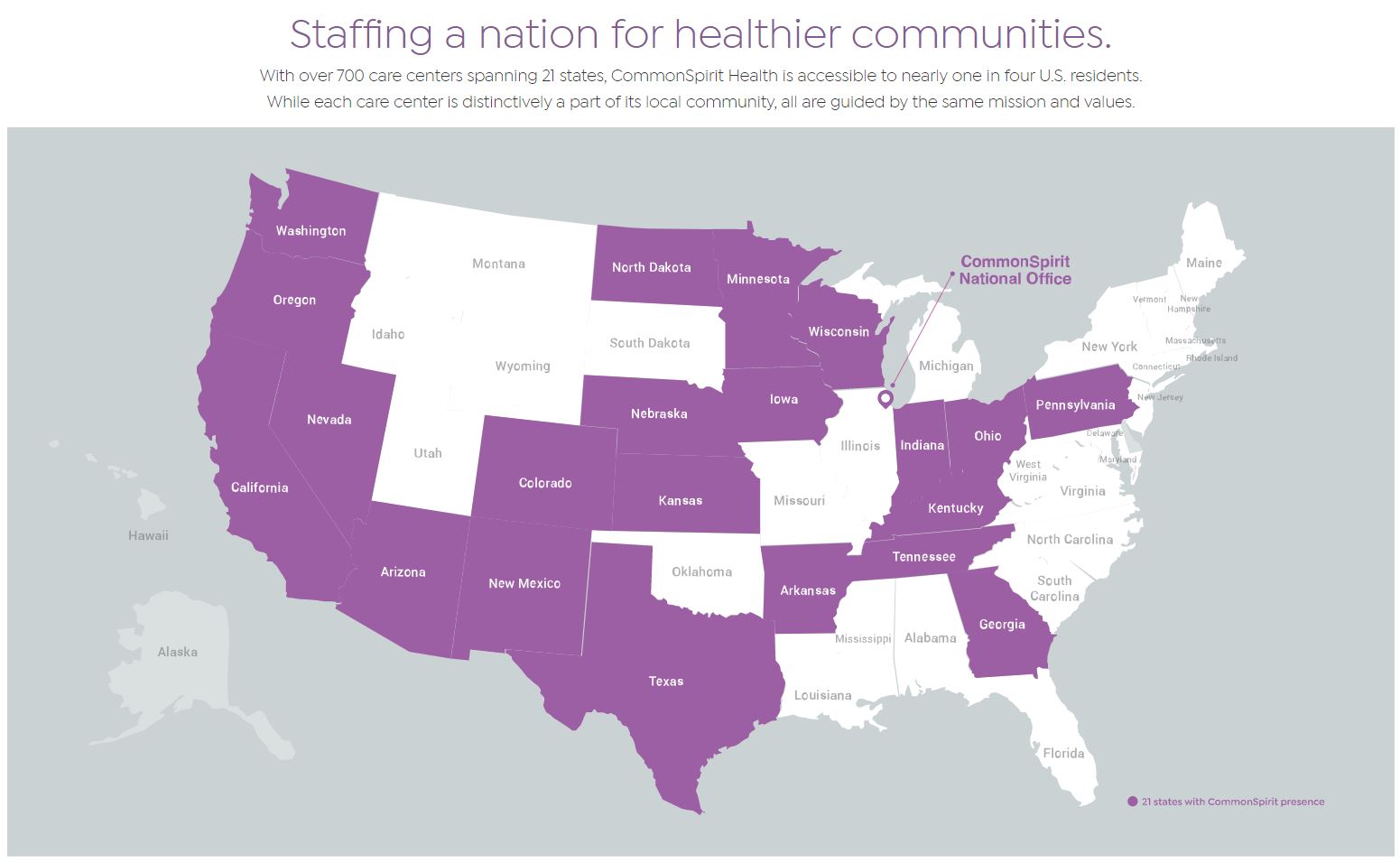 CommonSpirit Health also supports a range of community health programs, research programs, virtual care services, and home health programs addressing the root causes of poor health such as access to quality care and health equity, affordable housing, safe neighborhoods, and a healthy environment. Learn more at www.commonspirit.org.
Committed to welcoming everyone.
At CommonSpirit Health, we believe in cultivating a workplace in which diversity is celebrated and all people are included, respected, valued and celebrated. We lean on the variety of our colleagues' perspectives and backgrounds to challenge ourselves and to create a workplace that supports diversity, equity, inclusion and belonging.
CommonSpirit Health™ and its organizations are an Equal Opportunity/ Affirmative Action employer committed to a diverse and inclusive workforce. All qualified applicants will be considered for employment without regard to race, color, religion, sex, sexual orientation, gender identity, national origin, age, disability, marital status, parental status, ancestry, veteran status, genetic information, or any other characteristic protected by law.
About CHI St Alexius Health Carrington
CHI St Alexius Health Carrington Medical Center is comprised of a 25-bed critical access hospital, basic care facility, and two rural health clinics. We are pleased to offer a wide variety of services for an all-encompassing, person-centered care to the citizens of Carrington and surrounding Foster County for 100 years. The hospital features all private rooms with baths, a wide array of services including radiology, lab, a full range of therapy services, and an emergency room with level V trauma certification and ambulance service, and much more. We are proud to be one of the largest employers in Foster County, and our exceptional nursing staff are cross trained to all areas of healthcare. We employ more than 200 employees, our own primary care physicians and advance practitioners. Several regional specialists also rotate their services in the clinic and hospital setting to offer total patient care to the more than 8,000 citizens that work and reside in our service area.
CHC's core values serve as the organizations guiding principles. These include reverence, integrity, compassion, and excellence.
Where We Are
Carrington, situated in central North Dakota, is conveniently located within two hours of four major ND cities - Fargo, Minot, Grand Forks, and Bismarck, North Dakota's capital and second largest city. This beautiful community of 2,300 offers excellent schools, low crime, a safe, family-oriented quality of life that is ideal for physicians seeking great work-life balance, affordable cost of living with easy access to the amenities of a large metropolitan city and a wide variety of outdoor recreation. Carrington is rich in history and enjoys a strong economy based on agri-business, service industries and retail trade.
Carrington is an excellent place to raise a family. Carrington Public School System provides an excellent curriculum for students K-12 that includes a wide variety of sports and music-theatre; adult education programs are also offered. The park board maintains four city parks, ball diamonds and picnic tables, a swimming pool, a shooting range and tennis courts. Cross Roads Golf Course is a beautiful well-kept eighteen-hole golf course. There is a youth recreation center that includes an in-house movie theatre. There is an eight lane bowling alley that includes a meeting room, a space for entertaining guests for special occasions as well as a sandwich bar. Several recreation areas are available within a 30-minute drive of the city. This community offers excellent hunting, fishing and recreation opportunities year-round.
The posted compensation range is a reasonable estimate that extends from the lowest to the highest pay CommonSpirit in good faith believes it might pay for this particular job, based on the circumstances at the time of posting. CommonSpirit may ultimately pay more or less than the posted range as permitted by law.