2801 St. Anthony Way

Pendleton

,

OR

97801


About St. Anthony Hospital
Hello humankindness.....
St. Anthony Hospital is a licensed 49-bed, federally-designated Critical Access Hospital. Our new replacement facility opened December 2013 on 93 acers of green space.
Pendleton, the government seat for Umatilla County, has a vibrant, diverse economy engaged in manufacturing, agriculture, education, health care, and tourism. It is home to the world famous Pendleton Woolen Mill, Keystone RV, Pendleton Unmanned Aerial Systems Range, and PAE ISR Drone Company . The Confederated Tribes of the Umatilla Indian Reservation operates Wildhorse Resort and Casino, Cayuse Technologies, and other enterprises. The Eastern Oregon Regional Airport in Pendleton is one of only six sites across the country authorized to conduct unmanned aerial vehicle testing. Blue Mountain Community College and Pendleton School District offer multiple degrees and levels of education, promoting lifelong learning.
Tourists take advantage of the area's eclectic attractions, heritage, and Pendleton's reputation for "real west hospitality." The 100+ year old legendary Pendleton Round-Up PRCA Rodeo draws over 50,000 people from the world over to Pendleton during the second week in September. Few communities this size boast as much activity as Pendleton does when it comes to the arts and showcasing extraordinary talent: the Oregon East Symphony and Chorale, Inland Northwest Musicians, Pendleton Arts Center, Tamastslikt Cultural Institute, Crow's Shadow Institute of the Arts, College Community Theatre, the Historic Walking Tour, and Underground Tour.
Because of Pendleton's prime location, outdoor adventures in the Blue Mountains and on the Columbia River are just minutes away. The Umatilla River flows through the center of town, with walkers and joggers seen frequently along the River Walkway. Pendleton is within an easy drive of premier snow skiing locations, fly fishing, hunting, and other outdoor activities.
Located in sunny northeastern Oregon along the Oregon Trail, Pendleton is home to nearly 17,000 residents. Getting to Pendleton is easy via Interstate 84 or its airport. Pendleton is around 210 miles from Portland, OR; Spokane, WA; and Boise, ID. Pendleton is also located just 65 miles southeast of the Tri-Cities, WA (Richland, Kennewick, and Pasco, metropolitan population over 250,000) and 45 miles southwest of Walla Walla, WA, centers for major shopping, arts, and industry.
If a one-of-a-kind rural community and the opportunity to provide top notch health care is what you seek, please contact Mary Green, Provider Recruiter, CHI St. Anthony Hospital, 2801 St. Anthony Way, Pendleton, OR, 97801; 541.278.3256mary.green@commonspirit.org.
; or
About Catholic Health Initiatives
Catholic Health Initiatives (CHI) is a part of CommonSpirit Health™, a nonprofit, Catholic health system committed to building healthier communities, advocating for those who are poor and vulnerable, and innovating how and where healing can happen—both inside our hospitals and out in the community.
CommonSpirit was created by the alignment of Catholic Health Initiatives and Dignity Health as a single ministry in early 2019.
Our commitment to serve the common good is delivered through the dedicated work of thousands of physicians, advanced practice clinicians, nurses, and staff; through clinical excellence delivered across a system of 137 hospitals and more than 1,000 care centers serving 21 states; and through more than $4 billion annually in charity care, community benefits, and government program services.
With a large geographic footprint representing diverse populations across the U.S. and a mission to serve the most vulnerable, CommonSpirit is a leader in advancing the shift from sick care to well care, and advocating for social justice.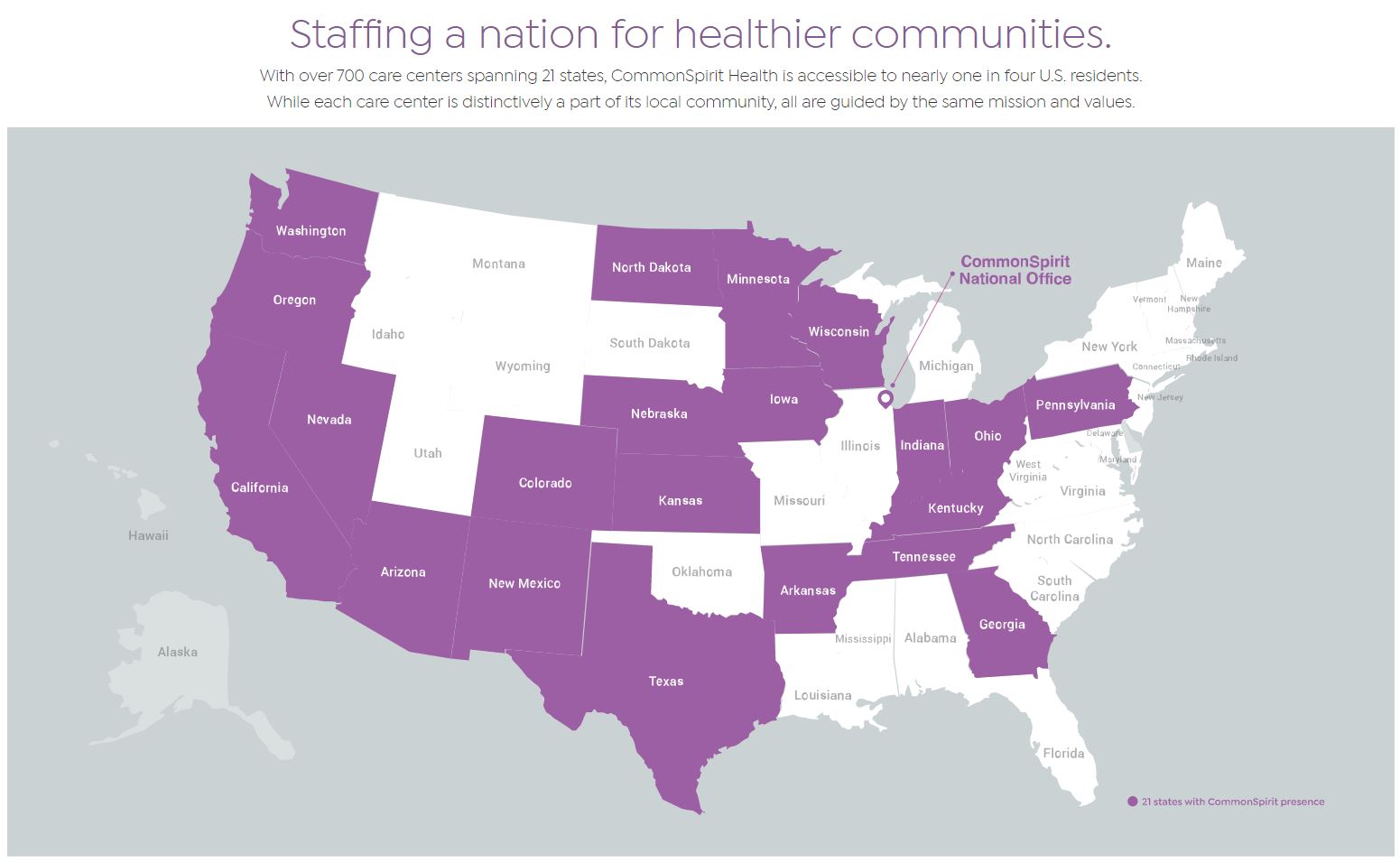 CommonSpirit Health also supports a range of community health programs, research programs, virtual care services, and home health programs addressing the root causes of poor health such as access to quality care and health equity, affordable housing, safe neighborhoods, and a healthy environment. Learn more at www.commonspirit.org.
Committed to welcoming everyone.
At CommonSpirit Health, we believe in cultivating a workplace in which diversity is celebrated and all people are included, respected, valued and celebrated. We lean on the variety of our colleagues' perspectives and backgrounds to challenge ourselves and to create a workplace that supports diversity, equity, inclusion and belonging.
CommonSpirit Health™ and its organizations are an Equal Opportunity/ Affirmative Action employer committed to a diverse and inclusive workforce. All qualified applicants will be considered for employment without regard to race, color, religion, sex, sexual orientation, gender identity, national origin, age, disability, marital status, parental status, ancestry, veteran status, genetic information, or any other characteristic protected by law.
The posted compensation range is a reasonable estimate that extends from the lowest to the highest pay CommonSpirit in good faith believes it might pay for this particular job, based on the circumstances at the time of posting. CommonSpirit may ultimately pay more or less than the posted range as permitted by law.