1500 North Oakland | Bolivar, MO 65613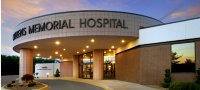 CMH opened their doors in 1982 with just 90 employees and now 41 years later is one of the fastest growing and most diversified health care organizations in rural America; employing more than 2,300 employees. CMH celebrated its 41st anniversary with a groundbreaking ceremony to kick off a 130,000
sq. foot
hospital expansion and renovation project which will provide all new private patient rooms, a large ER expansion, 2 new cath labs, expanded ICU and Birth Place as well as other expansions and improvements..

CMH is comprised of an 86 bed hospital, more than 30 physician clinics, 6 Nursing Homes, 1 Residential Care Center, Home Health, Hospice, HME, Retail Pharmacies and Health Transit.
CMH provides services among the natural elegance of the rolling hills, rivers and streams of the Ozark Mountains and Plateau in an eight county area of rural Southwest Missouri. CMH is award winning at State and National levels having been named one of the Top 10 Rural Hospitals in America; a Most Wired hospital for many consecutive years, 2014 Most Wired Innovator Award, Healthgrades 5 star Patient Safety award and a 3-time recipient of the Missouri Quality Award in addition to numerous other recognitions. CMH is committed to its Vision to be the first choice for healthcare by delivering the safest, highest quality and best experience for the communities we serve.
Important Links
www.citizensmemorial.com
CMH Physician Testimonies
CMH Virtual Campus tour