1901 Clinch Avenue

Knoxville

,

TN

37916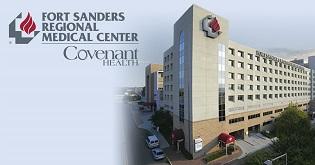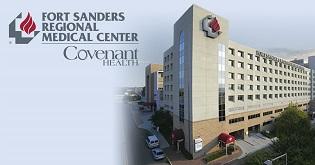 About Fort Sanders Regional Medical Center
Located in Knoxville, TN, Fort Sanders Regional Medical Center is the region's only referral center for stroke, neurosurgery, orthopedics, oncology, cardiology, neurology, surgery, and obstetrics.
With a team of 650 physicians in 45 specialties and more than 1,000 nurses, technologists, therapists, pharmacists, and dietitians, we use a multidisciplinary approach to provide comprehensive, individualized patient care.
As a Joint Commission Comprehensive Stroke Center, Fort Sanders offers state-of-the art care that maximizes recovery from stroke. We are the region's leader in technology in areas such as bariatric surgery, robotic surgery and minimally invasive spine surgery. Our door-to-balloon times for heart attack patients are below the national average, and our hip fracture center offers advanced diagnosis, surgery and recovery procedures for hip patients.
We are also home to the Patricia Neal Rehabilitation Center, which is nationally recognized for both inpatient and outpatient treatment of stroke, brain injury, spinal cord injury, and orthopedics.
Fort Sanders Regional Medical Center is a member of Covenant Health.
About Covenant Health
Fort Sanders Regional Medical Center is a member of Covenant Health, an award-winning Tennessee healthcare delivery system serving 25 counties and committed to providing excellent care for our 2 million+ patients each year. We fulfill our mission to improve the quality of life in our region through comprehensive services at nearly 150 locations, including 10 hospitals; outpatient clinics; specialized behavioral, oncology and rehabilitation facilities; home care; physician practices, and community programs. With more than 11,000 employees, physicians and volunteers, Covenant Health is the area's largest employer and has been recognized by Forbes as a Best Employer eight times. Learn more at CovenantHealth.com.
About Knoxville, TN
Located on the Tennessee River with the Great Smoky Mountains as a backdrop, Knoxville is an incredible combination of big city excitement and small town southern charm. Home to the University of Tennessee and a vibrant downtown area with revitalized neighborhoods, Knoxville is a regional hub for nightlife and entertainment, especially in its Old City. Knoxville is also an excellent choice for families, with outstanding public schools and private K-12 schools. Our cost of living is 15% below the national average and Tennessee does not have a state income tax. Learn more about Knoxville, Tennessee (link to Knoxville location page) and why you should call it your next home.