3600 West Cumberland Ave

Middlesboro

,

KY

40965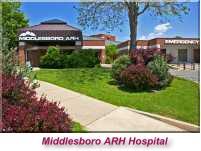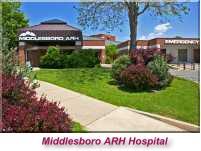 Facility Information
Middlesboro ARH Hospital is a 96-bed, acute-care facility located in Bell County, Kentucky. The hospital provides a comprehensive array of specialty medical services and community-based care such as, but not limited to, Imaging, Orthopedics, Sleep Lab, Women's Health, Rehabilitation Therapy, and Surgery. Middlesboro ARH was the first Kentucky hospital to open in the Appalachian Regional Healthcare system more than 50 years ago.
Appalachian Regional Healthcare (ARH) is a not-for-profit health system serving 350,000 residents across Eastern Kentucky and Southern West Virginia. Operating nine hospitals, multi-specialty physician practices, home health agencies, HomeCare Stores and retail pharmacies, ARH is the largest provider of care and single largest employer in southeastern Kentucky and the third largest private employer in southern West Virginia.
The ARH system employs 4,700 employees and has a network of more than 600 active and courtesy medical staff members representing various specialties. Firmly committed to its mission of improving the health and promoting the well-being of all people in Eastern Kentucky and Southern West Virginia.
If you are a physician seeking a high quality lifestyle and a high quality medical practice, then you have found a home with ARH. We invite you to join the ARH team!

ARH Selected as the 2010 Outstanding Rural Health Organization in the Nation
Friend us on Facebook, Follow us on YouTube
Community Description
Middlesboro, Kentucky, is located in Bell County in the foothills of the scenic Cumberland Gap National Historical Park. Situated in the tri-state area of Kentucky, Tennessee, and Virginia, Middlesboro has 13,000 residents, and offers the appeal of small-town living, but is easily accessible to major urban areas.
With warm and friendly hospitality, more and more people are learning why Bell County is such a great place to live! For those with an interest in history, you will be taken back to the days of the likes of Daniel Boone, Dr. Thomas Walker, and many others. Located close by in the town of Harrogate, Tennessee, you can visit the Lincoln Museum on the campus of Lincoln Memorial University. If nature is closer to your heart, Bell County is also the perfect spot if you like to hike, fish or hunt. Middlesboro is the only city in the world to be formed by an asteroid strike. If you like festivals and special events, Bell County is home to award winning festivals like The Kentucky Mountain Laurel Festival Memorial Day weekend, or The Cumberland Mountain Fall Festival the first weekend in October. To learn more about the community of Middlesboro, Kentucky, please visit the Bell County Chamber of Commerce.