1451 El Camino Real

The Villages

,

FL

32159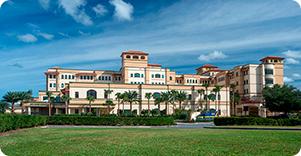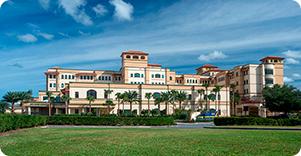 UF Health The Villages Hospital
UF Health The Villages Hospital has been serving Villages residents as well as patients in Lake, Sumter and Marion Counties since 2002. Located in the heart of America's largest retirement development—The Villages, FL—our acute care hospital was designed to bring hospitality to health care.
Our 307-bed acute care hospital offers high-quality, golf car-accessible medical services such as orthopedic care, interventional cardiology, emergency services, cancer care, stroke care, urgent care, clinical laboratories and so much more. TVH has received the Joint Commission's Gold Seal of Approval for healthcare quality and safety in hospitals and was honored by Healthgrades with their Patient Safety Excellence Award in 2014.
TVH has more than tripled in size since opening its doors and has been recognized by Modern Healthcare as the fastest growing hospital in the nation. Our latest $50 million expansion project is nearing completion. Most recently, the new 32-bed Intensive Care Unit and 34-bed medical/surgical unit on the North Tower opened. The second phase of the expansion will double the size of our emergency department and add several new operating rooms.
Latest News
Awards and Recognition
In 2012, The Villages Regional Hospital was named in Modern Healthcare's Hottest Recognition Program, highlighting the 40 fastest growing healthcare companies in the U.S.
In 2012, Central Florida Health announced their participation in the Partnership for Patients program. Visit healthcare.gov to learn how we're improving the quality, safety, and affordability of health care.
In 2012, Central Florida Health was recognized among the top 20% of best performing health systems in the country by Thomson Reuters 100 Top Hospitals: Health System Benchmarks.
Central Florida Health has been recognized as a Top 100 Company for Working Families for the 12th consecutive year! We are ranked #4 on the list and the highest ranking healthcare organization in Central Florida. This prestigious award is presented annually by Orlando Sentinel Communications and symbolizes our commitment to being a family friendly employer who believes passionately in work-life balance for our team members.