CMG Gastroenterology Associates of Roseburg, Oregon is seeking a BE/BC Gastroenterologist to join a busy practice!
This is a hospital employed practice associated with CHI Mercy Medical Center in Roseburg, OR.
See more about our community: https://chimercyjobs.com/
Qualifications:
BE/BC
Collegial with good communication skills
Responsibilities:
Management of hepatology and gastroenterology patients
Endoscopies and colonoscopies
ERCP experience a bonus
Wireless endoscopy capsule equipment available
Position, Community and Benefits:
Only 6 days of call per month
Very Competitive Pay
Implementing Master Facilities Plan including new endoscopy suites with updated equipment
Benefits including medical, dental, vision, life, retirement
Short & Easy Commute!
Roseburg is centrally located along Interstate 5 in Southern Oregon's scenic Douglas County. The city is nestled in a lush, forested region known as the Land of Umpqua. The population of Roseburg is approximately 23,000, but the city is the center of Douglas County and serves more than 111,000 people who inhabit the many small surrounding communities. The climate is one of its most appealing features. Sunny days are common, and the mild temperatures make it possible to enjoy year-round!
If you enjoy the outdoors, Douglas County is a recreational enthusiasts paradise! Not only will you find miles of beautiful hiking trails, our forests are adorned with unlimited breathtaking waterfalls. Roseburg is in the heart of Umpqua Valley Wine Country, we also have world class fishing on the famous North Umpqua River, whitewater rafting, cycle friendly backroads, and a private 18-hole championship country club. A year round Farmers Market and several bountiful local farms. We also have Arts & Culture! During the summer months we have several festivals and live music weekly! We are an hour and a half away from the Pacific Ocean and an hour away from the snow in the mountains. Roseburg is a beautiful valley with access to many outdoor opportunities north, south, east or west!
A Better Work/ Life Balance! The possibility of designing a practice around a much shorter commute time, great schools, low cost of living, and flexible work schedule is a huge bonus! Our organization values the health and wellness of our physicians are works to prevent physician burnout!
Very Competitive Salary, Bonuses and Benefits! Easily grow your practice with the support of hospital administration and an ample referral network. Being one of the few practicing physicians in your specialty gives you the ability to grow and establish a thriving practice.
Close Patient Relationships- Know the names and family members of the patients you are serving. Our close community provides you the opportunity to care for your neighbors, friends, business owners and their families. We live in an area where patients are supportive and appreciative of their relationship with our providers.
Provider Led Organization. Have an interest in leadership opportunities and quality improvement initiatives? You will have a voice in our organization! Our physicians collaborate well together and with administration to make changes to constantly improve patient care.
Leadership Opportunities. Physicians have the ability to assume leadership roles early in their careers at CHI Mercy. We also provide resources and mentorship to develop physician leaders.
Up-to-date Facility. CHI Mercy consistently works on adopting new technology, equipment, and updated facilities to provide patients with the latest treatments and best care possible.
CHI Mercy Health's Hospital located in Roseburg, Oregon, is a sophisticated 174-bed medical center offering patients throughout the region local access to highly trained medical professionals, advanced technologies and a wide range of preventive, diagnostic, therapeutic and rehabilitative services. More than 1,400 talented and dedicated employees and 100 compassionate volunteers work throughout CHI Mercy Health. It is their commitment that has helped Mercy be recognized as a 2022 Top 100 Rural Hospital. At CommonSpirit Health, we make the healing presence of God known in our world by improving the health of the people we serve, especially those who are vulnerable, while we advance social justice for all.
Mercy Medical Center is a wholly owned subsidiary of Catholic Health Initiatives ("CHI"). Through the investment of CHI, patients in Douglas County and the surrounding region have access to a wide variety of high quality services not typically found in a rural community of our size. CHI combined with Dignity Health to form CommonSpirit as a single ministry in early 2019.
We are part of CommonSpirit Health, a nonprofit, Catholic health system dedicated to advancing health for all people. It was created in February 2019 through the alignment of Catholic Health Initiatives (CHI) and Dignity Health. CommonSpirit Health is committed to creating healthier communities, delivering exceptional patient care, and ensuring every person has access to quality health care. With its national office in Chicago and a team of approximately 150,000 employees and 25,000 physicians and advanced practice clinicians, CommonSpirit Health operates 142 hospitals and more than 700 care sites across 21 states. In FY 2018, Catholic Health Initiatives and Dignity Health had combined revenues of $29.2 billion and provided $4.2 billion in charity care, community benefit, and unreimbursed government programs. Learn more at www.commonspirit.org
Catholic Health Initiatives (CHI) is a part of CommonSpirit Health™, a nonprofit, Catholic health system committed to building healthier communities, advocating for those who are poor and vulnerable, and innovating how and where healing can happen—both inside our hospitals and out in the community.
CommonSpirit was created by the alignment of Catholic Health Initiatives and Dignity Health as a single ministry in early 2019.
Our commitment to serve the common good is delivered through the dedicated work of thousands of physicians, advanced practice clinicians, nurses, and staff; through clinical excellence delivered across a system of 137 hospitals and more than 1,000 care centers serving 21 states; and through more than $4 billion annually in charity care, community benefits, and government program services.
With a large geographic footprint representing diverse populations across the U.S. and a mission to serve the most vulnerable, CommonSpirit is a leader in advancing the shift from sick care to well care, and advocating for social justice.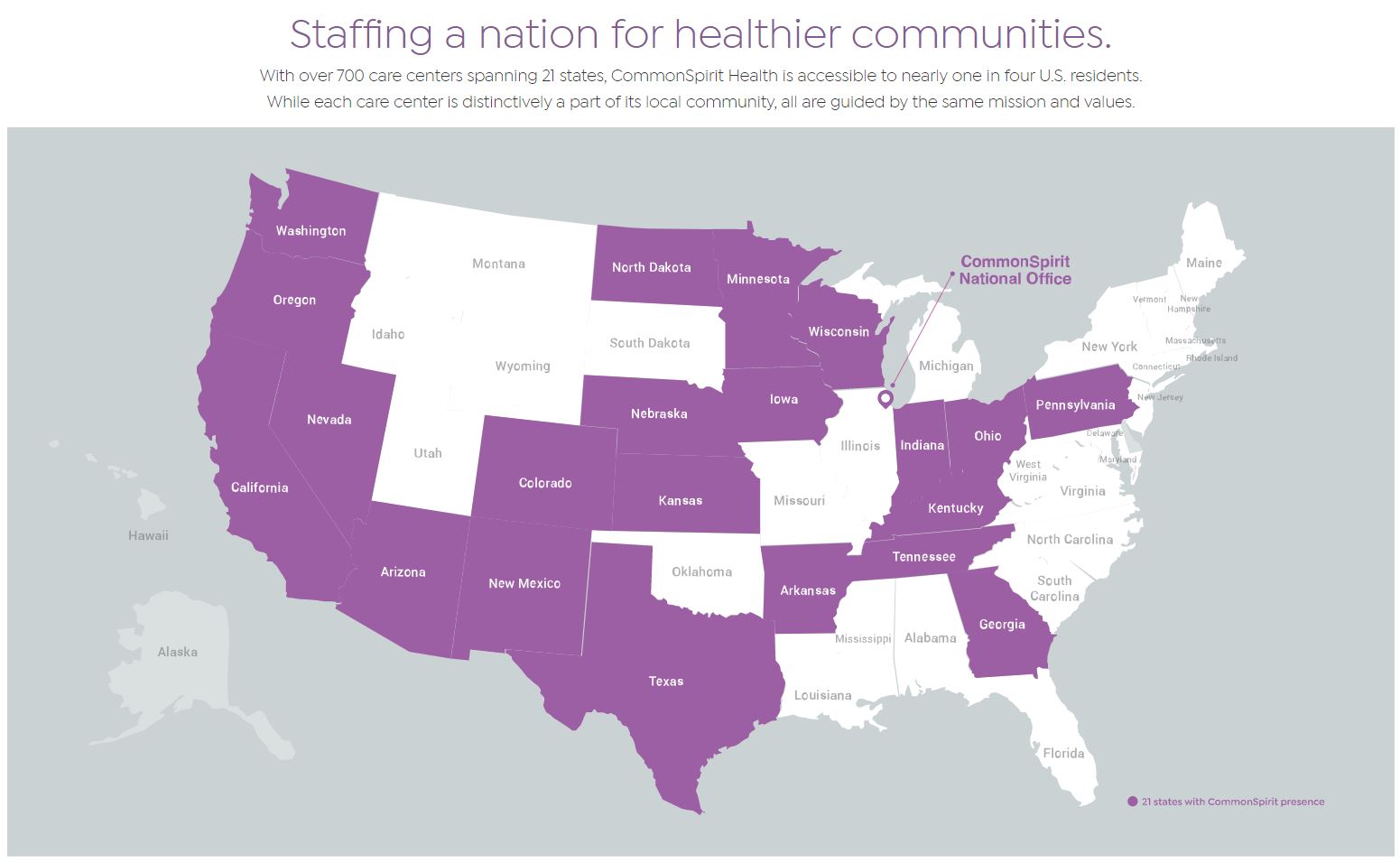 CommonSpirit Health also supports a range of community health programs, research programs, virtual care services, and home health programs addressing the root causes of poor health such as access to quality care and health equity, affordable housing, safe neighborhoods, and a healthy environment. Learn more at www.commonspirit.org.
Committed to welcoming everyone.
At CommonSpirit Health, we believe in cultivating a workplace in which diversity is celebrated and all people are included, respected, valued and celebrated. We lean on the variety of our colleagues' perspectives and backgrounds to challenge ourselves and to create a workplace that supports diversity, equity, inclusion and belonging.
CommonSpirit Health™ and its organizations are an Equal Opportunity/ Affirmative Action employer committed to a diverse and inclusive workforce. All qualified applicants will be considered for employment without regard to race, color, religion, sex, sexual orientation, gender identity, national origin, age, disability, marital status, parental status, ancestry, veteran status, genetic information, or any other characteristic protected by law.
Consistent with our Core Values, we are EEO/AA/M/F/Vets/Disabled Employers. Qualified applications will receive consideration for employment without regard to their race, color, religion, national origin, sex, sexual orientation, gender identification, protected veteran status, disability or any other legally protected characteristic.