Internal Medicine or Geriatric Medicine Opportunity

Location
Facility:
Saint Alphonsus Medical Center - Ontario
Address:



Ontario

,

OR



Opportunity Criteria
Specialty:

Internal Medicine




Internal Medicine : Geriatric Medicine

Candidate Type:
MD, DO
Visas Accepted:
No J1 or H1
Loan Repayment:
Yes
OPPORTUNITY HIGHLIGHTS
Saint Alphonsus Medical Group and Saint Alphonsus Medical Center – Ontario have an excellent full time opportunity for a Board Certified or Board Eligible Internal Medicine or Geriatric Medicine physician to join team based, outpatient practice located in Fruitland, Oregon.
Saint Alphonsus Medical Group (SAMG) is a physician-led and accountable 425+ provider multispecialty group practice seeking Internal Medicine or Geriatric Medicine physicians. The group seeks internists who are committed to an interdisciplinary team-based approach to care and who provide high-quality primary care in a compassionate manner, healing body, mind and spirit. Candidates should be passionate and knowledgeable, and the clinic utilizes Athena Outpatient EHR, therefore experience with EHRs is desirable.
For interested candidates, opportunities are available to:
Supervision of one or more nurse practitioners.
Contractual incentives that reward quality of care and patient outcomes.
Participation in teaching health care professionals.
Participation in community-based educational sessions for groups of patients and families.
Daily collegial interactions with a dozen other similarly oriented health care professionals.
The schedule is a traditional clinic work week, Monday through Friday. The call coverage is shared with eligible members in the SAMG Department of Medicine. The affiliated hospital, Saint Alphonsus Medical Center– Ontario (SAMC-O), operates a 24-7 adult medicine hospitalist service. The adult medicine hospitalists are the primary admitting service for the vast majority of primary care providers in the Saint Alphonsus network.
Requirements for this opportunity include a doctor of medicine (MD) or a doctor of osteopathy (DO) degree; successful completion of an accredited internal medicine residency program; current, unrestricted license in Idaho to practice medicine in all its phases; valid controlled substance registration with Idaho Board of Pharmacy and DEA; board certification through the American Board of Internal Medicine (ABIM) or the American Osteopathic Board of Internal Medicine (AOBIM) (or obtain such certification within 3 years of employment).
Preference will be shown for candidates with training or experience in Geriatric Medicine and outpatient settings.

Saint Alphonsus Health System (SAHS) Values, Mission and Vision
We support this mission by living our core values of Reverence, Commitment to Those Who are Poor, Justice, Stewardship, and Integrity. We at SAHS serve together in the spirit of the Gospel as a compassionate and transforming healing presence within our communities.
Unified by our faith-based mission, SAHS will:
Provide healing and hope, close to home
Help our communities grow and thrive
Be a trusted partner for life
Deliver value in everything we do
Saint Alphonsus Health System Guiding Behaviors
As a Catholic Health Care Services provider, Saint Alphonsus has a cultural expectation that all providers deliver care in accordance with the USCCB Ethical and Religious Directives for Catholic Health Care Services.
Saint Alphonsus greatly values the input and leadership of our providers and encourages each provider to actively participate in department meetings, SAMG Leadership Council and in matters of practice/service line development.
As continuous learners, we also encourage and promote ongoing continuing medical education (CME) activities for our providers and will financially support your CME endeavors. Additionally, as part of our shared vision to become a trusted health partner for life, we strive to continuously increase patient satisfaction and loyalty.
This is an exciting opportunity for the right Internal Medicine or Geriatric Medicine physician to join a vibrant and growing multispecialty group practice.

RECRUITMENT PACKAGE
An excellent compensation and benefits package is available for the right candidate including eligibility for the National Health Service Corps loan repayment.
ABOUT THE FACILITY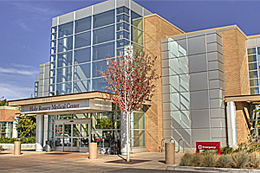 Saint Alphonsus Medical Center – Ontario – is a 49-bed, acute care hospital located on the Idaho/Oregon border. SAMG–O was established in 1911 by Dominican Sisters and serves Ontario and the surrounding communities in Eastern Oregon and Southwestern Idaho. Having recently celebrated its 100 year anniversary, we focus on providing services in a spiritual, healing environment.
As a not-for-profit medical center, SAMC-O reinvests profits back into the community and works to improve the health and well-being of those we serve by emphasizing care that is patient-centered, innovative and community based. This reinvestment includes the development of the $10,000,000 Saint Alphonsus Fruitland Health Plaza (http://www.saintalphonsus.org/fhp). The Fruitland Health Plaza delivers comprehensive care close to home, providing access to advanced technologies in one family-friendly and convenient location to those patients with routine, chronic or urgent care needs.
The design of the 30,000 square foot Health Plaza, which opened in the Fall of 2012, is intended to create a soothing, nurturing and healing environment focused on the needs of patients. Elements such as natural daylight, wood, water, live plants and earth tones are proven to provide a warm, soothing feeling intended to reduce stress and anxiety, uplift spirits and promote a more relaxed environment. The Fruitland Health Plaza further enhances our 100 year Mission and commitment to provide improved access to health care close to where you live, work, and play.
This state of the art facility is home to primary care and specialty physician offices along with a host of ancillary services. Services offered include: family medicine, urgent care, cardiology, occupational medicine, neurology, neurosurgery, physical, speech and occupational therapies, sports medicine, orthopedics as well as lab and radiology.
HealthGrades, the nation's most trusted, independent source of physician information and hospital quality ratings, recognized Saint Alphonsus Health System with multiple # 1 State rankings for Overall Cardiac Services, Cardiology Services, Cardiac Surgery, Coronary Interventional Procedures, Neurosciences, Neurosurgery, Treatment of Stroke and Gastro-Intestinal Services.
As a progressive health care provider, Saint Alphonsus customizes services to meet the needs of the patients and the community. Offering a full continuum of health care including acute care, birthing services and newborn care, pediatric care, outpatient services, rehabilitation, home care, outpatient surgery, including a 14-bed day surgery unit, Hospice & Home Health programs, and an 8-bed intensive care unit, SAMC–O strives to provide the most advanced equipment and sophisticated systems for the treatment of our patients.
Saint Alphonsus Medical Center – Ontario is committed to quality, compassionate health care, and personal service for our patients, our community and the physicians that partner with us to care for their patients. We believe that fostering relationships with our physicians is an integral way to achieve a successful future. Saint Alphonsus Medical Center – Ontario and Fruitland Health Plaza are part of the Saint Alphonsus Health System.
Saint Alphonsus Health System is a four-hospital, 714-bed integrated healthcare system serving the full range of the health and wellness needs of the people in southwestern Idaho, eastern Oregon and Northern Nevada. The system is comprised of Saint Alphonsus Regional Medical Center in Boise, Idaho, Saint Alphonsus Medical Center in Nampa, Idaho, Saint Alphonsus Medical Center in Ontario, Oregon and Saint Alphonsus Medical Center in Baker City, Oregon.
Saint Alphonsus Health System is a member of Trinity Health, the second largest Catholic health care system in the nation. Trinity Health is based in Livonia, Michigan.
For more information about Saint Alphonsus Health System, visit www.saintalphonsus.org
ABOUT THE COMMUNITY
Ontario, Oregon with a population of approximately 11,245 residents is the largest city in Malheur County (pop. 31,615) and is located on the eastern edge of Oregon and is one hour from Boise (a mid-sized metro area of 630,000) and midway between Salt Lake City and Portland.
Located on the Snake River, it is part of the area known as Idaho's Western Treasure Valley. The geography has spacious, rugged areas as well as prime agricultural growing land. The people in this area come from diverse cultural backgrounds, including those of Japanese, Basque, Mexican, Native American and European descent.
While Ontario serves as the retail, service, and medical center for 167,000 people within a 45-mile radius, the hospital's defined service area is comprised of 70,000 people. Interstate 84 and Oregon Highways 20/26, 30, and 201 all pass through Ontario; U.S. Highway 95 connects with Ontario via the Snake River Bridge on the Idaho/Oregon border.
Ontario has an agriculturally based economy; crops include onions, potatoes, sugar beets, corn, alfalfa, mint, seeds, grain, and hay. Livestock raised locally include: cattle, sheep, llamas, and buffalo. Trucking companies as well as Union Pacific rail lines help transport these commodities and processed food to markets throughout the nation and the world. There is also a growing retail sector that attracts shoppers from throughout the area.
The Ontario School District includes a high school, a middle school, and five elementary schools for 2,800 students. Voters in the community recently approved a school bond to finance construction and upgrades to existing schools. There are also two private schools and one charter school serving students K-8, two Head Start programs serving around 250 students, and several day care/pre-school centers. A local association provides support for home schooling families. Treasure Valley Community College provides educational, athletic musical, and cultural activities for students and the public, and an extension of Eastern Oregon University is housed in the Four Rivers Cultural Center.
The attractive and affordable housing in Ontario includes townhouses, apartments in quiet, gated communities, and country and mountain homes. A wide diversity of religious groups provides opportunity for worship and volunteer service. There are 30 congregations of different persuasions, including the only Buddhist Temple in Eastern Oregon.
Outdoors enthusiasts are drawn to Ontario, which is close to the Leslie Gulch-Succor Creek National Back Country Byway. The Byway offers views of some of the most rugged and spectacular countryside in eastern Oregon. There are many striking geologic formations, such as vertical towers, pinnacles, and deep gorges, as well as the vibrant pinks, oranges, purples, and reds painted across the sandstone cliffs.
Recreation opportunities abound in Ontario, which has a community aquatic center, 18-hole municipal golf course, movie theater with eight screens, bowling alley, fitness centers, Four Rivers Cultural Center, and over 61 acres of parks, including five municipal parks, one state park, and a skate park. Major local events include the America's Global Village Festival, Japanese-American Obon Festival, Malheur County Fair, Winter Wonderland Parade, and Basque Dinner & Dance. Other area recreation includes swimming, water skiing, bicycling, boating, hunting, hiking, and world-class fly fishing. Snow sports can also be found on nearby mountain slopes.
For more information on Ontario, Oregon, please visit www.ontariooregon.org/
ABOUT TRINITY HEALTH
Trinity Health is one of the largest multi-institutional Catholic health care delivery systems in the nation. We serve people and communities in 22 states from coast to coast with more than 90 hospitals and 100 continuing care facilities – including home care, hospice, PACE and senior living facilities and programs that provide nearly two and a half million visits annually. Trinity Health employs more than 133,000 colleagues, including 7,800 employed physicians and clinicians.
Our mission: We, Trinity Health, serve together in the spirit of the Gospel as a compassionate and transforming healing presence within our communities. We support this mission by living our core values of Reverence, Commitment to Those Who are Poor, Justice, Stewardship, and Integrity. Committed to recruiting talented physicians, we are looking for physicians who share our values and want to help us fulfill the health care needs of the communities we serve.
At Trinity Health, we value the physician relationship and focus on partnering with our physicians. Whether you are a practicing physician looking to relocate or a medical resident, we offer opportunities with the flexibility to fit your individual needs. If you would like to be part of Trinity Health, we encourage you to explore this opportunity at www.trinity-health.org.
If you are interested in this opportunity and would like to submit your CV, please email docopps@trinity-health.org or call Trinity Health Physician Recruitment at (734) 343-2300.
Contact Information
* When making contact with the person who posted this opportunity, please tell them you saw their posting on PracticeMatch.
Apply Now