CHI St. Vincent Heart Institute located in Little Rock, Arkansas is currently seeking BE/BC Interventional Cardiologists to join a well-established and expanding practice in Conway, Arkansas! The current practice currently consists of 3 providers who service Conway and the surround communities.
Offer Includes:
Employed position offering top compensation
Excellent Benefits
Retirement Plans
Relocation and CME
And so much more!
About Conway, Arkansas
Conway is a friendly community that combines the best hometown atmosphere with the energy and excitement of one of the fastest growing, most successful cities in the state. Conway has a population of over 60,000. We are known for excellent primary and secondary schools, having both public school and private options, one university and two colleges. We offer a low cost of living and abundant recreational opportunities such as cycling, fishing, water recreation, running clubs, hiking, hunting, shopping, and cultural activities. Conway offers family-oriented community programs from the music and arts to sports. Youth sporting programs are abundant throughout the city including soccer, baseball/softball, football and flag football, basketball, karate, wrestling, swim teams, cheerleading, dance and gymnastics.
About Catholic Health Initiatives
Catholic Health Initiatives, a nonprofit, faith-based health system formed in 1996 through the consolidation of four Catholic health systems, expresses its mission each day by creating and nurturing healthy communities in the hundreds of sites across the nation where we provide care. The nation's third-largest nonprofit health system, Englewood, Colorado-based CHI operates in 18 states and comprises 104 hospitals, including four academic health centers and major teaching hospitals as well as 30 critical-access facilities; community health-services organizations; accredited nursing colleges; home-health agencies; living communities; and other facilities and services that span the inpatient and outpatient continuum of care.
For more information, please contact:
Tasha Logan – Physician Recruiter
Phone: 501-609-2393
Email: tlogan@stvincenthealth.com
For more than 120 years, St. Vincent Health System has provided a welcoming presence in central Arkansas. Starting humbly as a 10-bed charity hospital in 1888 by the Sisters of Charity of Nazareth, KY., today's St. Vincent Health System operates five hospitals in Arkansas, a network of primary-care and specialty clinics, and several resource centers specifically focused on the needs of the medically uninsured.
Though the practice of medicine has changed dramatically since 1888, one thing has not – we remain true to our central focus on human dignity and social justice. St. Vincent's core values revolve around reverence, integrity, compassion and excellence in the workplace. Our reputation is that of a physician-friendly organization with a responsive attitude. We are dedicated to the highest level of knowledge and skill among all who serve – focused on the highest quality of care.
St. Vincent – and the surrounding community of Little Rock– is a welcoming place where physicians and their families can feel a real sense of life balance and belonging.
For more information about why You Belong Here, click here.
Catholic Health Initiatives (CHI) is a part of CommonSpirit Health™, a nonprofit, Catholic health system committed to building healthier communities, advocating for those who are poor and vulnerable, and innovating how and where healing can happen—both inside our hospitals and out in the community.
CommonSpirit was created by the alignment of Catholic Health Initiatives and Dignity Health as a single ministry in early 2019.
Our commitment to serve the common good is delivered through the dedicated work of thousands of physicians, advanced practice clinicians, nurses, and staff; through clinical excellence delivered across a system of 137 hospitals and more than 1,000 care centers serving 21 states; and through more than $4 billion annually in charity care, community benefits, and government program services.
With a large geographic footprint representing diverse populations across the U.S. and a mission to serve the most vulnerable, CommonSpirit is a leader in advancing the shift from sick care to well care, and advocating for social justice.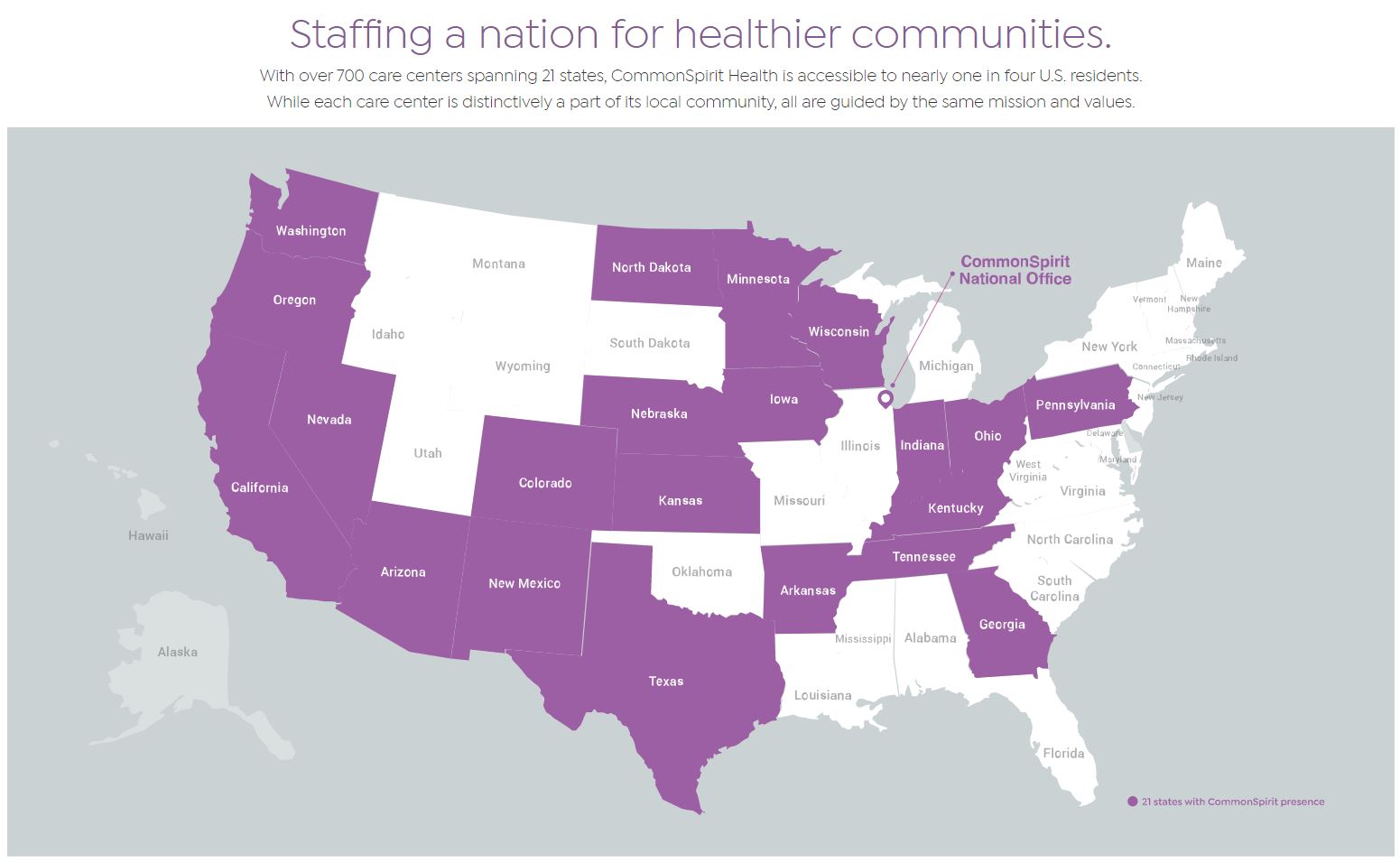 CommonSpirit Health also supports a range of community health programs, research programs, virtual care services, and home health programs addressing the root causes of poor health such as access to quality care and health equity, affordable housing, safe neighborhoods, and a healthy environment. Learn more at www.commonspirit.org.
Committed to welcoming everyone.
At CommonSpirit Health, we believe in cultivating a workplace in which diversity is celebrated and all people are included, respected, valued and celebrated. We lean on the variety of our colleagues' perspectives and backgrounds to challenge ourselves and to create a workplace that supports diversity, equity, inclusion and belonging.
CommonSpirit Health™ and its organizations are an Equal Opportunity/ Affirmative Action employer committed to a diverse and inclusive workforce. All qualified applicants will be considered for employment without regard to race, color, religion, sex, sexual orientation, gender identity, national origin, age, disability, marital status, parental status, ancestry, veteran status, genetic information, or any other characteristic protected by law.