CHI Health Clinic is seeking a BE/BC Endocrinologist to join our flourishing Endocrinology practice - in Lincoln, NE
This position offers:
Breadth of Services include: Diabetes, Thyroid diseases, Osteoporosis, Parathyroid disorders, Thyroid cancer/nodules, PCOS, Adrenal insufficiency, Pituitary tumors
Opportunity to have immediate patient panel. Currently a 2-3 month wait list. Over 70 new referrals per week
Large regional referrals; pulls from neighboring cities and surrounding states
Well Respected team of (2) physicians and (2) Advanced Practice Providers. APP's work at the top of their license seeing patients independently
OP only position in beautiful clinic setting. Dedicated exam rooms. Well resourced with staff. Includes laboratory & tech. Point of Care testing with clinic visit(s)
ADA Certified Diabetic Educator
CHI Health St. Elizabeth hospital only minutes away for procedures
Opportunity to work with Family Medicine Residency and APP programs
Epic EHR
Competitive Salary Guarantee + Relocation Allowance + Benefits
Interested Candidates, please submit CV to:
Bill Payson
Physician Recruiter
william.payson@commonspirit.org
CHI Health St. Elizabeth is a 260 bed level III trauma center that provides treatment for newborns, pediatrics, women's health, cardiology, orthopaedics, oncology and burn and wound care to name a few. St. Elizabeth has received Magnet designation status for the 4th time in a row, being the only hospital in Lincoln to achieve this level.
Catholic Health Initiatives (CHI) is a part of CommonSpirit Health™, a nonprofit, Catholic health system committed to building healthier communities, advocating for those who are poor and vulnerable, and innovating how and where healing can happen—both inside our hospitals and out in the community.
CommonSpirit was created by the alignment of Catholic Health Initiatives and Dignity Health as a single ministry in early 2019.
Our commitment to serve the common good is delivered through the dedicated work of thousands of physicians, advanced practice clinicians, nurses, and staff; through clinical excellence delivered across a system of 137 hospitals and more than 1,000 care centers serving 21 states; and through more than $4 billion annually in charity care, community benefits, and government program services.
With a large geographic footprint representing diverse populations across the U.S. and a mission to serve the most vulnerable, CommonSpirit is a leader in advancing the shift from sick care to well care, and advocating for social justice.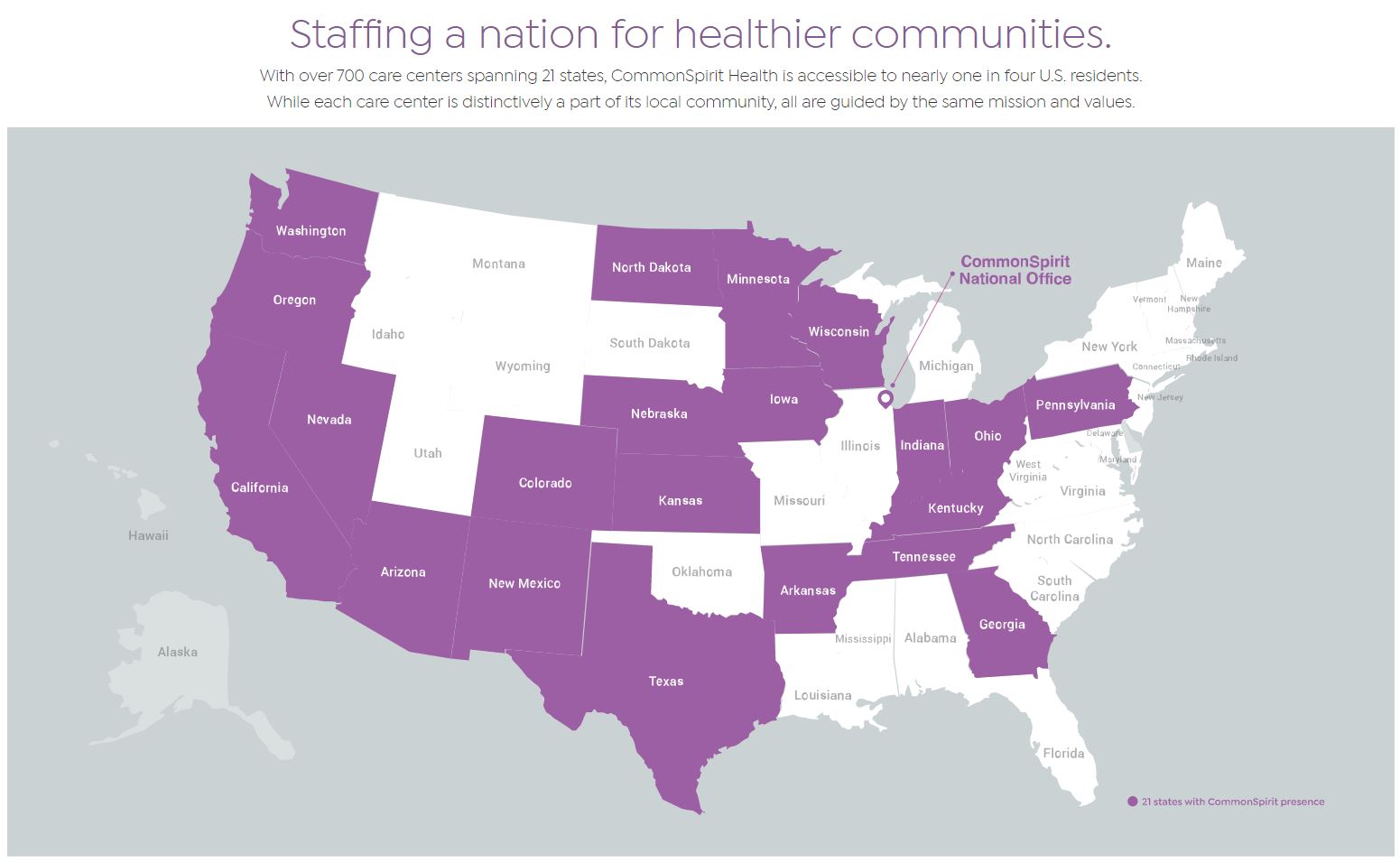 CommonSpirit Health also supports a range of community health programs, research programs, virtual care services, and home health programs addressing the root causes of poor health such as access to quality care and health equity, affordable housing, safe neighborhoods, and a healthy environment. Learn more at www.commonspirit.org.
CommonSpirit Health™ and its organizations are an Equal Opportunity/ Affirmative Action employer committed to a diverse and inclusive workforce. All qualified applicants will be considered for employment without regard to race, color, religion, sex, sexual orientation, gender identity, national origin, age, disability, marital status, parental status, ancestry, veteran status, genetic information, or any other characteristic protected by law.
CHI Health (Nebraska) has implemented a nicotine free work policy and will consider only qualified nicotine free candidates. As of March 1, 2019, cotinine (nicotine) will be added to the list of substances screen for during the post offer, pre-employment testing for all external job candidates offered employment. , A positive result for cotinine (nicotine) will eliminate eligibility for employment. consideration.