Seeking a niche practice in a collegial environment? The MercyOne Comfort Health Center for Women is looking for a BC/BE Internal Medicine Physician to provide clinical services in a quiet suburban setting. Flexible schedule of full or part time available.
Opportunity Details:
Outpatient Only
1 Internal Medicine Physician and 1 APP
Call coverage (phone only) 1:8
On site Medical Imaging/Pharmacy/Lab
North American Menopause Certified Providers
The MercyOne Comfort Health Center for Women is a new dimension in women's health care and the first-of-its-kind in Iowa.
Women of all ages are now able to access specialty care, complementary medicine, comprehensive risk assessments and wellness information in one conveniently located and newly renovated space in the MercyOne Clive Medical Plaza.
At the MercyOne Comfort Health Center for Women, we recognize health and quality of life concerns, especially for women at midlife, involve many areas of health care.
Our multi-disciplinary approach to women's health care allows us to offer coordinated care that extends beyond primary care into a full range of specialty medical services.
The team of physicians and medical personnel at MercyOne Comfort Health Center for Women embraces the role of enhancing a woman's quality of life and are trained to address your unique health care needs.
Any woman in need of our specialty care may self-refer or be referred by her primary care provider or other physician.
Mercy Comfort Health Center for Women offers menopause consultations, convenient and customized women's health screenings and assessments and diagnosis and treatment of numerous medical problems of special concern to women.
For more information go to www.mercyone.org/desmoines/find-a-service-or-specialty/comfort-health-center-for-women
To learn more contact:
Roger McMahon
Physician Employment Services
(515) 358-6923
rmcmahon@mercydesmoines.org
Greater Des Moines is consistently ranked nationally among the best places to live with low cost of living and strong job market. Spend Saturdays at the nationally-renowned Downtown Farmers' Market and afternoons strolling in the Pappajohn Sculpture Park. Bike to the job you love and come home to the community of friends and family. Enjoy abundant trails for walking, running and biking. Surrounding suburbs are known for top-notch schools, clean and safe neighborhoods.
Cultural events, music and art festivals, the Iowa State Fair and Iowa Cubs games at Principal Park are just a few attractions Des Moines has to offer. This is a place where culture flourishes and opportunities can grow, where a work/life balance can be achieved, where education is unmatched and award-winning arts and entertainment is always just around the corner. Live life without compromise.
Catholic Health Initiatives (CHI) is a part of CommonSpirit Health™, a nonprofit, Catholic health system committed to building healthier communities, advocating for those who are poor and vulnerable, and innovating how and where healing can happen—both inside our hospitals and out in the community.
CommonSpirit was created by the alignment of Catholic Health Initiatives and Dignity Health as a single ministry in early 2019.
Our commitment to serve the common good is delivered through the dedicated work of thousands of physicians, advanced practice clinicians, nurses, and staff; through clinical excellence delivered across a system of 137 hospitals and more than 1,000 care centers serving 21 states; and through more than $4 billion annually in charity care, community benefits, and government program services.
With a large geographic footprint representing diverse populations across the U.S. and a mission to serve the most vulnerable, CommonSpirit is a leader in advancing the shift from sick care to well care, and advocating for social justice.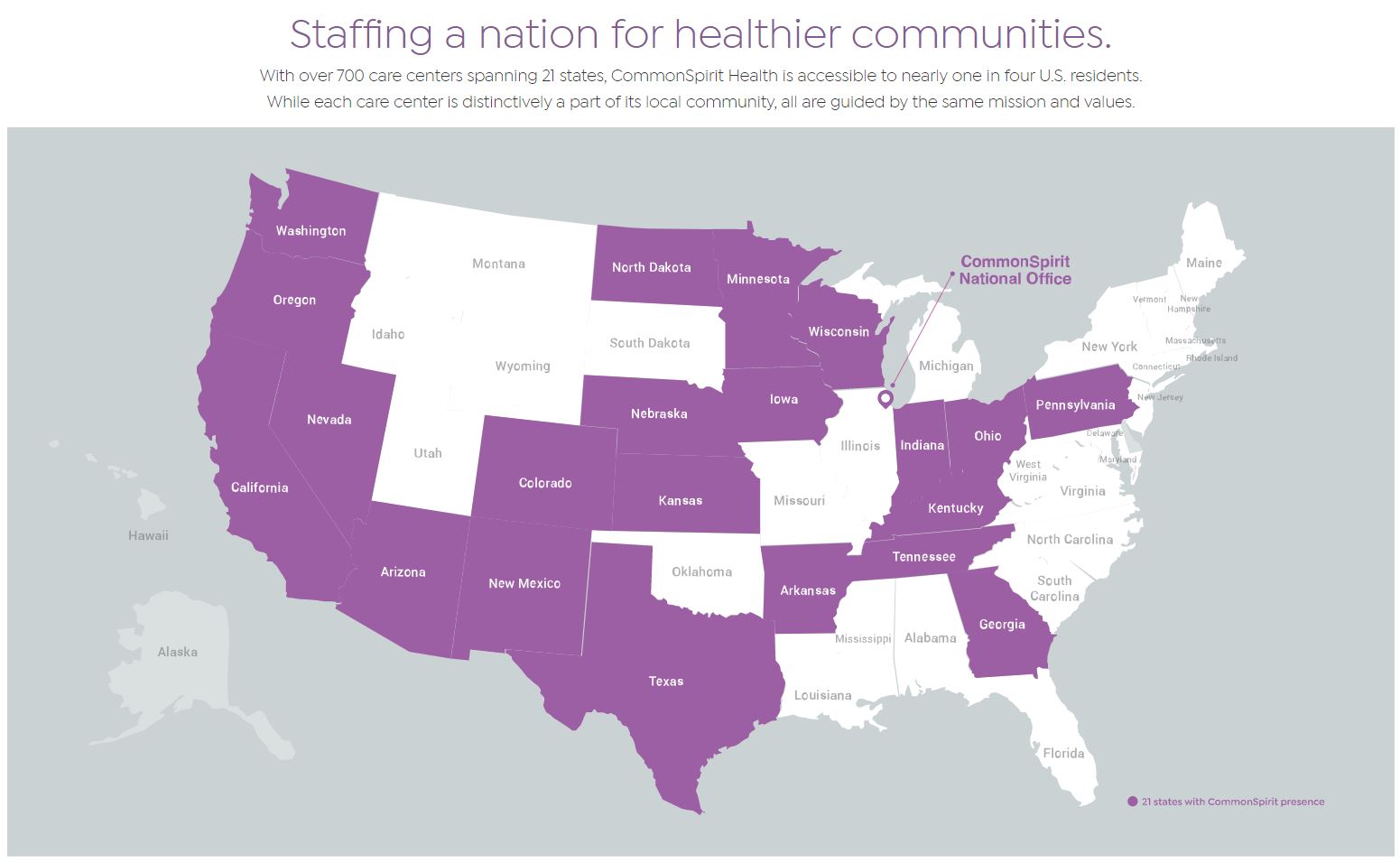 CommonSpirit Health also supports a range of community health programs, research programs, virtual care services, and home health programs addressing the root causes of poor health such as access to quality care and health equity, affordable housing, safe neighborhoods, and a healthy environment. Learn more at www.commonspirit.org.
CommonSpirit Health™ and its organizations are an Equal Opportunity/ Affirmative Action employer committed to a diverse and inclusive workforce. All qualified applicants will be considered for employment without regard to race, color, religion, sex, sexual orientation, gender identity, national origin, age, disability, marital status, parental status, ancestry, veteran status, genetic information, or any other characteristic protected by law.