CHI Oakes Hospital is committed to being the first choice for healing body, mind and spirit and is proud to serve South Central and Eastern North Dakota. We are actively seeking a BC, family medicine-trained nurse practitioner or physician assistant who embodies our passion for excellence and the creation of healthier communities.
A career with us means working for a financially-solid, mission driven organization committed building healthy communities, advocating for those who are poor and vulnerable, and innovating how and where healing can happen—both inside our hospitals and out in the community.
Practice Highlights
Full-time, employed clinic position
Clinic is open standard business hours. Full-time is 4 days per week with proportionate call
Flexible, independent practice style that is primarily outpatient clinic with low volume inpatient admission/rounding
Turn-key practice, established full patient panel – 75% adult / 25% pediatrics
Enjoy working with a friendly, established collaborative, dedicated, supportive team
Well-rounded practice with patients of all age, newborn to elderly. Note, pediatric is required.
Requirements
Ability to obtain an unrestricted North Dakota license and DEA
Successful completion of an approved Nurse Practitioner or Physician Assistant program in Family Medicine
Board Certified
One year of practice experience preferred, but not required
BLS, PALS and ACLS required
We Offer
Compensation Packages above national median include guaranteed based salary with performance incentives
Relocation Stipend
Generous Benefits – Medical/Dental/Vision, paid vacation, holidays, and CME allowance, 401 (k) with Match, Life and Disability Insurance, Professional Liability Insurance with tail coverage, Licensure and DEA -- just to highlight a few
Health care careers need compassion, like never before. Our communities and families around the world need humankindness that we are ready to provide. If you're an advanced practice provider who believes in the healing power of humanity, I invite you to contact me via text, email or mobile phone to explore a career in humankindness with us.
Catholic Health Initiatives (CHI) is a part of CommonSpirit Health™, a nonprofit, Catholic health system committed to building healthier communities, advocating for those who are poor and vulnerable, and innovating how and where healing can happen—both inside our hospitals and out in the community.
CommonSpirit was created by the alignment of Catholic Health Initiatives and Dignity Health as a single ministry in early 2019.
Our commitment to serve the common good is delivered through the dedicated work of thousands of physicians, advanced practice clinicians, nurses, and staff; through clinical excellence delivered across a system of 137 hospitals and more than 1,000 care centers serving 21 states; and through more than $4 billion annually in charity care, community benefits, and government program services.
With a large geographic footprint representing diverse populations across the U.S. and a mission to serve the most vulnerable, CommonSpirit is a leader in advancing the shift from sick care to well care, and advocating for social justice.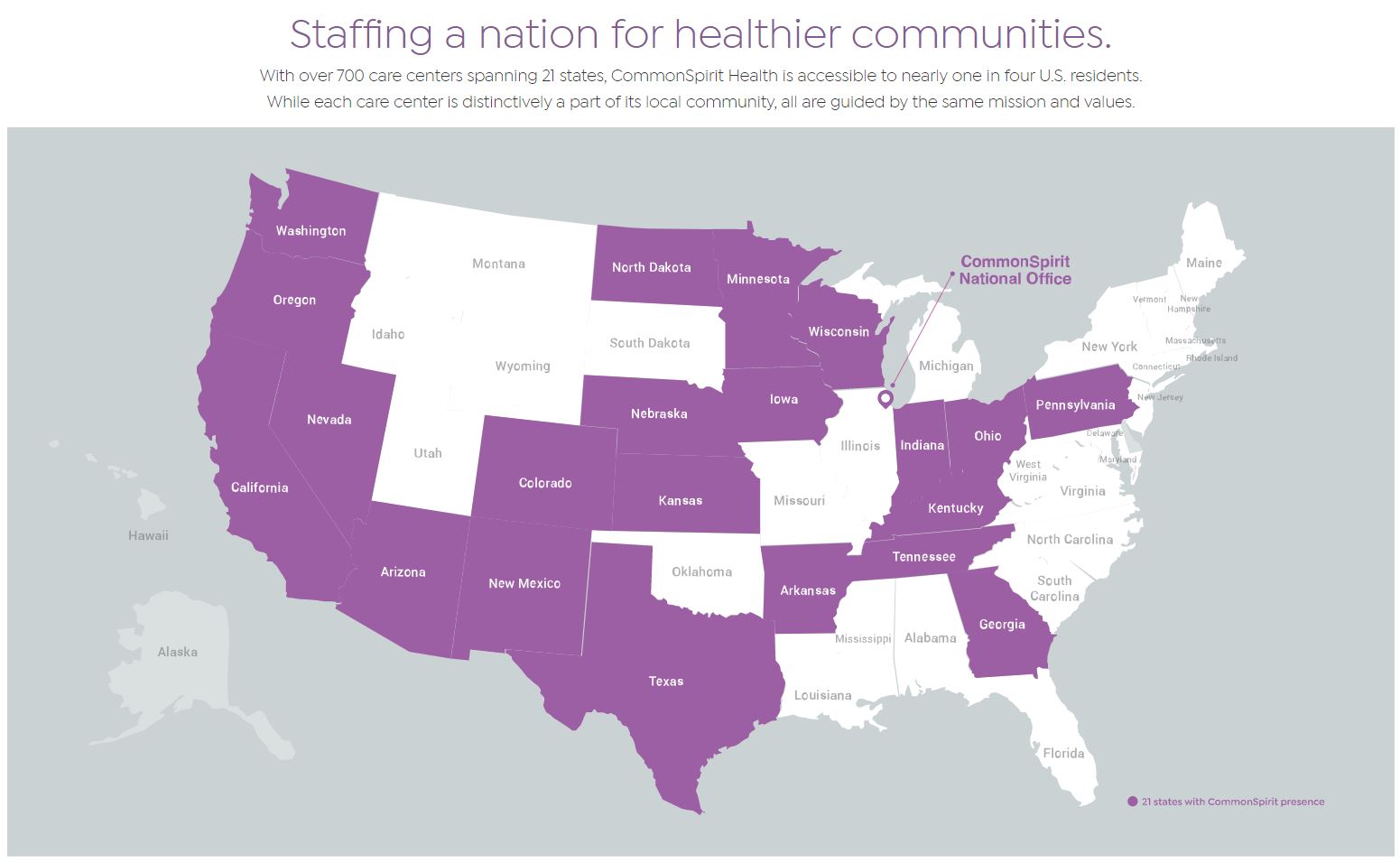 CommonSpirit Health also supports a range of community health programs, research programs, virtual care services, and home health programs addressing the root causes of poor health such as access to quality care and health equity, affordable housing, safe neighborhoods, and a healthy environment. Learn more at www.commonspirit.org.
Committed to welcoming everyone.
At CommonSpirit Health, we believe in cultivating a workplace in which diversity is celebrated and all people are included, respected, valued and celebrated. We lean on the variety of our colleagues' perspectives and backgrounds to challenge ourselves and to create a workplace that supports diversity, equity, inclusion and belonging.
CommonSpirit Health™ and its organizations are an Equal Opportunity/ Affirmative Action employer committed to a diverse and inclusive workforce. All qualified applicants will be considered for employment without regard to race, color, religion, sex, sexual orientation, gender identity, national origin, age, disability, marital status, parental status, ancestry, veteran status, genetic information, or any other characteristic protected by law.
A 2021 Top 100 Critical Access Hospital by The Chartis Center for Rural Health, Catholic Health Initiatives' Oakes Hospital was founded in 1923, by the Benedictine Sisters of Manitoba, Canada, as St. Anthony Hospital. In 1998, it became a part of CHI. Today it is a 20-bed critical access hospital and clinic proudly offer various inpatient and outpatient services to approximately 14,000 people in south central and eastern North Dakota. Our services include 24-Hour Level V Trauma Center, primary care, orthopedics and podiatry, acute and critical care, medical and surgical care, mental health, a full range of therapies and ancillary services. CHI Oakes Hospital ranks as one of the top hospitals in the entire CHI system year after year by our patients in the categories "likely to recommend" and "overall satisfaction".
Living in North Dakota!
Oakes is located in the Central South area of North Dakota and the community is proudly ranked in the 2021 Top 10 best towns to live in North Dakota for the seventh time! The community offers very stable economy built on farming, ranching and agriculture; it enjoys very low unemployment, higher than median income but most of all is known for its AMAZING quality of life and a strong supportive community. With easy access to a wide array of outdoor recreational opportunities to meet every interest, excellent K-12 schools, safe community with very low crime, and very affordable housing, Carrington truly is a remarkable place to work, play and raise a family.
Community/Area Links:
Distance to other regional Cities:
Jamestown, ND – 78 miles | 1 hour 20 mins
Fargo, ND – 112 miles | 1 hour 40 mins
Bismarck, ND – 185 miles | 2 hours 45 mins
Aberdeen, SD – 68 miles | 1 hour 10 mins
Sioux Falls, SD – 235 miles | 3.5 hours
Minneapolis, MN – 282 miles | 4.5 hours
Omaha, NE – 412 miles | 6 hours