The Hospitalist Fellowship Program at St. Alexius Medical Center in Bismarck, N.D. is a 1 year program that started in 2012 in collaboration with University of North Dakota School of Medicine and Health Sciences. The program is designed for Family Medicine or Internal Medicine graduates who are interested in pursuing a career as a Hospitalist.
Our fellowship program began in July of 2012 with two fellows. The fellows work directly with St. Alexius' hospitalist team. The field of hospital medicine is now well-established and continues to grow, with demand for hospitalists far out-weighing supply. With the concentrated inpatient training our fellowship provides, our graduates will be well-prepared to effectively practice hospital medicine in a variety of hospital settings. Enhanced skills and experience will allow the fellow to command more interest from hospital programs unaware of the potential for excellent hospital care by hospitalists trained in family or internal medicine.
Applicants must be a third-year resident in good standing or a graduate of an accredited family medicine residency or internal medicine residency. Licensed or eligible for licensure in the state of North Dakota is required. We can accept J1 Visa candidates.
Curriculum
Program offers significant opportunity to tailor the curriculum to personal career objectives. Some of these opportunities include participation in hospital committees, activities and quality improvement initiatives. Rotations include adult medicine/ICU, emergency medicine, cardiology, pulmonary. The fellow will be able to select from additional electives including:
- Neurology
- Nephrology
- Radiology
- Anesthesia
- Interventional Radiology
- Hematology/Oncology
- Infectious Disease
Program Goals & Objectives
Provide additional skill and experience in the inpatient management of adult medical patients
Optional pediatric experiences are available
Develop skill and experience in providing consultative service to non-admitting physicians or patients admitted to another physician requesting consultation in the hospital
Provide additional skill and experience in the needs and management of intensely ill adult patients
Effectively manage patients requiring admission through the emergency department setting
Provide opportunities for procedural experience appropriate for the care of hospitalized patients
Candidates interested in CHI St Alexius fellowship program, should send a copy of their current CV, a personal statement about career goals, and three letters of recommendation (program director, attending faculty, and a third individual of your choosing).
Send materials to:
Cristine Daniel, MBA
Cristine.Daniel@commonspirit.org
CHI St. Alexius Health is the largest health care delivery system in central and western North Dakota and is comprised of a tertiary hospital in Bismarck, and critical access hospitals (CAHs) in Carrington, Dickinson, Devils Lake, Garrison, Turtle Lake, Washburn and Williston and numerous clinics and outpatient services. In addition, CHI St. Alexius Health manages five CAHs in North Dakota- Ashley, Elgin, Linton, and Wishek, as well as Mobridge Regional Medical Center in Mobridge, SD. CHI St. Alexius Health also owns and operates outpatient clinics in Mandan and Minot.
CHI St. Alexius Health – Bismarck, is a 306-bed, full-service, acute care medical center offering a full line of inpatient and outpatient medical services, including primary and specialty physician clinics; home health and hospice services; durable medical equipment services and a fitness and human performance center. Since our founding in 1885, CHI St. Alexius Health has been dedicated to serving the residents of central and western North Dakota, northern South Dakota and eastern Montana.
CHI St. Alexius Health is a Roman Catholic organization whose sponsors are the Sisters of St. Benedict of the Annunciation Monastery, in Bismarck, ND and as an organization we follow the Ethical and Religious Directives for Catholic Health Care Services as promulgated by the United States Conference of Catholic Bishops. CHI St. Alexius Health is proud of its stellar reputation as a caring, high quality medical center and of its many awards for clinical excellence, customer satisfaction and community service, but we are even more proud of our dedication to our mission.
Throughout its history, CHI St. Alexius Health has proudly served central and western North Dakota. Our ever-expanding lists of medical program, services and providers play an important role in the overall health and well-being of the 355,000 residents in our central and western North Dakota service area.
Bismarck, the capital of North Dakota and is located along the majestic Missouri River, is an outdoor enthusiast's dream and is renowned for year-round outdoor recreation – hunting, fishing, golfing, hiking, skiing, and an assortment of winter sports. Coupled with a major river system and dozens of lakes, water sports and recreation opportunities are endless. For those that love the city, residents enjoy a wide range of museums, performing arts, great dining, shopping and entertainment theaters and restaurants.
Widely known as a region that is business friendly, a growing oil and energy sector, manufacturing and agriculture – the region enjoys an extraordinary low unemployment. Coupled with a regional airport, a vast assortment of affordable homes in terrific neighborhoods, the lowest crime rates in the country, exceptional public and private schools, colleges, universities – and the small-town charm that is a hallmark of this area – you and your family will find this a wonderful place to call home.
Catholic Health Initiatives (CHI) is a part of CommonSpirit Health™, a nonprofit, Catholic health system committed to building healthier communities, advocating for those who are poor and vulnerable, and innovating how and where healing can happen—both inside our hospitals and out in the community.
CommonSpirit was created by the alignment of Catholic Health Initiatives and Dignity Health as a single ministry in early 2019.
Our commitment to serve the common good is delivered through the dedicated work of thousands of physicians, advanced practice clinicians, nurses, and staff; through clinical excellence delivered across a system of 137 hospitals and more than 1,000 care centers serving 21 states; and through more than $4 billion annually in charity care, community benefits, and government program services.
With a large geographic footprint representing diverse populations across the U.S. and a mission to serve the most vulnerable, CommonSpirit is a leader in advancing the shift from sick care to well care, and advocating for social justice.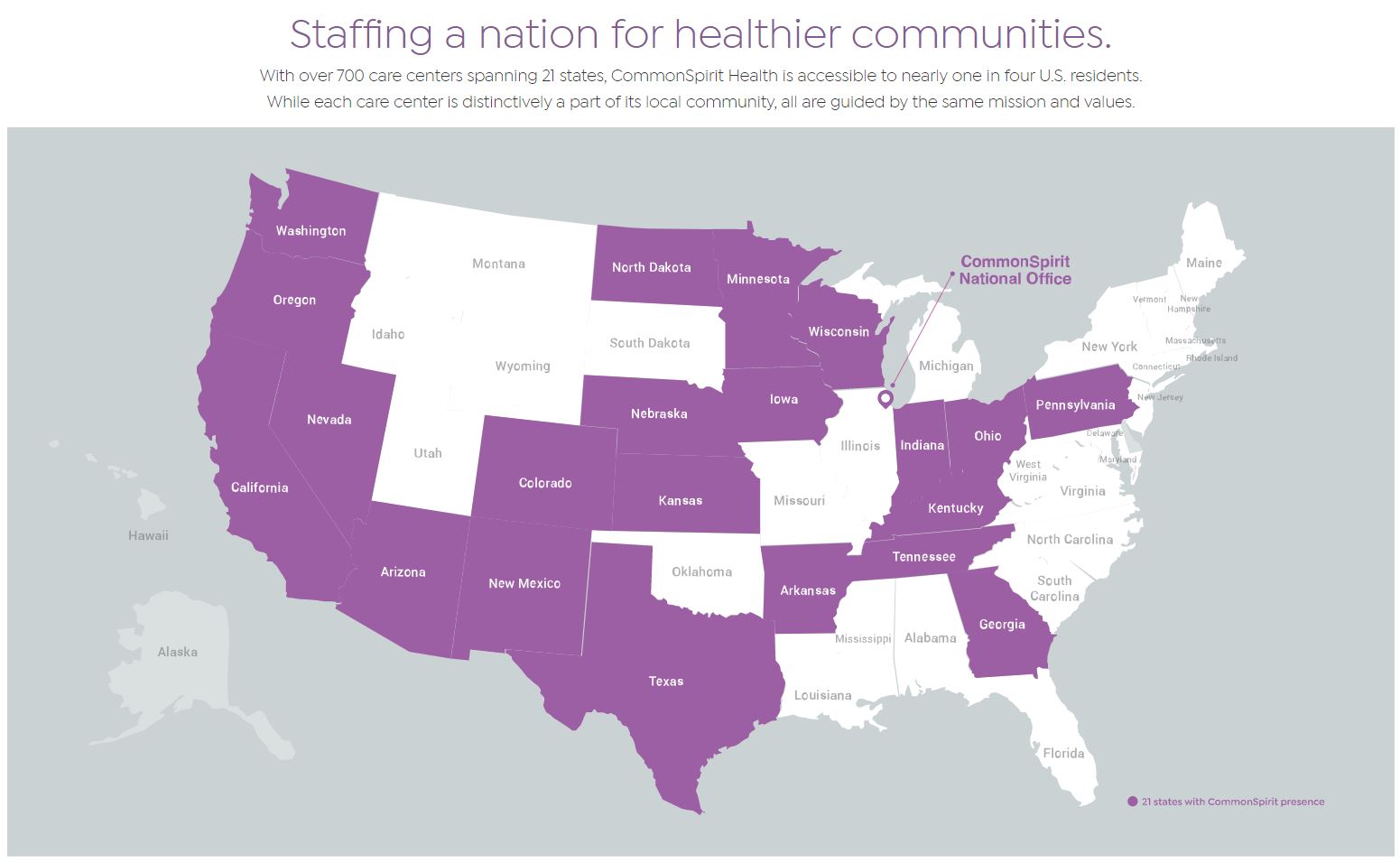 CommonSpirit Health also supports a range of community health programs, research programs, virtual care services, and home health programs addressing the root causes of poor health such as access to quality care and health equity, affordable housing, safe neighborhoods, and a healthy environment. Learn more at www.commonspirit.org.
CommonSpirit Health™ and its organizations are an Equal Opportunity/ Affirmative Action employer committed to a diverse and inclusive workforce. All qualified applicants will be considered for employment without regard to race, color, religion, sex, sexual orientation, gender identity, national origin, age, disability, marital status, parental status, ancestry, veteran status, genetic information, or any other characteristic protected by law.
Catholic Health Initiatives, a nonprofit, faith-based health system formed in 1996 through the consolidation of four Catholic health systems, expresses its mission each day by creating and nurturing healthy communities in the hundreds of sites across the nation where we provide care. One of the nation's largest nonprofit health systems, Englewood, Colorado-based CHI operates in 18 states and comprises 100 hospitals, including two academic health centers and major teaching hospitals as well as 30 critical-access facilities; community health-services organizations; accredited nursing colleges; home-health agencies; living communities; and other facilities and services that span the inpatient and outpatient continuum of care.
In fiscal year 2018, CHI provided more than $1.14 billion in financial assistance and community benefit for programs and services for the poor, free clinics, education and research. Financial assistance and community benefit totaled approximately $2.1 billion with the inclusion of the unpaid costs of Medicare. The health system, which generated operating revenues of $15 billion in fiscal year 2018, has total assets of approximately $20.5 billion. Learn more at www.catholichealthinitiatives.org
Consistent with our Core Values, Catholic Health Initiatives and its organizations are EEO/AA/M/F/Vets/Disabled Employers. Qualified applicants will receive consideration for employment without regard to their race, color, religion, national origin, sex, sexual orientation, gender identification, protected veteran status, disability or any other legally protected characteristic.
Catholic Health Initiatives and its organizations are Equal Opportunity Employers and support a drug-free environment.