CHI Health St. Alexius Minot Family Medicine sees a Physician to join their primary care provider team and a beautiful brand new large clinic located in the suburbs of Minot, North Dakota. The clinic in the medical plaza boasts onsite laboratory, X-Ray, ultrasound, CT, MRI, 3-D Mammography physical therapy, pharmacy and much more. There is a tremendous opportunity for growth, for a physician who desires to lead clinical operations. Additional details include:
Five current nurse practitioners
Three pods with nine dedicated exam rooms in each pod
Procedure rooms
Specialist support on site such as orthopedics, cardiology, urology, diabetic and neurology
Clinic nursing support
No call or weekend work
Flexible scheduling
Easy ramp-up
Addition benefits include: competitive salary plus production and sign on bonus. Generous amount of paid vacation time, CME ($5,000) and time off, retirement, health, vision and dental insurance, professional liability insurance
Welcome to Minot
Minot is best known as the Magic City. Founded in 1887 when the Great Northern Railway set up camp in the winter. As if by magic, the tent town grew rapidly into a bustling population within five months. The city continued to grow with construction of Minot State University and Minot Airforce Base. This vibrant city is full of attractions including the Roosevelt Zoo, Dakota Air Museum and a 65-piece symphony orchestra. During the fall, the "Norwegian Fall Festival" occurs annually and draws international travelers from around the world. Eat your way through the city's cuisine with local favorites, blended with flavors from around the globe, including bakeries, pubs, fine dining and family style restaurants. Minot is truly the best of both worlds with small-town atmosphere with big city style!
Catholic Health Initiatives, a nonprofit, faith-based health system formed in 1996 through the consolidation of four Catholic health systems, expresses its mission each day by creating and nurturing healthy communities in the hundreds of sites across the nation where we provide care. One of the nation's largest nonprofit health systems, Englewood, Colorado-based CHI operates in 18 states and comprises 100 hospitals, including two academic health centers and major teaching hospitals as well as 30 critical-access facilities; community health-services organizations; accredited nursing colleges; home-health agencies; living communities; and other facilities and services that span the inpatient and outpatient continuum of care.
In fiscal year 2018, CHI provided more than $1.14 billion in financial assistance and community benefit for programs and services for the poor, free clinics, education and research. Financial assistance and community benefit totaled approximately $2.1 billion with the inclusion of the unpaid costs of Medicare. The health system, which generated operating revenues of $15 billion in fiscal year 2018, has total assets of approximately $20.5 billion. Learn more at www.catholichealthinitiatives.org
Catholic Health Initiatives and its organizations are Equal Opportunity Employers and support a drug-free work environment.
Catholic Health Initiatives (CHI) is a part of CommonSpirit Health™, a nonprofit, Catholic health system committed to building healthier communities, advocating for those who are poor and vulnerable, and innovating how and where healing can happen—both inside our hospitals and out in the community.
CommonSpirit was created by the alignment of Catholic Health Initiatives and Dignity Health as a single ministry in early 2019.
Our commitment to serve the common good is delivered through the dedicated work of thousands of physicians, advanced practice clinicians, nurses, and staff; through clinical excellence delivered across a system of 137 hospitals and more than 1,000 care centers serving 21 states; and through more than $4 billion annually in charity care, community benefits, and government program services.
With a large geographic footprint representing diverse populations across the U.S. and a mission to serve the most vulnerable, CommonSpirit is a leader in advancing the shift from sick care to well care, and advocating for social justice.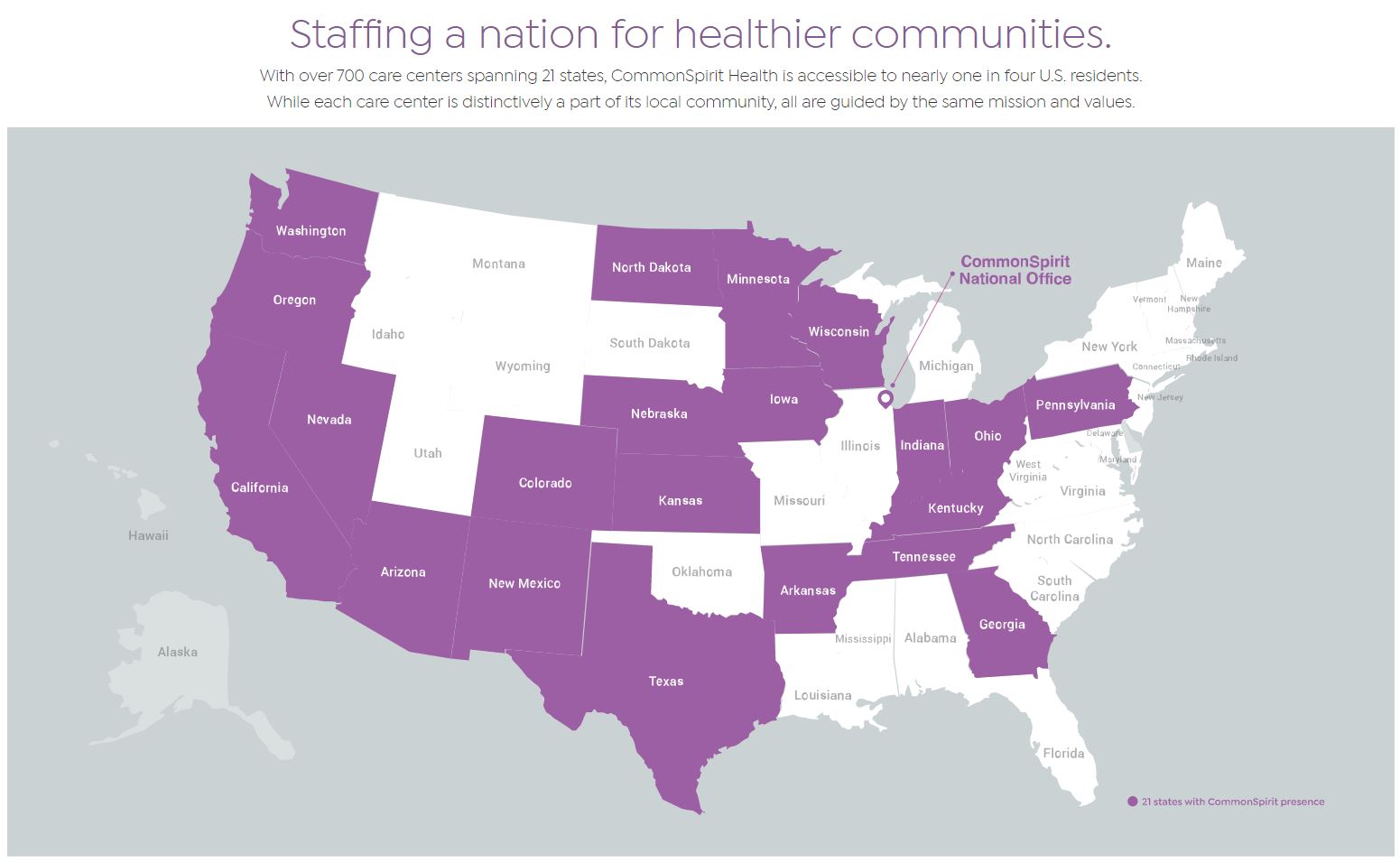 CommonSpirit Health also supports a range of community health programs, research programs, virtual care services, and home health programs addressing the root causes of poor health such as access to quality care and health equity, affordable housing, safe neighborhoods, and a healthy environment. Learn more at www.commonspirit.org.
Committed to welcoming everyone.
At CommonSpirit Health, we believe in cultivating a workplace in which diversity is celebrated and all people are included, respected, valued and celebrated. We lean on the variety of our colleagues' perspectives and backgrounds to challenge ourselves and to create a workplace that supports diversity, equity, inclusion and belonging.
CommonSpirit Health™ and its organizations are an Equal Opportunity/ Affirmative Action employer committed to a diverse and inclusive workforce. All qualified applicants will be considered for employment without regard to race, color, religion, sex, sexual orientation, gender identity, national origin, age, disability, marital status, parental status, ancestry, veteran status, genetic information, or any other characteristic protected by law.
When the Benedictine Sisters of Annunciation Monastery founded CHI St. Alexius Health in 1885, they did so because they had been asked by the community to provide healthcare. Since our humble beginnings more than 129 years ago, CHI St. Alexius Health has evolved into a world-class medical center, offering the latest in technology, supporting first-time cutting-edge procedures and receiving countless national awards for quality and safety. It is our reputation for delivering compassionate, quality healthcare on a daily basis that has allowed CHI St. Alexius Health to become a healthcare provider of choice in the communities we serve.