CHI Lakewood Health is actively recruiting a Nurse Practitioner to join our well established clinic in Baudette, Minnesota. This position is in direct response to expanding services needs of the vibrant communities we serve.
The ideal candidate for this position will be:
Experienced in Family Medicine with a desire to work in a traditional primary care clinic setting

Full time 40-hour work week

Have excellent interpersonal and leadership skills

Ability to work well in a team-based care delivery model

Possess a strong commitment to the creation of healthier communities

This practice model supports outpatient clinic operations
We offer a robust compensation packages which includes:
A generous guaranteed salary

Quality incentives

Paid relocation

An excellent benefit package*– comprised of matching 403b, medical, dental and vision insurance, paid professional liability insurance, and much more
Our Invitation to You – Come discover why more physicians and providers choose to call Catholic Health Initiatives home. If you're passionate about patient care and like what we stand for, take a moment to explore this exceptional opportunity we welcome your interest by email or call to Carolyn Weber at (701) 237-8105 or Carolyn.Weber502@commonspirit.org.
CHI LakeWood Health provides for the social, health and welfare needs of residents in Lake of the Woods County, as well as contiguous counties, Koochiching County, Beltrami County, and Roseau County, and the neighboring country of Canada. As a federally designated Critical Access Hospital, we are privileged to serve a population of 6,000 to 9,000 people, the number fluctuating with seasonal tourism activities. CHI LakeWood Health includes a Hospital, Clinic, Care Center, and Nursing Service.
Baudette is an outdoor enthusiasts dream come true! Situated in picturesque Northern Minnesota, Baudette is the county seat of Lake of the Woods County. Only 160 miles NE of Fargo, North Dakota and 265 miles N of Minneapolis, Minnesota, Baudette is an excellent community to enjoy the great outdoors and safely raise a family. Renown as the Walleye Capital of the World, residents and visitors alike, enjoy year-round fishing. Plus our close proximity to Zippel Bay State Park and Beltrami Island State Forest, this area is home to miles of rivers and lakes with sandy beaches for you and your family to enjoy a wide range of outdoor activities including hiking, hunting, kayaking, paddle boarding, boating/water sports, as well as mountain biking and snowmobiling. Baudette is also home to many fine businesses, specialty shops, restaurants, motels and resorts with ample facilities to support thousands of visitors every year. Coupled with excellent schools and extremely low crime rates, this is the ideal place to raise a family.
Catholic Health Initiatives (CHI) is a part of CommonSpirit Health™, a nonprofit, Catholic health system committed to building healthier communities, advocating for those who are poor and vulnerable, and innovating how and where healing can happen—both inside our hospitals and out in the community.
CommonSpirit was created by the alignment of Catholic Health Initiatives and Dignity Health as a single ministry in early 2019.
Our commitment to serve the common good is delivered through the dedicated work of thousands of physicians, advanced practice clinicians, nurses, and staff; through clinical excellence delivered across a system of 137 hospitals and more than 1,000 care centers serving 21 states; and through more than $4 billion annually in charity care, community benefits, and government program services.
With a large geographic footprint representing diverse populations across the U.S. and a mission to serve the most vulnerable, CommonSpirit is a leader in advancing the shift from sick care to well care, and advocating for social justice.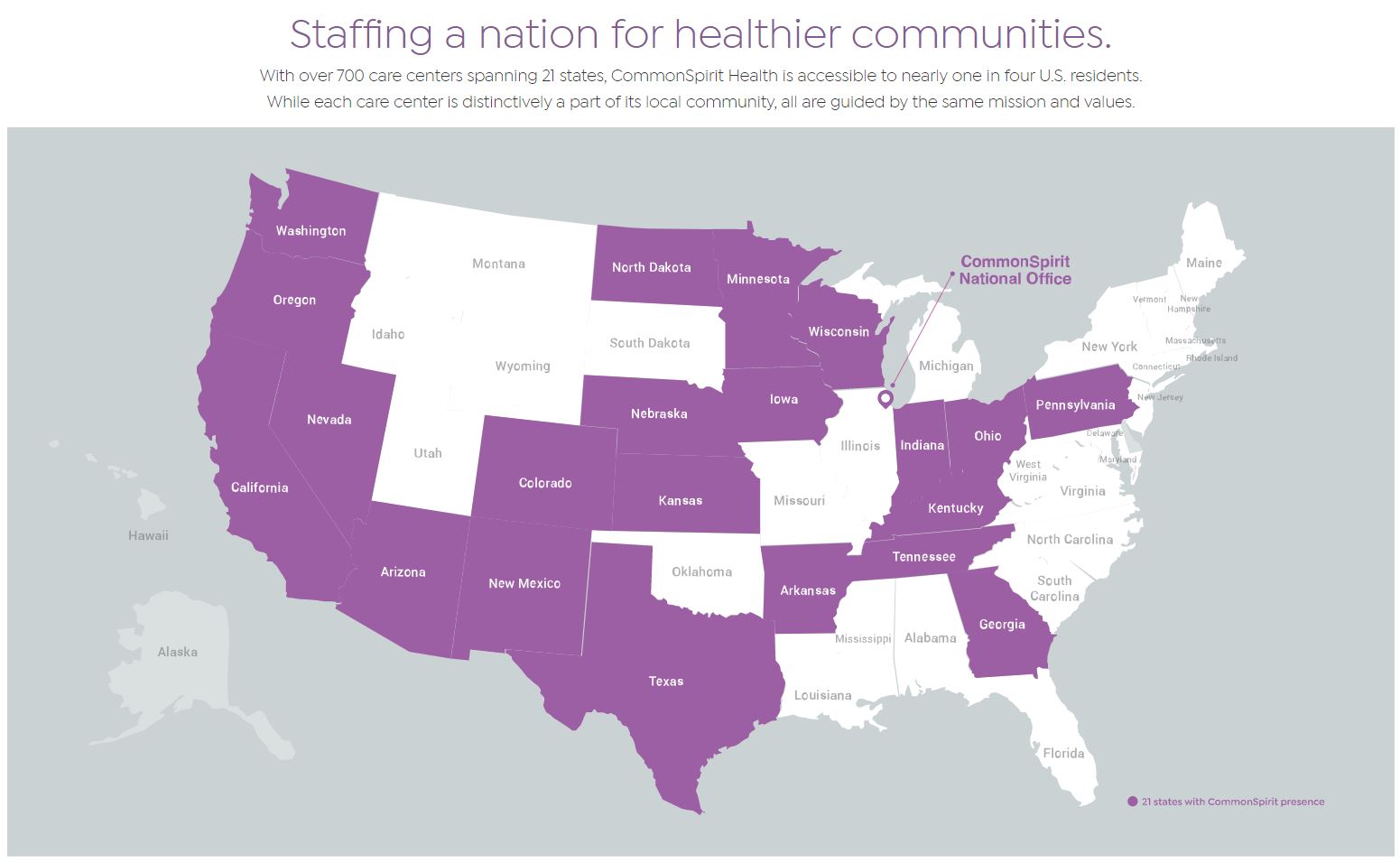 CommonSpirit Health also supports a range of community health programs, research programs, virtual care services, and home health programs addressing the root causes of poor health such as access to quality care and health equity, affordable housing, safe neighborhoods, and a healthy environment. Learn more at www.commonspirit.org.
Committed to welcoming everyone.
At CommonSpirit Health, we believe in cultivating a workplace in which diversity is celebrated and all people are included, respected, valued and celebrated. We lean on the variety of our colleagues' perspectives and backgrounds to challenge ourselves and to create a workplace that supports diversity, equity, inclusion and belonging.
CommonSpirit Health™ and its organizations are an Equal Opportunity/ Affirmative Action employer committed to a diverse and inclusive workforce. All qualified applicants will be considered for employment without regard to race, color, religion, sex, sexual orientation, gender identity, national origin, age, disability, marital status, parental status, ancestry, veteran status, genetic information, or any other characteristic protected by law.