Reading Hospital/Tower Health is seeking a fellowship trained Sleep Medicine Physician to join our very experienced and busy Sleep Medical Clinic. The physician will be joining a collaborative team including a Board-Certified Neurologist and a Nurse Practitioner. We have a robust referral base and partnerships with subspecialists in Pulmonology, ENT, Dental Sleep Medicine and Weight Management.

Reading Hospital Sleep Lab has been accredited by the American Academy of Sleep Medicine since 2009. Our staff are devoted to the evaluation, treatment, and education of our sleep patients. We perform sleep testing on patients age 2 years and older in the Sleep Center and consult with Respiratory Care for pediatric patients admitted to the pediatric unit for Pneumograms for patients under age 2.

Reading Hospital is a 714-bed hospital, the flagship, Magnet Recognized, acute care hospital of Tower Health located in West Reading, Pennsylvania. Reading Hospital is home to many top-tier specialty care centers, including Reading HealthPlex, McGlinn Cancer Institute, Miller Regional Heart Center, Emergency Department, Level I Trauma Center and Beginnings Maternity Center, which houses the region's only Level III Neonatal Intensive Care Unit (NICU). With more than 1,000 physicians and providers across 49 locations, Reading Hospital has been recognized for its quality outcomes and clinical expertise across services lines. It is listed as one of America's 100 Best Hospitals for five consecutive years, America's 50 Best Hospitals for 2022 and received a 5-Star Rating from CMS two years in a row. For more information, visit towerhealth.org.

Tower Health & Drexel University College of Medicine have partnered to open a brand new medical school 1/2 miles from the Reading Hospital campus. The medical school opened in July 2021; when fully operational, the medical school will enroll 200 medical students.

Reading Hospital Awards and Recognition:
America's 50 Best Hospitals Award™ (2022)
America's 100 Best Hospitals Award™ (2017-2021)
Reading Hospital Recognized on Newsweek's World's Best Hospitals (92 nd ) 2021 List
Top 1 percent of U.S. hospitals for clinical outcomes
One of 10 Best Value Hospitals in Pennsylvania
America's 100 Best Hospitals for Stroke Care™ (2013-2021)
Top 10% in the Nation for Neurosciences (2015-2021)
Top 10% in the Nation for Treatment of Stroke (2007-2021)
Five-Star Recipient for Treatment of Stroke (2006-2021)

Responsibilities

The Sleep Medical Clinic is fashioned in the advanced collaborative model and is supported by Sleep Therapist Clinic that is run in conjunction with AASM accredited 10 bed plus Sleep Lab.

Follow-up patients with CPAP/mask interface issues are directly seen and followed in the Sleep Therapist Clinic before being followed in the Sleep Medical Clinic. There are plans for In House DME to provide more Comprehensive Patient care.

The clinic staff along with Sleep Education Certify Technologists regularly operate the Sleep Therapist Clinic for complicated post hospital and Sleep Medical Clinic follow-up patients

Benefits & Perks:
Competitive Compensation Plan with a superb benefits package
CME Allowance
Retirement programs
Loan Forgiveness Assistance Program
Malpractice Insurance with Tail Coverage
Relocation Assistance
Spousal/Domestic Partner Job Search Support
H1B Visas and Green Card Sponsorship (we cannot currently support J1 Visa Waivers).

Living in Berks County - From Reading Fellows (Video)

Reading Hospital is located in West Reading, part of Berks County, Pennsylvania. This is an area that offers many wonderful places to live and raise a family. Berks County is 1 hour northwest of Philadelphia and within driving distance of other major metropolitan areas like Baltimore and New York City, offering an easy chance to get away for some big city excitement.

Contact Name: Ken Nichols

Contact Email: Kenneth.nichols@towerhealth.org

Contact Phone: 484-628-6581

#LI

Qualifications

Requirements:
MD or DO
Physician must be licensed/eligible to practice medicine in Pennsylvania
Board Eligible/Board Certified in Sleep Medicine
Reading Hospital is the largest hospital within Tower Health and is committed to advancing health and transforming lives of the people we serve. Through physician and staff commitment, we have established a culture of collaboration, professionalism, transparency and responsibility that allows us to deliver high-quality care through evidence-based medicine. Established as The Reading Dispensary in 1868, the 750+ bed Reading Hospital has since expanded into a leader in tertiary care for this region of Pennsylvania. As an Academic teaching hospital, residencies include Emergency Medicine, Family Medicine, Internal Medicine, OB/GYN, and Podiatry.


About Us:
Main West Reading campus is located in scenic Berks County

750+ acute beds, 22-building complex on 36 suburban acres

Busiest emergency department in Pennsylvania with over 135,000 visits per year

Level I Trauma Center

Over 3,500 births annually; high-risk pre- and post-natal care; IVF and fertility services

Level III NICU

Miller Regional Heart Center - including cardiac surgery

McGlinn Cancer Institute - recently recertified by the Commission on Cancer with a gold rating and reaccreditation by the Quality Oncology Practice Initiative (QOPI®) Certification Program

Future site of Drexel University College of Medicine Branch Campus; Expected opening: 2020
Moving Medicine Forward: Reading HealthPlex
Our newest expansion that recently opened in October of 2016; a 476,000 square foot surgical and inpatient tower, is Reading HealthPlex for Advanced Surgical & Patient Care. Now one of the most technologically advanced and sophisticated surgical centers in the region, this new facility features:
24 surgical suites, including six hybrid-capable operating rooms

8 minor procedure rooms

150 private patient rooms equipped with smart technology

16 new emergency treatment rooms and expansion to 5 trauma bays

88,000 square foot rooftop Healing Garden making up over 72% of the building's overall footprint and the third largest green roof on a healthcare building in the United States.

Of the more than 30 awards, certifications and designations earned by Reading Hospital, just a few include HealthGrades™ Distinguished Hospital Award for Clinical Excellence four years in a row, as well as, their America's 100 Best Specialty Care Hospitals for critical care, pulmonary care and stroke care award; The Joint Commission's Gold Seal of Approval; recognized by Verras' Medical Value Index as one of the 10 Best Hospitals in Pennsylvania for acute care; award winning hospital by The American Heart Association/American Stroke Association; Hospitals and health networks Healthcare's Most Wired Award; and Becker's Hospital Review as one of the 50 greenest hospitals in America.

Through the strategic initiatives of clinical integration, improving the patient experience, as well as, employee and provider engagement, and finally operational excellence; our Mission is to provide compassionate, accessible, high quality, cost effective health care to the community; to promote health; to educate healthcare professionals; and to participate in appropriate clinical research.
Tower Health is a strong, regional, integrated healthcare provider/payer system that offers leading-edge, compassionate healthcare and wellness services to a population of about two million people. Together, our four acute care hospitals and other entities provide a full range of medical care — from prevention, screenings and education; to the latest clinical services and surgeries available; to rehabilitation. We also offer wellness programs and public health services that ensure our communities are the healthiest they can be. Tower Health's caring, highly trained physicians and staff are committed to patient safety and satisfaction.
With more than 11,000 team members, Tower Health consists of:
Reading Hospital, a teaching hospital based in West Reading

Chestnut Hill Hospital, a teaching hospital in Philadelphia

Phoenixville Hospital in Phoenixville

Pottstown Hospital in Pottstown

St. Christopher's Hospital for Children, a partnership of Tower Health and Drexel University in Philadelphia
Tower Health also includes:
Reading Hospital Rehabilitation at Wyomissing

Reading Hospital School of Health Sciences

Home healthcare services provided by Tower Health at Home; and a network of 27 urgent
care facilities across the Tower Health service area

Tower Health Medical Group, a connected network of more than 143 primary care and specialty care locations that includes 761 physicians and 367 Advanced Practice Providers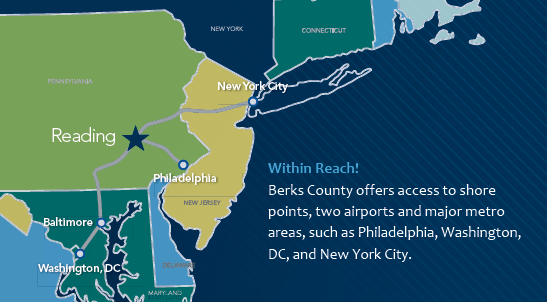 Reading Hospital is located in West Reading, Berks County, 60 miles northwest of Philadelphia. Reading is home to the Berks Jazz Fest, held annually for more than 25 years. At the downtown Santander Performing Arts Center, recognized as one of the top 100 concert venues in the US, you can see entertainers from Elton John to Jerry Seinfeld. The Reading Symphony Orchestra and Reading Choral Society offer more traditional performances, while every year, tens of thousands flock to Reading for World War II Weekend that features living history re-enactors, vintage WWII aircraft, and military vehicles. The Reading Public Museum , Arboretum, and Neag Planetarium, located immediately next to the hospital's campus in West Reading, offers historical and educational programs for families, adults, and children. GoggleWorks, a restored factory, is one of the largest, most comprehensive interactive community arts centers in the country. There they offer an exceptional opportunity for visitors to experience and learn about the arts in a working studio environment.


Berks County offers excellent schools, affordable homes, colleges and parks in addition to a multitude of cultural, recreational, shopping, sporting attractions and social amenities all within driving distance of shore points, Philadelphia, Washington, DC and New York City.

Check out the links below to learn more about West Reading and Berks County!
Love West Reading – All about West Reading
Greater Reading Berks – All about Reading and Berks County
Hiker Central – Camping, hiking, skiing, fishing in the area