CHI - St Gabriel's Health
815 SE 2nd St

Little Falls

,

MN

56345
Who We Are
CHI St. Gabriel's Health is a multi-facility health care entity which also includes Family Medical Center (a multispecialty clinic), Little Falls Orthopedics (a orthopedic and podiatry practice), St. Camillus Place (a 14-bed home for adults with developmental disabilities), and Alverna Apartments (a 60-unit, HUD-subsidized senior housing complex), all located in Little Falls as well as Albany Area Hospital & Medical Center (a 17-bed critical access hospital and associated medical practice) located in Albany, MN.

The cornerstone of CHI St. Gabriel's Health is St. Gabriel's Hospital, which was founded by the Franciscan Sisters of Little Falls (FSLF) in 1891 and received its first patient in January 1892. The first hospital-only building opened in 1916 (portions still in use today). The hospital continued to grow throughout the 20th century until it reached a maximum of 124-beds in the early 1980s. The introduction of the Prospective Pricing System and changes in Medicare and other hospital reimbursement led to a gradual reduction in beds throughout the 1990s and eventually incentives related to becoming a critical access hospital (CAH) resulted in downsizing to our current license of 49-beds. St. Gabriel's Hospital as well as its affiliated clinics and home health agency are certified by The Joint Commission, a national quality accreditation organization.
Family Medical Center is CHI St. Gabriel's Health's second largest entity with approximately 25 providers (physicians and mid-level practitioners) in the following specialties: family medicine, general surgery, internal medicine, obstetrics and gynecology and pediatrics. It functions as a department of St. Gabriel's Hospital and has locations in Little Falls, Pierz and Randall) and joined CHI St. Gabriel's Health in 2010.

Little Falls Orthopedics (LFO) has five orthopedic surgeons and two podiatrists who see patients through its primary location in Little Falls as well as satellite locations throughout central Minnesota in the communities of Albany, Long Prairie, Melrose, and Sauk Centre. LFO surgeons perform a wide range of procedures at St. Gabriel's Hospital as well as the hospital affiliated with its satellite locations. LFO joined CHI St. Gabriel's Health in 2007.

St. Camillus Place is an intermediate care facility (ICF-MR) for people with developmental disabilities. It was founded by the FSLF and opened in 1984. It provides residential and other services to individuals from central Minnesota.

Alverna Apartments is a 60-unit senior housing complex located on the CHI St. Gabriel's Health campus in Little Falls. Rent for nearly all tenants is subsidized by the U.S. Department of Housing and Urban Development (HUD). It addition to apartment amenities such as store, refrigerator, emergency pull cord, secure entrance, etc., Alverna also offers a noon meal to interested tenants and year-round access via enclosed walkways/tunnels to St. Gabriel's Hospital, Family Medical Center and St. Otto's Care Center, an adjacent long-term care and rehabilitative center. It opened on the Little Falls campus in 1978.

St. Gabriel's Home Health and Hospice is a Medicare-certified home health and hospice agency. It also functions as a department of CHI St. Gabriel's Health and has consistently been ranked as an Elite Top 500 home care agency.
About Catholic Health Initiatives
Catholic Health Initiatives (CHI) is a part of CommonSpirit Health™, a nonprofit, Catholic health system committed to building healthier communities, advocating for those who are poor and vulnerable, and innovating how and where healing can happen—both inside our hospitals and out in the community.
CommonSpirit was created by the alignment of Catholic Health Initiatives and Dignity Health as a single ministry in early 2019.
Our commitment to serve the common good is delivered through the dedicated work of thousands of physicians, advanced practice clinicians, nurses, and staff; through clinical excellence delivered across a system of 137 hospitals and more than 1,000 care centers serving 21 states; and through more than $4 billion annually in charity care, community benefits, and government program services.
With a large geographic footprint representing diverse populations across the U.S. and a mission to serve the most vulnerable, CommonSpirit is a leader in advancing the shift from sick care to well care, and advocating for social justice.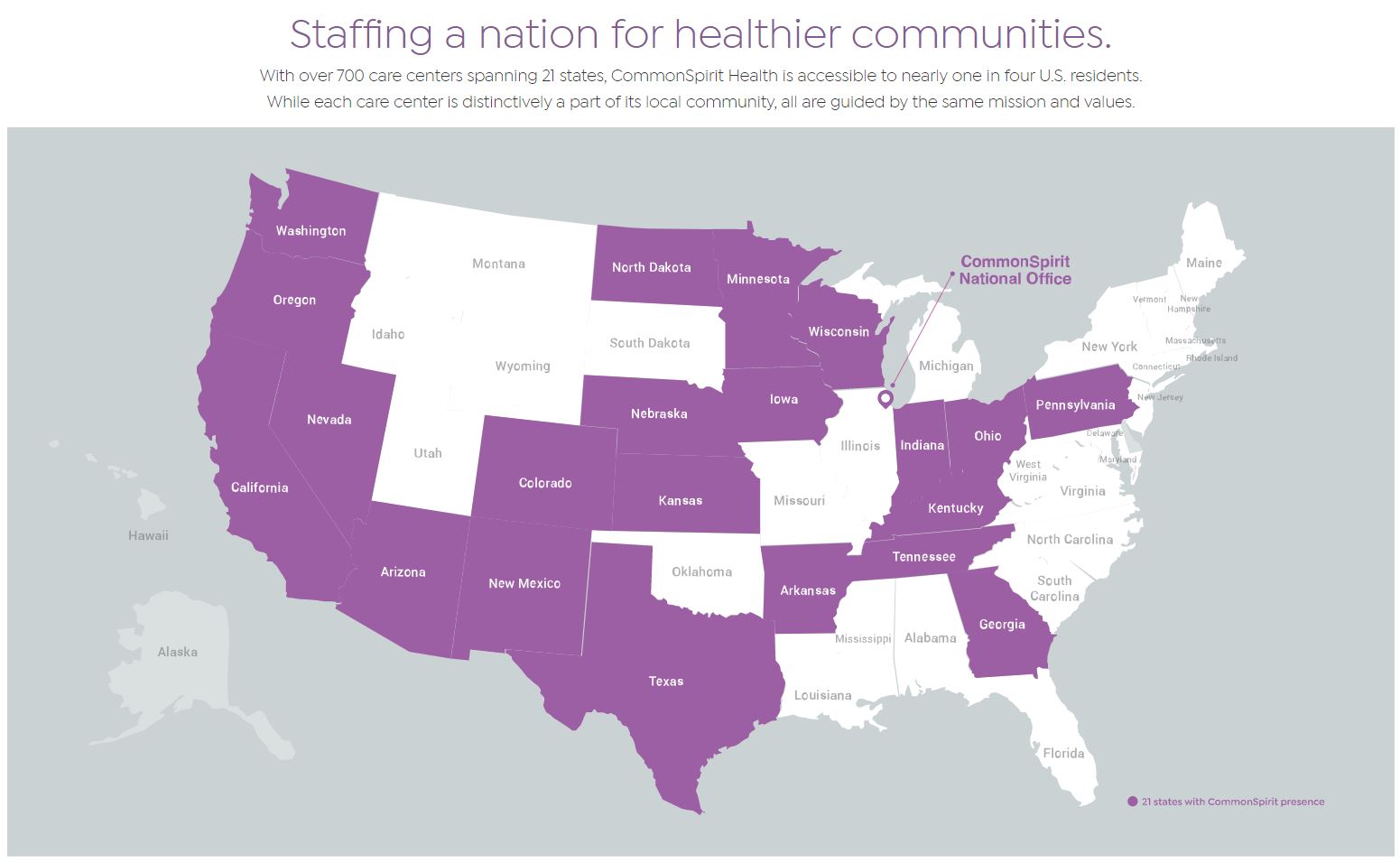 CommonSpirit Health also supports a range of community health programs, research programs, virtual care services, and home health programs addressing the root causes of poor health such as access to quality care and health equity, affordable housing, safe neighborhoods, and a healthy environment. Learn more at www.commonspirit.org.
Committed to welcoming everyone.
At CommonSpirit Health, we believe in cultivating a workplace in which diversity is celebrated and all people are included, respected, valued and celebrated. We lean on the variety of our colleagues' perspectives and backgrounds to challenge ourselves and to create a workplace that supports diversity, equity, inclusion and belonging.
CommonSpirit Health™ and its organizations are an Equal Opportunity/ Affirmative Action employer committed to a diverse and inclusive workforce. All qualified applicants will be considered for employment without regard to race, color, religion, sex, sexual orientation, gender identity, national origin, age, disability, marital status, parental status, ancestry, veteran status, genetic information, or any other characteristic protected by law.
The posted compensation range is a reasonable estimate that extends from the lowest to the highest pay CommonSpirit in good faith believes it might pay for this particular job, based on the circumstances at the time of posting. CommonSpirit may ultimately pay more or less than the posted range as permitted by law.