Preferred Partners
PracticeMatch aims to offer a host of resources for our residents, fellows, practicing physicians, nurse practitioners and physician assistants. We have selected Preferred Partners that offer their expertise in select areas highly relevant to your needs.
Immigration Law

Siskind Susser PC is one of the largest immigration law firms in North America and our attorneys have experience handling all aspects of American and Canadian immigration and nationality law.
We constantly monitor developments in immigration law and use state-of-the-art technology for research, client communications and case management. We have offices in each of the following cities: Memphis & Nashville.
Contract Review
Resolve takes the guesswork out of finding the best attorney for your employment contract. Our experience reviewing and negotiating physician contracts from every specialty, in every state and with every major health system creates untold value for our doctors - and is why we are #1 rated by Physicians.
Resolve's specialized team will analyze your contract, interpret complicated clauses, address missing needs or unfair clauses and compare your offer to other physicians in your specialty using both internal data and data from the nation's largest physician compensation survey. Depending on your package, your lawyer can also negotiate on your behalf - at no additional charge.
Other benefits of Resolve's physician contract review service includes:
Flat-rate pricing, with no additional or hidden attorney fees
Flexible consultations with your lawyer to better fit your busy schedule
Multiple physician employment contract review packages, plus additional packages for physician partnership review, exit strategy and renegotiation.
Refinancing Options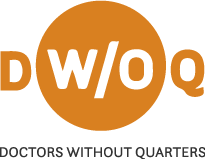 Doctors Without Quarters can help you navigate the evolving federal options available to you, as well as determine if refinancing is suitable and direct you towards a competitive lender, serving as your advocate to produce optimal results. DWOQ doesn't look at student debt in a vacuum, rather they provide recommendations in the context of your liquidity needs, financial profile and goals.
Since their inception in early 2015, DWOQ has accumulated over $1.5 billion in federal student loan debt managed for over 6000 graduates. In addition, because of their unique focus on the importance of determining suitability prior to refinancing federal loans to a private lender, they have facilitated roughly $400 million in successful refinancing transactions in the private marketplace.
Disclosure: We receive compensation from the Preferred Partners through sponsorship fees and/or affiliate links.