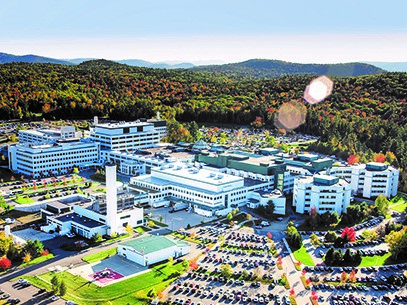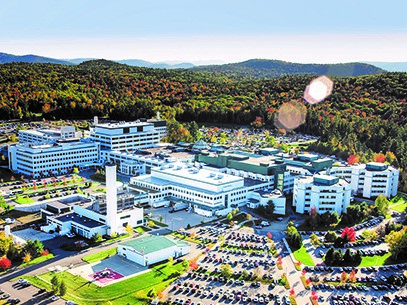 About Dartmouth Hitchcock Medical Center and Clinics
Dartmouth Hitchcock Medical Center and Clinics—members of Dartmouth Health—include Dartmouth Hitchcock Medical Center, the state's only academic medical center, and Dartmouth Hitchcock Clinics, which provide primary and specialty care throughout New Hampshire and Vermont.
Our physicians and researchers collaborate with Geisel School of Medicine scientists and faculty as well as other leading health care organizations to develop new treatments at the cutting edge of medical practice bringing the latest medical discoveries to the patient.
We are committed to an integrated, comprehensive healthcare system that uses scientific methods to improve healthcare delivery. Explore the broad range of specialties available to you at Dartmouth Hitchcock Medical Center and Clinics and take the first step to joining a leading healthcare team.
The Dartmouth Health system stretches over New Hampshire and Vermont and offers the quintessential New England experience. With no income or sales tax, this beautiful area combines history, industry, and business and has been ranked consistently as one of the best places in the US to live and work. Anchored by the academic Dartmouth Hitchcock Medical Center in Lebanon, NH, the system includes the NCI-designated Dartmouth Cancer Center, Dartmouth Health Children's; 4 affiliated hospitals, and 30 Dartmouth Health ambulatory clinics across the region. With destinations like Boston, New York, the seacoast, and ski country within driving distance, the opportunities – both career and personal – truly make New Hampshire the ideal place to work and play.
Dartmouth Hitchcock Medical Center is the state's only academic medical center, and the only Level I Adult and Level II Pediatric Trauma Center in New Hampshire. The Dartmouth-Hitchcock Advanced Response Team (DHART), based in Lebanon and Manchester, provides ground and air medical transportation to communities throughout northern New England. In 2021, Dartmouth Hitchcock Medical Center was named the #1 hospital in New Hampshire by U.S. News & World Report, and recognized for high performance in 11 clinical specialties, procedures, and conditions.
Dartmouth Health is highly dedicated to fostering a diverse and inclusive group of faculty, staff, and trainees to meet the vast needs of our community and patient populations. We are especially interested in applicants who are able to work effectively with and care for individuals from all backgrounds, including but not limited to racial and ethnic minorities, women, individuals who identify with LGBTQ+ communities, veterans, individuals with disabilities, and/or individuals from lower-income backgrounds. We invite applicants to state in their cover letter how their professional and/or life experiences prepare them to advance Dartmouth Health's commitments to diversity, equity, and inclusion.
Your path to a rewarding and innovative career starts here.
DHMC Licensed for 396 Beds
The State's only Academic Medical Center (Research, Teaching, and Patient Care)
The State's only Tertiary Referral Center
The State's only National Cancer Institute-designated Comprehensive Cancer Center (1 of 49)
The State's only Level 1 Trauma Center
New Hampshire's only Comprehensive Full-Service Children's Hospital
The State's Only Level III Neonatal Intensive Care Nursery and only Pediatric Intensive Care Unit
The State's Only Helicopter Transport Service (DHART)
EEO Statement:
Dartmouth Health and the Visiting Nurse and Hospice for Vermont and New Hampshire value diversity and are committed to equal opportunity for all persons regardless of age, color, disability, ethnicity, marital status, national origin, race, religion, sex, sexual orientation, veteran status or any other status protected by law.
About Our Area
The Upper Connecticut River Valley area of central New Hampshire and Vermont includes the towns of Hanover and Lebanon, New Hampshire. Known as "The Upper Valley," this region attracts people from around the world for its scenic beauty and cultural events.
The Upper Valley area offers a wide variety of cultural and recreational activities for people of all ages. Dartmouth Hitchcock Medical Center, located in Lebanon, New Hampshire, is the state's only academic medical center, and the only Level I Trauma Center and Level II Pediatric Trauma Center in New Hampshire.
Quintessential New England living - Four beautiful seasons and an outdoor lifestyle
Congestion-free commuting
Wonderful setting for community and family life
A vibrant collegiate environment with associated sporting events and cultural amenities
Active arts, theater, and culinary scene