2799 West Grand Boulevard

Detroit

,

MI

48202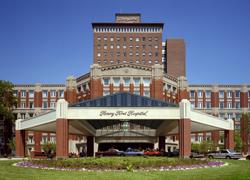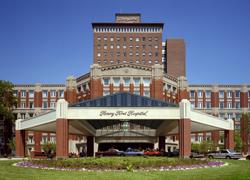 About our Facility
The Henry Ford Health's flagship institution, Henry Ford Hospital (HFH), is an 802-bed tertiary care hospital, education and research complex in Detroit's New Center area. The hospital is recognized for clinical excellence and innovation, particularly in the fields of cardiology and cardiovascular surgery, neurosurgery, neurology, orthopaedics and sports medicine, organ transplantation, and treatments for brain, prostate, breast and lung cancers. HFH is a Level 1 trauma center.
Level 1 Trauma Center - Henry Ford Hospital provides the full continuum of services to the most critically ill and wounded patients. In-house surgical and critical care staff is available 24/7 and is experienced in multiple trauma, difficult tumors and complicated surgeries.
Critical Care- Henry Ford Hospital has 156 ICU beds making it the single largest ICU facility in Michigan and one of the largest in the country.
Surgical ICU (SICU) -The 40-bed SICU is one of the largest in the United States, and is equipped to treat complex patients or those undergoing organ transplantation. The Department of anesthesia provides collaborative critical care coverage in the surgical intensive care unit and cardiovascular intensive care units at Henry Ford Hospital. Critical care certified anesthesiologists work with intensive care unit teams to provide multi-disciplinary care for the most complex post-operative patients.
Center for Simulation, Education, and Research- The 12,000-square-foot Center for Simulation, Education and Research at Henry Ford Hospital is fully accredited as a Level 1 Comprehensive Education Institute by the American College of Surgeons and is the most advanced facility of its kind in Michigan and one of the largest in the United States. The Center offers procedural simulation technologies using computerized mannequins and other mechanical devices. It also is a venue for advancing education and assessing the competencies of residents, physicians and other health care workers in the areas of inter-professional team communications, patient safety and doctor-patient communication skills. Reconfigurable suites replicate the emergency department, operating room, intensive care unit, labor and delivery suite, and other hospital environments.
Wayne State University School of Medicine (WSU SOM)- Henry Ford Hospital began a relationship with Wayne State University School of Medicine in 2002, and we has been expanding upon it ever since. In 2010, HFHS signed an affiliation agreement with Wayne State that increased the number of Wayne State medical students training in Henry Ford facilities, encourages collaborative research and seek efficiencies through programmatic integration. Third and four year medical students rotate thru Henry Ford Hospital. Members of the Henry Ford Medical Group have clinical faculty appointments at the Wayne State University School of Medicine.