Dept. of Physician Recruitment 3420 N. Broad Street, MRB 101 | Philadelphia, PA 19140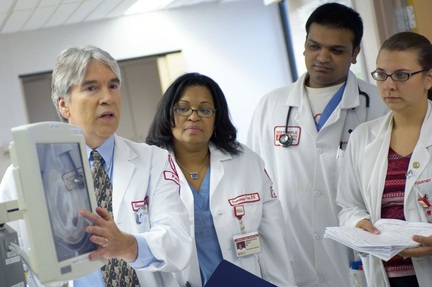 Temple Health is a major Philadelphia-based academic health system that is driving medical advances through clinical innovation, pioneering research and world-class education. The health system's 1,000 physicians and scientists share a common mission of bringing tomorrow's treatments to the bedside today, helping them achieve outcomes once thought impossible.
Temple University Hospital, ranked among the "Best hospitals" in the region by U.S. News & World Report, is also the #1 lung transplant center in the U.S. by volume, 2017.
Notable statistics about Temple Health include:
1,020 licensed beds
37,892 admissions
353,712 outpatient visits
133,623 emergency room visits
12,093 inpatient surgeries
16,882 outpatient surgeries
10,000+ faculty member and employees
980 medical and graduate students
Temple Health is an educational partner with the Lewis Katz School of Medicine at Temple University and affiliated with Temple University Physicians, which is Temple Health's physician practice plan comprised of more than 500 full-time and part-time academic physicians in 20 clinical departments. These physicians offer dozens of powerful new options for patients who, just a few years ago, were considered untreatable.