One Guthrie Square

Sayre

,

PA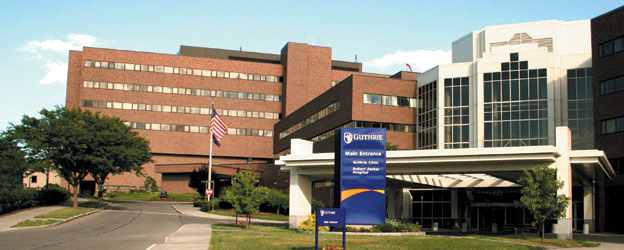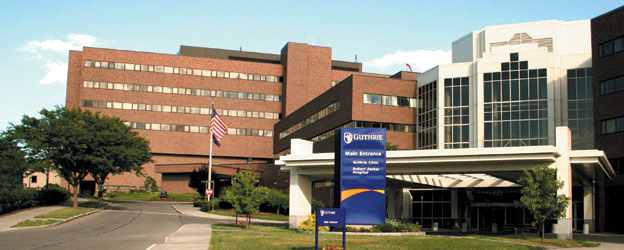 About the Hospital
A 254-bed tertiary care referral center, Guthrie Robert Packer Hospital, Sayre, Pa., is the recipient of numerous national awards for the high quality care it provides to patients. The hospital is a Regional Level II Trauma Center, accredited by the Pennsylvania Trauma Systems Foundation, and is served by Guthrie Air, a regional aeromedical helicopter program. Guthrie Robert Packer Hospital offers a full range of diagnostic, medical and surgical services, including:
Guthrie Breast Care Center
Guthrie Cancer Center
Guthrie Cardiac and Vascular Center
Guthrie Musculoskeletal Services
Guthrie Imaging Services
Guthrie Specialty Eye Care
Guthrie Surgical Services
Guthrie Weight Loss Center
Level II Trauma Center
Medical/surgical and intensive care services
About Us
The Guthrie Clinic is a non-profit, integrated, practicing physician-led organization in the Twin Tiers of New York and Pennsylvania. Our multi-specialty group practice of more than 366 physicians and 302 advanced practice providers offers 47 specialties through a regional office network providing primary and specialty care in 22 communities. Guthrie Medical Education Programs include General Surgery, Internal Medicine, Emergency Medicine, Family Medicine, Anesthesiology and Orthopaedic Surgery Residency, as well as Cardiovascular, Gastroenterology and Pulmonary Critical Care Fellowship programs. Guthrie is also a clinical campus for the Geisinger Commonwealth School of Medicine.
Guthrie Physicians and Advanced Practitioners provide more than 1 million patient visits per year to enhance the health and well-being of those we serve within an environment of compassion, learning, and discovery.
About the Area
Located on the Pennsylvania and New York border, Sayre is part of the larger community known as the Penn-York Valley or simply "The Valley." The other communities comprise Athens, PA, South Waverly, PA, and Waverly, NY. The combined population of these communities is 35,000. The Valley offers scenic countryside and rural living with easy access to larger areas such as Corning, NY, Ithaca, NY, and Binghamton, NY. I-86 is only minutes away and offers a direct route to Elmira and Binghamton, NY airports.