2422 20th Street SW

Jamestown

,

ND

58401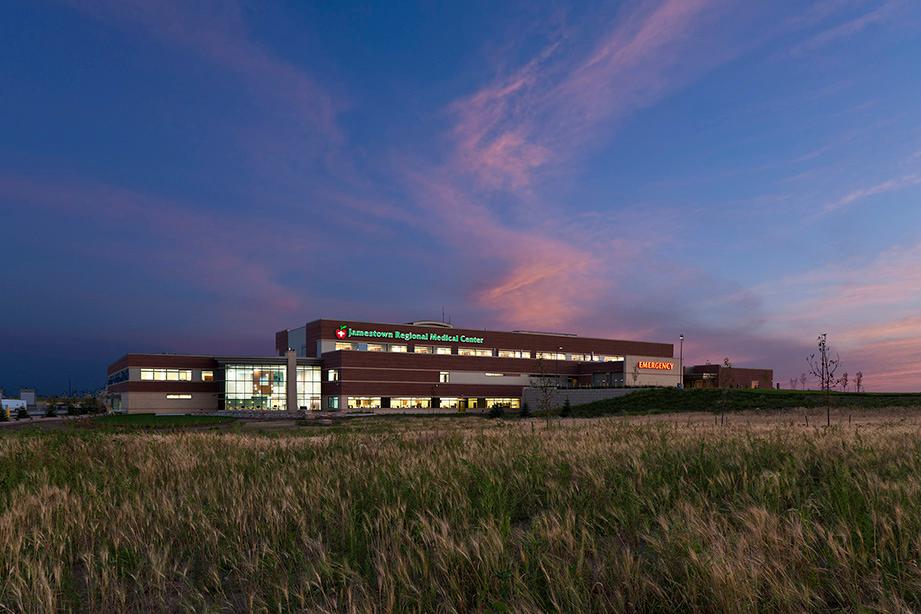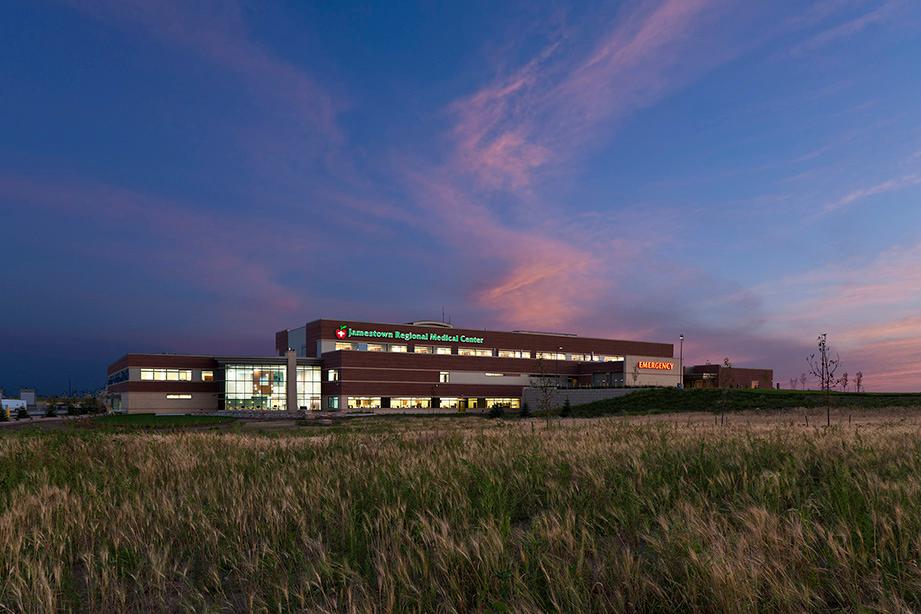 WELCOME TO THE HEARTLAND
Sure Jamestown Regional Medical Center has a fantastic new building. There is no doubt that the beauty of the architecture, the amenities, the technology and all that comes with a full facility replacement are major attractions. What the new building doesn't let you know, is that this impressive structure is filled with some of the heartland's most talented staff.
Like the people we serve, we are ambitious, resilient, inventive and most importantly...we never let our rural location stand in the way of striving to be the very best at what we do.
Here are a few reasons why:
New Hospital Opened July 2011 (JRMC was founded in 1929)

New, Attached Clinic Opened December 2012

In-house MRI • EPIC Medical Records System, (common community platform)

Joint Commission Accreditation

Studer Culture of Service Excellence

Local Board Governance with Physician Representation

Physician Engagement/Satisfaction Part of Strategic Plan

Collaborative Medical Team with Shared Call Responsibilities



Leading the way with North Dakota firsts:
3D Mammography

Hyperbaric Chamber

The second AlterG anti-gravity treadmill
JRMC is home to three state-of-the-art operating rooms and an endoscopy suite. Providers enjoy the efficiency of block scheduling and turnover times in the OR unheard of in the industry. Five on-staff CRNAs and expert surgical nursing round out this high-performing area.
JRMC is known for being the community's most comprehensive rehabilitation location, with physical, occupational and speech therapies, as well as cardiac rehab, audiology and broad pulmonary and respiratory care services. JRMC offers advanced screening and diagnostics—including in-house MRI—through its radiology department, which is supported by a full-time, on-staff radiologist.
Award Winning Excellence
350 total employees

Inpatient census averages over 15 patients

Intensive care unit, swing beds and the only birthing center within a 90-mile radius

24-hour emergency department, designated a level IV trauma center

recognized four straight years as one of the Top 100 Hospitals in the country in the "small community hospital" category

Among the top hospitals nationwide in quality care performance

Recipient of the VHA Leadership Award for Clinical Excellence

JRMC Home Health is recognized eight consecutive years as a HomeCare Top Agency
Work-Life Harmony
We know that providers want to be a part of an efficient, high-quality team as well as have time and access to the amenities that add value to their lives.

We've put together some AWESOME community links on our website: CLICK HERE
About Our Community
Jamestown, North Dakota is the county seat of Stutsman County, ND, with a population of over 15,000. It is located in the valley where the James and Pipestem Rivers meet, midway between North Dakota's capitol city Bismarck and its largest city Fargo.
With major metro areas to our east and west, Jamestown offers the perfect small-town setting and the spirit of community that provides, with big-city amenities just over an hour away. Jamestown is a safe place to live with a clear commitment to the health and wellness of the region. The community works together as partners to make things happen. There is a traditional sense of collaboration when it comes to bringing family, friends, neighbors and even unlikely partners together to meet community needs.
The Jamestown Reservoir system, which is 12 miles long and includes a series of three interlocking lakes, is a favorite place for fishermen, boaters and water skiers. Hiking, biking and horseback riding on the scenic vistas characterizing the Jamestown region are all popular activities. The area is sought out as a hunting destination and is a world-renowned destination for bird watching and is home to two 18-hole golf courses.
The University of Jamestown is a great spot to cheer for the home team or take in cultural events across a wide spectrum of entertainment, including theatre, classical and contemporary music, variety shows and nationally recognized performing artists. The community is home to the Stutsman County Museum, an Arts Center, a public library, the National Buffalo Museum as well as a Frontier Village.
"Whether you prefer to pass the time hunting and fishing, strolling through museums, sampling the menu at a fine restaurant, absorbing Old West history, or just soaking up the sun on a sandy beach, we have what you've been looking for."
About the Healthcare Community
The JRMC Clinic is located in the Jamestown Clinic Building, which is conveniently adjacent to the hospital. The JRMC Clinic is the home base for our employed providers. The clinic recently expanded to urology, a foot and ankle surgeon, an advanced wound care center and a suite for North Dakota's first hyperbaric chamber. The specialty providers will be joined this summer by a second orthopedic surgeon and in 2017 by JRMC's new OB/GYN.
A Healthcare Community
In addition to the JRMC Clinic, the Jamestown community is supported by both Sanford Health and Essentia Health Clinics. The primary care providers share and rotate call coverage, which equates to approximately one week every three months.
That's teamwork!
Sanford Health has been a member of the Jamestown community since 1985. Sanford Health's 2012 acquisition of MedCenter One resulted in the merger of clinics that continue to operate in two separate physical locations. Sanford Health - Jamestown Clinic and Sanford Health - Jamestown 2nd Ave Clinic.
Demonstrating its commitment to collaboration, Essentia Health – Jamestown Clinic is also located on the campus of JRMC.
Jamestown is also home to the Anne Carlsen Center, a world-class organization that works to meet the educational, residential and therapeutic needs of children and young adults with autism, behavior disorders, medical fragility and other intellectual disabilities; The North Dakota State Hospital, which specializes in psychiatric and substance abuse services; and to a variety of senior care and living choices.