220 Steuben Street

Montour Falls

,

NY

14865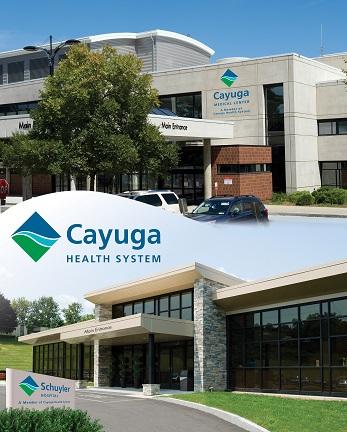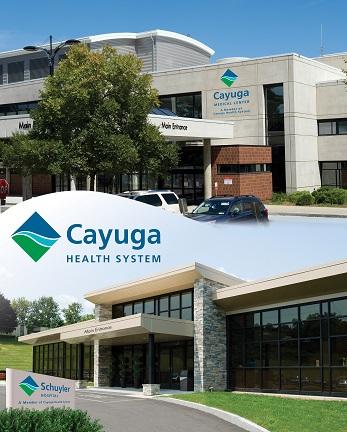 Cayuga Health System - encompassing health care in the Finger Lakes with 2 hospitals, Cayuga Medical Center located in Ithaca and Schuyler Hospital in Montour Falls.

As the parent company, Cayuga Health System looks at the bigger, regional picture and concentrates on ways in which its members can work cohesively and share services. The goals of the health system are to enhance quality of patient care, the health of the communities we serve, and the efficiency with which care is delivered.

Our communities offer state of the art medical treatment and facilities all in a picture postcard setting.

Cayuga Health System strongly believes in collaboration, outreach, education, and a productive exchange of ideas. Cayuga Health System is affiliated with 35 collaborations and partnerships, among them are:
Roswell Park Cancer Institute

Weill Medical College of Cornell University and New York-Presbyterian Hospital

The Rochester Heart Institute, a Cleveland Clinic Heart Surgery Center

The University of Rochester

Syracuse University and University Hospital

Ithaca College

Tompkins Cortland Community College School of Nursing.

Schuyler County is home to many award winning wineries and beautiful Seneca Lake. Seneca Lake is the deepest of all the fingers lakes and is consider the lake trout capital of the world hosting the National Lake Trout Derby. While Schuyler County is also known for breathtaking waterfalls and parks it is also home to Watkins Glenn International, previously known for formula racing and currently one of the last road car courses left on the NASCAR circuit.
About Schuyler Hospital
As a healthcare professional, you are making an important choice about where to begin or take the next step in your career. By joining our dynamic team of dedicated medical staff, you will be able to achieve your career goals in a small, rural hospital that gives you a well-rounded experience in a warm, caring environment where you'll get to know and care for patients and their families.
Schuyler Hospital is the Schuyler County's largest employer, with 400 employees working in various departments in an array of professional, technical and support positions.
About the Area
Schuyler County is located in the beautiful Finger Lakes Region of Upstate New York. The area is one of the most picturesque scenic landscapes in the United States with unmatched lakes, forests, and communities that date back to pre- revolutionary times. In fact, Schuyler County is named in honor of an American Revolutionary War General, Philip John Schuyler. General Schuyler was also a US Senator and a member of the 1775 Continental Congress.
Schuyler County is famous as the current and original home of the Watkins Glen International Raceway, the Watkins Glen State Park, and beautiful Seneca Lake with its surrounding wineries, as well as a growing number of breweries and distilleries. We have many places to hike and bike, and a number of festivals and special events. The area is a great place to visit, work, live, and raise a family. It is also an easy commute to larger metropolitan areas, and is surrounded by some of the finest private and state universities and colleges in the world.