130 Second Street

Neenah

,

WI

54956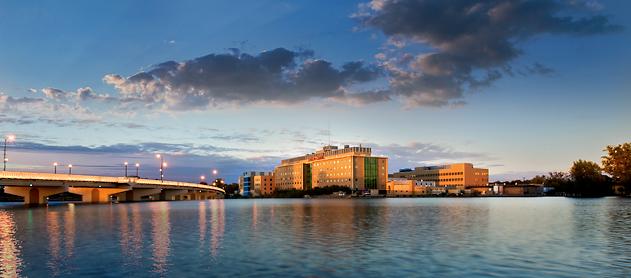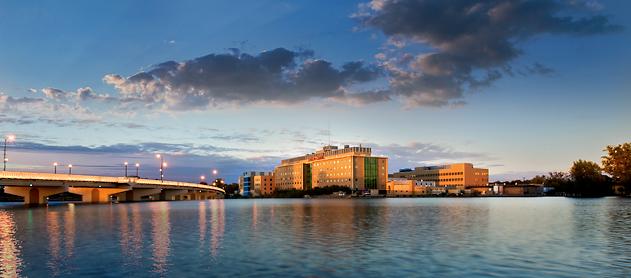 Hospital Overview
ThedaCare Regional Medical Center-Neenah is located in Neenah in the heart of the Fox River Valley. This 150-bed hospital includes:
ACS Level II Trauma Center, including a dedicated Chest Pain Center, and 24/7 staffing with board certified emergency medicine physicians.
ThedaStar, a helicopter-based response service for all of Northeastern Wisconsin.
ThedaCare Hospitalist Program- 24/7 hospitalist coverage
The Stroke Center, which is the only Primary Stroke Center certified by the Joint Commission in Northeast Wisconsin.
Specialized Neurology/Neurosurgery Unit, which includes nurses who receive additional certification in Caring for Neurology/Neurosurgery patients.
The Center of Rehabilitation Services, which offers treatment for trauma, stroke, orthopedic, and patients with neuromuscular conditions.
The Aylward Surgery Center,an on-site outpatient surgery center with four surgical suites, two procedure rooms, and a cystoscopy room.
Inpatient Behavioral Health Unit, a 19-bed unit with 24/7 staffing and a dedicated "Psychiatric Intensive Care" area, as well as detox beds.
Also attached to ThedaCare Regional Medical Center-Neenah is The Children's Hospital of Wisconsin-Fox Valley. Although not staffed by ThedaCare, there is a strong partnership. Children's Hospital has a regional level III neonatal intensive care nursery whose affiliated medical staff includes a perinatologist, a pediatrician, and a neonatologist.
Community Overview
The Fox Cities of Wisconsin includes Appleton, Neenah, and Menasha, and is comprised of a total of 19 unique communities positioned along the scenic Fox River and Lake Winnebago. This area offers the charm, safety, and convenience of small town life, with the diversity and vitality of a metropolitan area.
The Fox Valley is the proud home of notable school systems, colleges, and is known across Wisconsin as THE place for shopping. Downtown Appleton, the Fox River Mall and many other retail destinations are a draw for shoppers from all over Wisconsin and beyond. In addition, the region features vibrant cultural venues, a year-round calendar of exciting events, one-of-a-kind museums and fantastic outdoor recreation.
The Fox Valley is a community where live music, art, and creativity thrives. There are many events throughout the year to partake in, such as Mile of Music, Octoberfest, night markets, marathons, Art on the Town, summer concerts, outdoor movies, parades, weekly Farmer's Market events, and more.
AIRPORT
Appleton International Airport located in Appleton, and Austin Straubel Airport in Green Bay offer modern facilities and convenient access to all the Midwest hubs. A few additional airport hubs in the region are Central Wisconsin Airport in Mosinee, General Mitchell International Airport in Milwaukee, and Dane County Regional Airport in Madison.
LOCATION
Modern, interstate highway systems provide quick, easy access to larger metropolitan areas:
Distance to Green Bay: 30 miles

Distance to Milwaukee: 107 miles

Distance to Madison: 106 miles

Distance to Chicago, IL: 197 miles

Distance to Minneapolis, MN: 285 miles
Community Links
Appleton Catholic Education System
Appleton International Airport
Appleton Ranked 24th Best Place to Live - Money Magazine Top 50
Austin Straubel International Airport - Green Bay, WI
The Building for Kids Children's Museum
Fox Cities Chamber of Commerce
Fox Cities Performing Arts Center
Fox Valley Lutheran High School
General Mitchell International Airport
Hortonville Area School District