260 Hospital Drive

South Williamson

,

KY

41503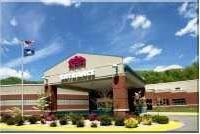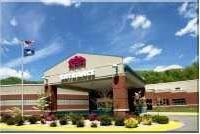 Facility Information
Tug Valley ARH Regional Medical Center is a not-for-profit, 148-bed facility and a designated level IV trauma center. The hospital enjoys a solid reputation of excellence as a patient-oriented and community-centered healthcare provider. Tug Valley ARH offers a wide array of services including beautiful new birthing suites and a large medical staff with a wide variety of specialties.
Appalachian Regional Healthcare (ARH) is a not-for-profit health system serving 350,000 residents across Eastern Kentucky and Southern West Virginia. Operating nine hospitals, multi-specialty physician practices, home health agencies, HomeCare Stores and retail pharmacies, ARH is the largest provider of care and single largest employer in southeastern Kentucky and the third largest private employer in southern West Virginia.
The ARH system employs 5,000 employees and has a network of more than 600 active and courtesy medical staff members representing various specialties. Firmly committed to its mission of improving the health and promoting the well-being of all people in Eastern Kentucky and Southern West Virginia.
If you are a physician seeking a high quality lifestyle and a high quality medical practice, then you have found a home with ARH. We invite you to join the ARH team!

ARH Selected as the 2010 Outstanding Rural Health Organization in the Nation
Friend us on Facebook, Follow us on YouTube
Community Description
South Williamson, Kentucky, is located in the scenic Appalachian mountains in Eastern Kentucky on the border of West Virginia. The communities of Williamson, West Virginia, and South Williamson, Kentucky, have 15,000 residents with a service area of 60,000 and offer the appeal of small-town living. Continual improvement of the roads in the area has made urban areas such as Huntington and Charleston, West Virginia, easily accessible. We are positioned 96 miles from Huntington, West Virginia, 96 miles from Charleston, West Virginia, and 180 miles from Lexington, Kentucky.

The South Williamson/Williamson area is served by six public schools. Higher education is available at Pikeville College, Southern West Virginia Community College, and the Mingo County Vocational School, all of which are located within minutes of South Williamson. Williamson itself offers training schools for registered nurses, licensed practical nurses, and laboratory technician candidates.

The area offers numerous opportunities for fishing, boating, hiking, white-water rafting, swimming and ATV Trails. The Breaks Interstate Park offers a look at the beautiful "Grand Canyon of the South," a five-mile river canyon believed to have been formed 250 million years ago. Jenny Wiley State Resort Park includes, among other things, Dewey Lake, a summer musical theater and a golf course. Other area attractions include Laurel Lake, Cabwaylingo State Park, and R.D. Bailey Lake. For more information visit the Tug Valley Chamber of Commerce or the Pike County Chamber of Commerce.