CHI Health Medical Group Enterprise is looking for a fellowship trained hematology/oncology specialist to join our cancer center at CHI Health Good Samaritan in Kearney, Nebraska. The ideal candidate will have experience in both inpatient and outpatient settings seeing a variety of oncology patients. Call would include both inpatient and outpatient.
New Practice to join existing Radiation Oncologist
Cancer Center Accredited by the Commission on Cancer
Comprehensive clinic
Oncology nurses and radiation oncologists on staff with other medical support
EMR - EPIC
Level II Trauma Center
24 Bed Open ICU
Cancer Center located on campus
Palliative Care available
This program is involved in clinical trails
J1 and H1B Visa Sponsorship available
BC and BE candidates accepted
Qualified Candidates submit CV to:
Bill Payson
Physician Recruiter
Catholic Health Initiatives (CHI) is a part of CommonSpirit Health™, a nonprofit, Catholic health system committed to building healthier communities, advocating for those who are poor and vulnerable, and innovating how and where healing can happen—both inside our hospitals and out in the community.
CommonSpirit was created by the alignment of Catholic Health Initiatives and Dignity Health as a single ministry in early 2019.
Our commitment to serve the common good is delivered through the dedicated work of thousands of physicians, advanced practice clinicians, nurses, and staff; through clinical excellence delivered across a system of 137 hospitals and more than 1,000 care centers serving 21 states; and through more than $4 billion annually in charity care, community benefits, and government program services.
With a large geographic footprint representing diverse populations across the U.S. and a mission to serve the most vulnerable, CommonSpirit is a leader in advancing the shift from sick care to well care, and advocating for social justice.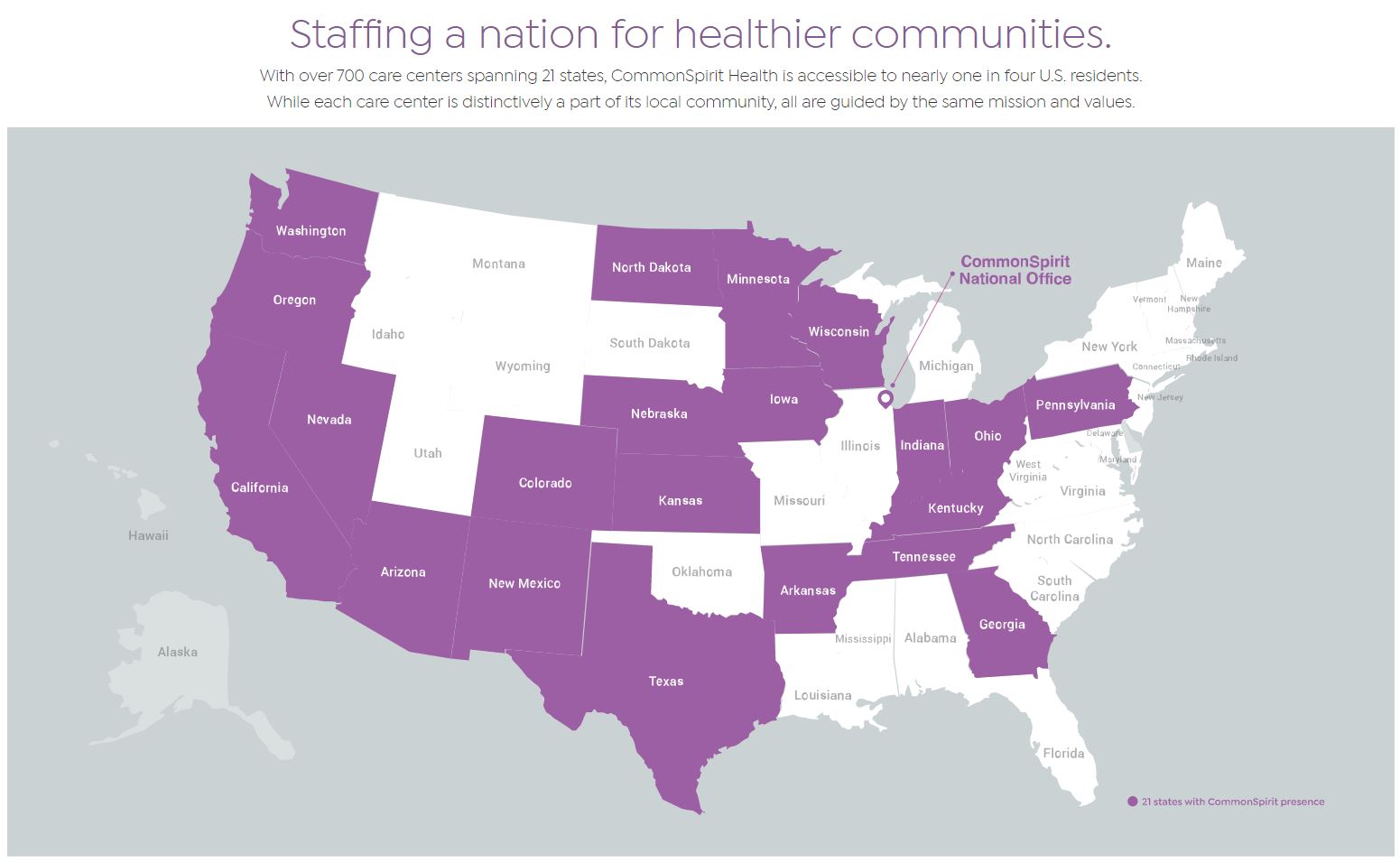 CommonSpirit Health also supports a range of community health programs, research programs, virtual care services, and home health programs addressing the root causes of poor health such as access to quality care and health equity, affordable housing, safe neighborhoods, and a healthy environment. Learn more at www.commonspirit.org.
Committed to welcoming everyone.
At CommonSpirit Health, we believe in cultivating a workplace in which diversity is celebrated and all people are included, respected, valued and celebrated. We lean on the variety of our colleagues' perspectives and backgrounds to challenge ourselves and to create a workplace that supports diversity, equity, inclusion and belonging.
CommonSpirit Health™ and its organizations are an Equal Opportunity/ Affirmative Action employer committed to a diverse and inclusive workforce. All qualified applicants will be considered for employment without regard to race, color, religion, sex, sexual orientation, gender identity, national origin, age, disability, marital status, parental status, ancestry, veteran status, genetic information, or any other characteristic protected by law.