Emergency Medicine Physician - Canadian, TX
Location
Facility:
Hemphill County Hospital
Address:
1020 4th Street


Canadian

,

TX

79014



Opportunity Criteria
Specialty:

Emergency Medicine




Family Medicine




General Practice

Candidate Type:
MD, DO
Visas Accepted:
No J1 or H1
Loan Repayment:
Not Specified
Job Description
• Level IV Trauma Center
• 3 ER beds – 1 Trauma
• Coverage: As Needed
• Requires: ACLS, ATLS, PALS, BLS &CME
• Patient volume: 180 pts per month
• Referral center: BSA- Amarillo, Northwestern- Amarillo, Pampa and Oklahoma City
• Lab and X-Ray available 24/7
About Hemphill County
Hemphill County Hospital is located in Canadian, Texas, nestled in the stunning mesas and grasslands of the Texas panhandle. Our hospital is the cornerstone of healthcare services for Hemphill County and surrounding communities with 24-hour emergency care services.
We strive to bring health and knowledge to our area through community outreach and exceptional healthcare services. Caring for the residents of Hemphill County, as well as those in the surrounding communities, is a responsibility we take very seriously. Our hospital staff, emergency care, hospice, home health, physical therapy, and family clinic are what make our hospital exceptional. They are our family, friends, and neighbors who lend their expertise, hearts, and talents to providing compassionate care when you need it most.
Our Mission: Hemphill County Hospital (HCH) serves the region's health needs through exceptional care in a compassionate environment by dedicated professionals.
About Southwest Medical
Founded in 1980, Southwest Medical Associates is an established emergency department management group providing services to healthcare facilities throughout Texas. We are known in the industry for specializing in physician staffing for rural hospitals from low to high patient volume.
At Southwest Medical, no emergency department task is too large or too small. We customize the coverage of our clients based on their individual needs. This ranges from part-time "as needed" coverage to last-minute emergencies, flexible coverage supplementing staff physician schedules to full-time staffing.
The needs of rural hospitals and healthcare facilities are unique, and Southwest Medical understands this. That is why we have been a resource for rural healthcare for more than 30 years.
Why Southwest Medical?
Quality ED staffing since 1980
Custom need-based coverage
Specialty-based physician recruitment
24-hour regional schedulers
JCAHO-level credentialing
TORCH corporate member
Our Mission: To be the best resource available for quality emergency department and clinic physician staffing at competitive rates; to promote customer service ensuring long term client retention; and creating jobs for dedicated and talented physicians.
About the Community
Whether you're visiting for the weekend, returning for one of our annual celebrations, or moving into our community, your friends and neighbors in Canadian welcome you to our "Oasis on the Prairie." The River Valley Pioneer Museum tells the tales of years gone by in our area and often serves as an exhibit hall for local artists. The Citadelle Art Museum, opened to the public in May of 2009, houses a world-renowned collection of art. Work up your appetite by taking a walk on the historic Canadian River Wagon Bridge or by strolling around the paths at beautiful Lake Marvin. Don't exhaust yourself in the great outdoors for too long because Canadian is home to many unique retail shops that you won't want to miss!
After a busy day of sight-seeing and shopping, you'll want to recharge at one of our many excellent restaurants and then head to the Palace Theatre, celebrating 100 years in 2009, where they feature first-run movies using world premier digital projection and sound technology.
Or, you may want to attend a live concert at the state of the art Texas Crown Performance Hall where top rated artists from around the country grace our community with music of every genre from the country music of the Nitty Gritty Dirt Band to a Las Vegas style show featuring the "Rat Pack" crooning the standard tunes of Dean Martin, Sammy Davis Jr and Frank Sinatra!
Get to Know Your Recruiter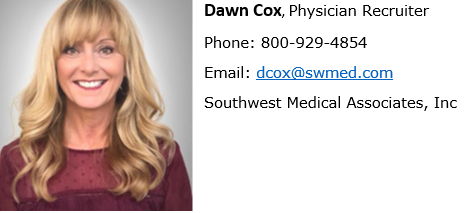 Contact Information
* When making contact with the person who posted this opportunity, please tell them you saw their posting on PracticeMatch.
Apply Now