Physician Assistant- Cardio-Thoracic Acute Care in Chattanooga, TN

Location
Opportunity Criteria
| | |
| --- | --- |
| Specialty: | Cardiothoracic Surgery |
| Loan Repayment: | Negotiable |
Erlanger Health System is seeking an experienced and well trained Nurse Practitioner or Physician Assistant to join our World-Class Cardio-Thoracic Acute Care team! Advanced Practitioners with a passion for treating patients and equally impressive clinical competence should apply.
Education, Training, & Experience
Master degree in Nursing (MSN) or Physician Assistant (PA) from an nationally accredited program
National certification as an Acute Care Nurse Practitioner (ACNP-BC) or Physician Assistant (PA)
Board Certified
BLS certification required
ACLS certification required
Unencumbered DEA
Cardiothoracic Program & Position Overview
Typical schedule is Monday-Friday, 7am-3pm, but varies based on volume
Call is shared equally among the team
Current group of 3 cardiothoracic surgeons & 4 advanced practice providers
Position is primarily inpatient, but might require the occasional outpatient coverage.
Benefits of Working at Erlanger Health System
Excellent compensation and benefits package
22 Days of Paid Annual Leave and 3 Days CME per year
Malpractice Coverage
Erlanger is the only Level I Trauma Center in a 100 mile radius.
Erlanger is a teaching hospital and is affiliated with UTCOM Chattanooga.
Erlanger/UT Chattanooga offers 10 residency programs. Currently employ 250+ physicians and is growing each year.
Chattanooga has a thriving economy with a low cost of living and NO TN state income tax.
100 miles to Atlanta, 130 miles to Nashville
Erlanger Health System – "World Class"
We are a nationally-acclaimed, multi-hospital health system anchored by a leading academic medical center. Each year, more than 600,000 people are treated by the team of healthcare professionals who are part of Erlanger.
Our hospitals include
Erlanger Health System
Is the 7th largest public hospital in the United States.
Is the tri-state region's only Level I Trauma Center, providing the highest level of trauma care for adults.
Is part of the Vanderbilt Health Affiliated Network that includes 56 hospitals and 4,000 participating physicians and clinicians.
Has six LIFE FORCE air ambulances in its fleet, two based in Tennessee, two in North Georgia, one in North Carolina, and one in Winchester, TN.
Is home to Children's Hospital at Erlanger which includes the region's only Level IV Neonatal Intensive Care Unit, as well as a pediatric trauma team, Emergency Center, and Pediatric Intensive Care Unit.
Serves as the region's only academic teaching hospital, affiliated with the University of Tennessee College of Medicine Chattanooga Campus.
Houses the Erlanger Southeast Regional Stroke Center, recognized for its world-class stroke and neurosciences program.
Our Mission
We compassionately care for people.
Our Vision
Erlanger is a nationally-acclaimed health system anchored by a leading academic medical center. As such we will deliver the highest quality, to diverse populations, at the lowest cost, through personalized patient experiences across all patient access points. Through innovation and growth, we will sustain our success and spark economic development across the Chattanooga region.
Our Core Values
Excellence - We distinguish ourselves and the services we provide by our commitment to excellence, demonstrating our results in measurable ways.
Respect - We pay attention to others, listening carefully, and responding in ways that demonstrate our understanding and concern.
Leadership - We differentiate ourselves by our actions, earning respect from those we lead through innovation and performance.
Accountability - We are responsible for our words and our actions. We strive to fulfill all of our promises and to meet the expectations of those who trust us for their care.
Nurturing - We encourage growth and development for our staff, students, faculty and everyone we serve.
Generosity - We are giving people. We give our time, talent and resources to benefit others.
Ethics - We earn the trust by holding ourselves to the highest standards of integrity and professional conduct.
Recognition - We value achievement and acknowledge and celebrate the accomplishments of our team and recognize the contributions of those who support our mission.
Chattanooga "The Scenic City"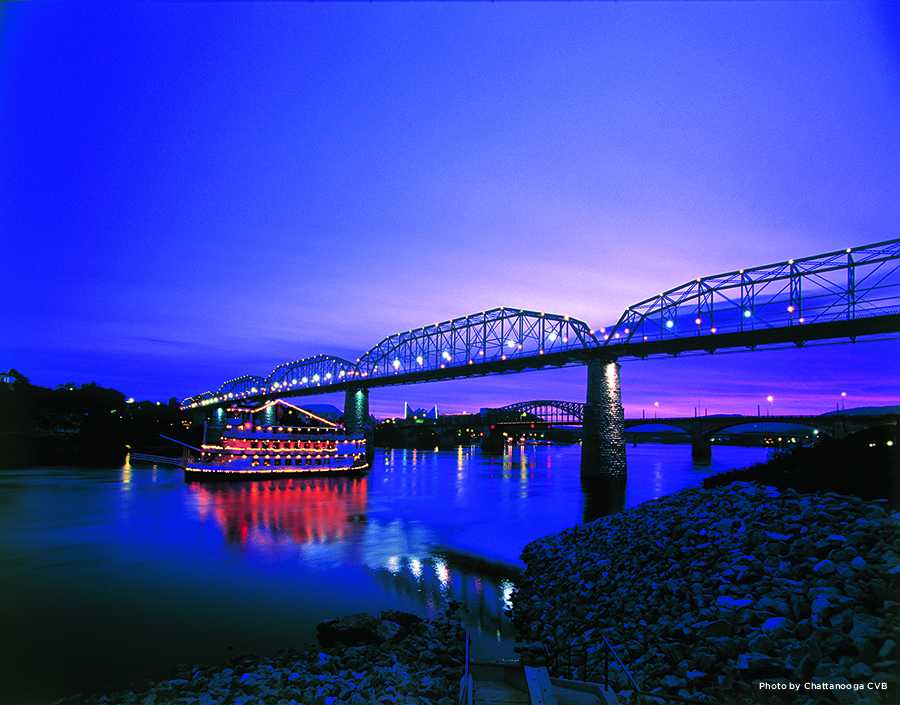 Chattanooga, the 4th largest city in the state, a top 25 place to visit in 2018, is located in Southeast Tennessee near the border of Georgia. The city has received national recognition for the renaissance of its beautiful downtown and redevelopment of its riverfront. Most striking, though, is the city's civic life. A phrase that comes up constantly is "The Chattanooga Way": a reference to a cooperative get-it-done attitude.
With its scenic beauty, stable population and economy, civic vitality and cross-sector partnerships, fiscal integrity, and strategic location, Chattanooga enters the 21st century as one of the most progressive and livable mid-size cities in the US. Attractions such as the Tennessee Aquarium, Lookout Mountain, Civil War battlefield sites, the Hunter Art Museum, and the Appalachian Trail bring thousands of people to the area, as do the many creative multicultural events throughout the year.

A Teaching Hospital
| | |
| --- | --- |
| | An approved teaching hospital since 1915, Erlanger became affiliated with the University of Tennessee College of Medicine in 1974. Today, Erlanger serves as the main campus for the University of Tennessee College of Medicine Chattanooga (UTCOMC), one of three campuses across the state that are affiliated with the University of Tennessee Health Science Center in Memphis. |
Contact Information
* When making contact with the person who posted this opportunity, please tell them you saw their posting on PracticeMatch.
Apply Now