Education:
Experience:
Preference for 3-5 years experience as a practicing physician.
License/Certification:
Washington State Medical License
Board Certification - Anesthesiology
Active Washington State DEA in good standing
Catholic Health Initiatives and its organizations are Equal Opportunity Employers.
We are based in the Pacific Northwest at the heart of the stunningly beautiful Puget Sound region of Washington. Our main support offices are located in Tacoma, with clinics and hospitals in King, Kitsap and Pierce counties. Here we enjoy mild weather and stunning views of Mount Rainier and the Olympic Mountains. The Puget Sound communities offer award-winning arts, cultural, and sporting events with national recognition. A region of economic and cultural diversity, The Puget Sound is a great place to work, play and raise a family.
Catholic Health Initiatives (CHI) is a part of CommonSpirit Health™, a nonprofit, Catholic health system committed to building healthier communities, advocating for those who are poor and vulnerable, and innovating how and where healing can happen—both inside our hospitals and out in the community.
CommonSpirit was created by the alignment of Catholic Health Initiatives and Dignity Health as a single ministry in early 2019.
Our commitment to serve the common good is delivered through the dedicated work of thousands of physicians, advanced practice clinicians, nurses, and staff; through clinical excellence delivered across a system of 137 hospitals and more than 1,000 care centers serving 21 states; and through more than $4 billion annually in charity care, community benefits, and government program services.
With a large geographic footprint representing diverse populations across the U.S. and a mission to serve the most vulnerable, CommonSpirit is a leader in advancing the shift from sick care to well care, and advocating for social justice.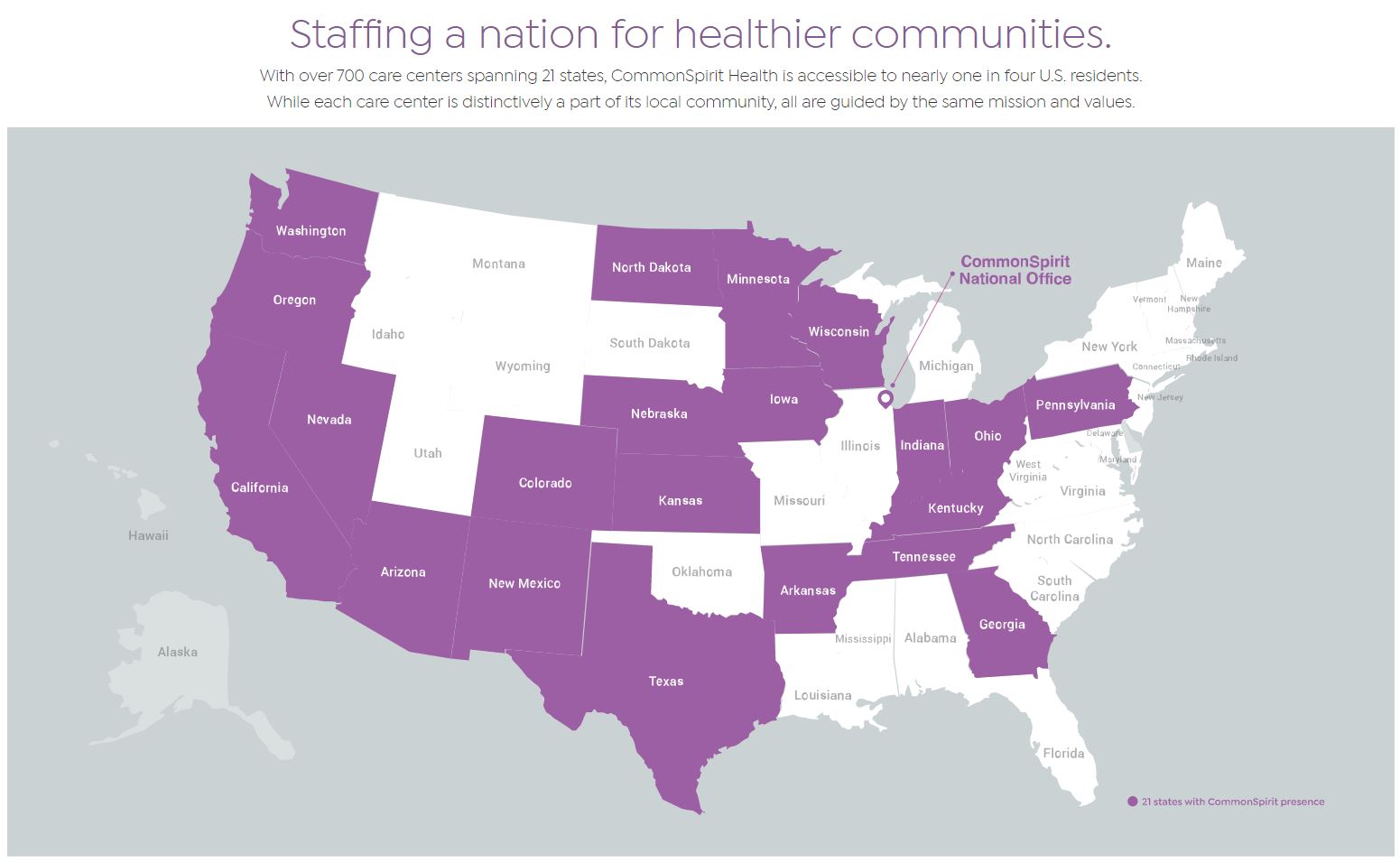 CommonSpirit Health also supports a range of community health programs, research programs, virtual care services, and home health programs addressing the root causes of poor health such as access to quality care and health equity, affordable housing, safe neighborhoods, and a healthy environment. Learn more at www.commonspirit.org.
CommonSpirit Health™ and its organizations are an Equal Opportunity/ Affirmative Action employer committed to a diverse and inclusive workforce. All qualified applicants will be considered for employment without regard to race, color, religion, sex, sexual orientation, gender identity, national origin, age, disability, marital status, parental status, ancestry, veteran status, genetic information, or any other characteristic protected by law.
A Mission to Heal, a Promise to Care
Here to serve as your partner in health, offering a wide variety of services that care for the mind, body and spirit.
Since the Sisters of St. Francis of Philadelphia established St. Joseph Hospital (now Medical Center) in Tacoma in 1891, we've focused on providing the best possible health care for people in the communities we serve. At Virginia Mason Franciscan Health, we're dedicated to healing the whole person — body, mind and spirit.
Experienced health care since 1891
At hospitals, clinics and outpatient centers throughout the Puget Sound area, our expert providers offer health care services with a caring touch. From routine wellness checks to acute care and chronic disease management, you can rely on Virginia Mason Franciscan Health for high-quality care based on research and education.
Virginia Mason Franciscan Health brings together two leading health systems in Washington State – CHI Franciscan and Virginia Mason – into one integrated health system with more than 300 care sites in western Washington. With a team of 18,000 team members and staff, and nearly 5,000 employed physicians and affiliated providers, Virginia Mason Franciscan Health provides expert, compassionate medical care at 11 hospitals and nearly 300 sites of care throughout the Puget Sound region. The integrated health system has nearly 1,500 hospital beds and is committed to caring for the most vulnerable in our communities, including the poor and underserved, providing nearly $200 million in community benefit — free, subsidized and reduced-cost health care and programs.
A mission to heal, a promise to care
Statement of common purpose
Our physicians and team members create healthier communities through healing the whole person — in mind, body and spirit.
Mission
As CommonSpirit Health, we make the healing presence of God known in our world by improving the health of the people we serve, especially those who are vulnerable, while we advance social justice for all.
Vision
A healthier future for all, inspired by faith, driven by innovation and powered by our humanity.
Learn more about Careers with us!