BC/BE Adult Medical Oncologist Research Lead - Fargo ND

Location
Facility:
Sanford Health Fargo
Address:
510 6th Ave N
Suite A
Fargo, ND 58122-2181

Opportunity Criteria
| | |
| --- | --- |
| Specialty: | Oncology |
| Candidate Type: | MD, DO |
| Visas Accepted: | No J1 or H1 |
| Loan Repayment: | Not Specified |
| Salary Range: | Not Specified |
| Employment Type: | Full Time |
| Bonus Offered: | None |
BC/BE Adult Medical Oncologist Research Lead - Fargo ND
Sanford Health in collaboration with the University of North Dakota School of Medicine is excited to announce the new Medical Oncology Fellowship program that is projected to begin in 2022. Due to this new and exciting program we are seeking a Board Certified/Board Eligible Adult Medical Oncologist to practice in Sanford's prestigious Roger Maris Cancer Center located in Fargo, ND.
Position will be 50% Medical Oncologist Research Lead and 50% Clinical Practice
Successful candidate will lead strategic planning that will enhance the clinical trials portfolio, as well as provide insight into the need for future programs
Play a key role in the development of a Medical Oncology and Hematology Fellowship program and support development of Bone Marrow Transplant Program
Candidates will be expected to develop independent research programs and lead clinical oncology research efforts
Sanford's Roger Maris Cancer Center is nationally recognized for its innovative programs, highly trained staff and research in cancer care:
Roger Maris Cancer Center team consists of 14 Medical Oncologists/Hematologists, 3 Pediatric Oncologists/Hematologist and 5 Radiation Oncologists.
Recipient of the Commission on Cancer Outstanding Award from the American College of Surgeons.
Program accredited by the American College of Surgeons on Cancer since 1940.
Sanford's Breast Center was one of the first 50 in the country to achieve the NAPBC (National Accreditation Program for Breast Centers).
Recently achieved the Certified Quality Breast Center of Excellence designation through the NQMBC (National Quality Measure for Breast Cancer).
Sanford's cancer team provides comprehensive cancer care including chemotherapy, radiation therapy, financial counseling, psychological support, nutritional support, family counseling, infusion services and palliative care.
Sanford's team of 12 nurse navigators provides navigation support for multiple cancer sites including
The cancer center actively participates in research as a member of NCORP (NCI Community Oncology Research Program).
In addition, Sanford has a familial cancer program, risk assessment clinic, and survivorship program.
Hematology/Oncology hospitalist service covers most inpatient admissions
Sanford Health offers the opportunity to teach University of North Dakota medical students and internal medicine residents.
Sanford Health offers a competitive compensation package which includes production incentives based on clinical work, with a guaranteed salary for the first two years. Comprehensive benefits are offered along with paid malpractice insurance, relocation allowance and much more.
To learn more about Sanford Health and this excellent practice opportunity contact:
Lisa Christianson, Physician Recruiter
Sanford Health Physician Recruitment Office
PO Box 2010
Fargo ND 58122-2181
Phone: (701) 234-6533
Email: lisa.christianson@sanfordhealth.org
About Sanford Health
Sanford Health is the largest rural not-for-profit health care system in the ,,,,Nation and is dedicated to excellence in patient care, innovation and pioneering integrated care. Our model of integrated health provides care through physicians, hospitals, health plan, research and education. Our reputation of excellence is founded on our talented team of over 1,400 primary and specialty care physicians located in 140 locations throughout Iowa, Minnesota, Montana, Nebraska, North Dakota, and South Dakota. These practices are all networked by our state-of-the art EMR system -- EPIC.


With more than 27,000 employees, Sanford Health is the largest employer in North and South Dakota. The system is experiencing dynamic growth and development in conjunction with T. Denny Sanford's gift, the largest gift ever to a health care organization in America. This gift is making possible the implementation of several initiatives including global children's clinics in China, Ireland, Africa, Israel and Mexico., multiple research centers, eradicating breast cancer and finding a cure for Type 1 diabetes.
COMMUNITY INFORMATION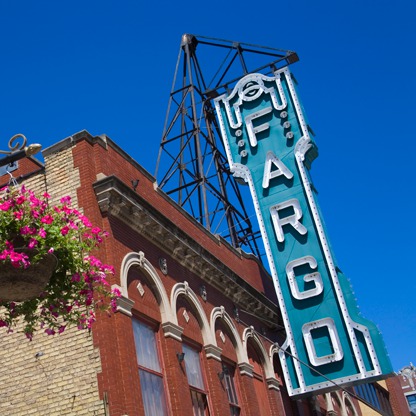 The metropolitan community that includes the ,,,,City of Fargo ,,,,, West Fargo, ND and Moorhead, MN is located in Cass County, ,,,,ND and Clay County, MN. ,,,, The extended community is ,,,,along the Red River of the North which forms the border between ,,,,Minnesota and North Dakota. ,,,,This robust, metropolitan, community of nearly 216,000 continues to grow at a comfortable rate and offers the best of both worlds. ,,,,More than 26,000 college students contribute to the area's entrepreneurial spirit, its educated workforce and to national rankings as a #2 Metro in the U.S., Top 50 Digital City and Smartest City in the U.S.
The community is large enough to support many amenities of a large urban setting such as an International Airport, Community Theater, Symphony, three ,,,,universities and a community college, ,,,,a ,,,,professional baseball team and a zoo ,,,,yet not so large as to generate the drawbacks such as ,,,,a high crime rate, traffic congestion and pollution.

Thirty-six arts and cultural organizations and the three university communities generate cultural and sporting events for all to enjoy. Year-round sports and recreational activity for children and young adults are provided through the schools, park districts, private organizations and the YMCA.

Three public school districts and two parochial school systems offer a wide selection of high-quality courses at all levels.

The area enjoys four seasons with low humidity making for pleasant spring, summer and autumn days. Average high temperature is 16 degrees in January and 82 degrees in July.
Fargo's ,,,,historic central business district is a vibrant commercial ,,,,area providing unique opportunities for housing, shopping, dining and entertainment. West Acres Regional Shopping Center is located at the junction of Interstate Highways I-94 and I-29. Neighborhood and specialty malls are located throughout the city.

Fargo is home of the North Dakota State University Bison, playing Division I football in the Summit League. ,,,,
Chamber of Commerce ,,,,Arts and Culture
Public Schools
Colleges and Universities
Hector International Airport
Symphony and Community Theater
Visitors and Convention Bureau
Parks and Recreation
FM Red Hawks
Red River Zoo
BENEFITS
When you join Sanford Health you will join a leader in the health care industry in the Upper Midwest. ,,,,Sanford offers:
Excellent salary package, including comprehensive benefits, relocation allowance

Paid malpractice insurance

Research and academic opportunities

Call schedules allowing for meaningful family time

Excellent referral base from Sanford Health primary care clinics

No partnership buy-in costs

State-of-the-art technology
Contact Information

For more information regarding this excellent practice opportunity contact:
Sanford Health Physician Placement (Fargo Region)
510 6th Ave N, Suite A
P O Box 2010
Route 2181
Fargo, ND 58122-2181
Phone: (701) 234-6510
Fax: (701) 234-6575
PhysicianRecruitmentFGO@sanfordhealth.org
Contact Information
* When making contact with the person who posted this opportunity, please tell them you saw their posting on PracticeMatch.
Apply Now