CHI Health and Creighton University School of Medicine is seeking BE/BC Cardiothoracic Surgeon - Heart Failure/Transplant trained - be a Program Builder!
CHI is affiliated with Creighton University School of Medicine Omaha, Nebraska
New grads will be considered
https://medschool.creighton.edu/

Require Mechanical Support/VAD training. Be a builder for the destination and bridge VAD therapy with our advanced heart failure program. Work directly with Advanced Heart Failure trained cardiologist and team. Implantation experience with these therapies is required Preferred candidates have interest in scholarly pursuits in the education and training of fellows, residents and students - with Creighton University School of Medicine
Currently perform over 320 cardiac cases per year; join 2 current CT surgeons performing nearly 600 total cases.
Thoracic, Vascular and Esophageal cases optional
Cardiac surgeons are heavily involved in the structural heart program, TAVR, MitraClip, LAA closure procedures
Cardiology and Heart Failure Advance Practice Providers support the CV Institute
ECMO
4 OR suites; includes 2 hybrid suites
Universal Care model within our Heart and Vascular Institute
All cases staffed by B/C Cardiac Anesthesia
Large cardiology team of interventional, SHD, EP, Advanced Heart Failure
Built-in primary care referral network
(5) Omaha Metro area CHI Health hospitals; and many outreach locations
Collaborative and Open Practice Where Your Input and Work are Valued
EHR - Epic
Qualified candidates please contact Terri Bangert, MAA, FASPR Physician Recruitment Specialist
CHI Health is a regional health network with a unified mission: nurturing the healing ministry of the Church while creating healthier communities. Headquartered in Omaha, the combined organization consists of 14 hospitals, two stand-alone behavioral health facilities, more than 150 employed physician practice locations and more than 12,000 employees in Nebraska and southwestern Iowa.
In fiscal 2018, CHI Health invested more than $179.3 million back into our communities. The majority of those dollars went to caring for the poor and underserved.
CHI Health is part of CommonSpirit Health, a nonprofit, Catholic health system dedicated to advancing health for all people. It was created in February 2019 through the alignment of Catholic Health Initiatives and Dignity Health. CommonSpirit Health is committed to creating healthier communities, delivering exceptional patient care, and ensuring every person has access to quality health care. With its national office in Chicago and a team of approximately 150,000 employees and 25,000 physicians and advanced practice clinicians, CommonSpirit Health operates 142 hospitals and more than 700 care sites across 21 states. In FY 2018, Catholic Health Initiatives and Dignity Health had combined revenues of $29.2 billion and provided $4.2 billion in charity care, community benefit, and unreimbursed government programs. Learn more at www.commonspirit.org.
CHI Health Medical Group Enterprise is a growing multi-specialty network of highly-skilled medical providers offering primary and specialty care at more than 150 locations and employing nearly 1,000 physicians and advanced practice providers that represent more than 40 specialties. As the primary teaching partner of Creighton University's health sciences schools, we're committed to teaching the health professionals of the future.
Catholic Health Initiatives and its organizations are Equal Opportunity Employers and support a drug-free work environment.
Omaha, Nebraska
Omaha is Nebraska's largest city with more than 860,000 residents in the metropolitan area. Housing and cost of living are well below the national average. Omaha has a strong and vibrant business community, and the city is home to five Fortune 500 companies including ConAgra Foods, Union Pacific Railroad, and Mutual of Omaha. We are home to the NCAA College World Series, the 2012 Olympic Swim Trials and the world renowned Henry Doorly Zoo. Greater Omaha has a strong system of public and private schools. We are also fortunate to have a wide array of public and private institutions of higher learning.
In a survey done by Kiplinger's Personal Finance magazine (May 2012), Omaha was ranked as the #1 city in the "10 Great Cities to Raise Your Kids". Omaha was also recently named one of the nation's "2011 Best-Value-City in America" to live, work and play by Kiplinger magazine. No matter your preferences, Omaha truly is a first-class destination!
Council Bluffs, Iowa
Council Bluffs is a city grounded in history with an eye on the future. Nestled between the Missouri River and the picturesque bluffs of southwest Iowa, Council Bluffs is a community of approximately 65,000 people. We have the best of both worlds - small town feel with big city amenities minutes away across the Missouri River. In Council Bluffs, you will find appealing neighborhoods, great schools and an excellent cost-of-living. For outdoor enthusiasts, we offer hiking trails, fishing, hunting, gaming, boating, skiing, biking, for those who prefer to stay indoors, we have concerts, casinos, musicals, opera, symphony, museums, festivals and much more!
Catholic Health Initiatives (CHI) is a part of CommonSpirit Health™, a nonprofit, Catholic health system committed to building healthier communities, advocating for those who are poor and vulnerable, and innovating how and where healing can happen—both inside our hospitals and out in the community.
CommonSpirit was created by the alignment of Catholic Health Initiatives and Dignity Health as a single ministry in early 2019.
Our commitment to serve the common good is delivered through the dedicated work of thousands of physicians, advanced practice clinicians, nurses, and staff; through clinical excellence delivered across a system of 137 hospitals and more than 1,000 care centers serving 21 states; and through more than $4 billion annually in charity care, community benefits, and government program services.
With a large geographic footprint representing diverse populations across the U.S. and a mission to serve the most vulnerable, CommonSpirit is a leader in advancing the shift from sick care to well care, and advocating for social justice.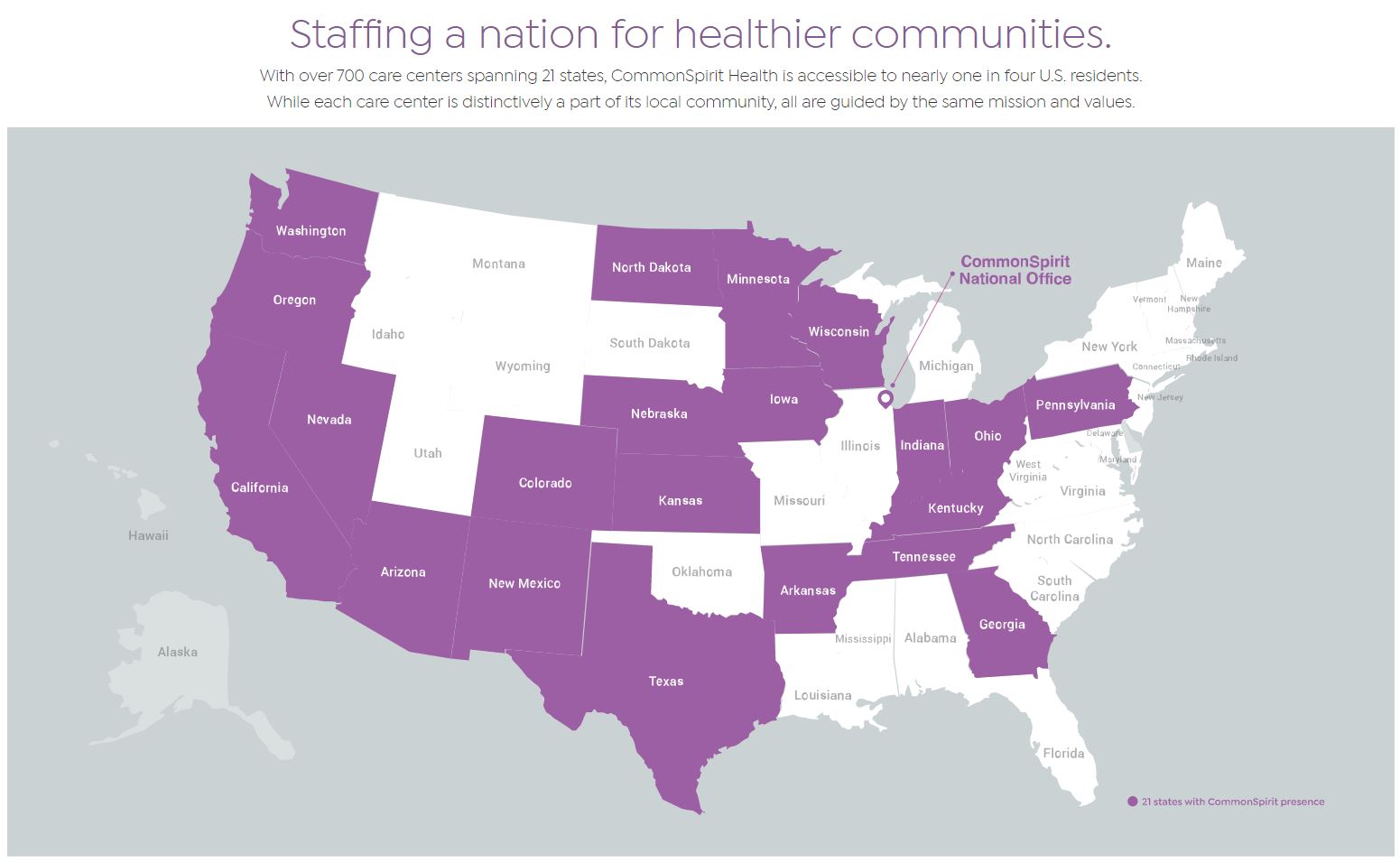 CommonSpirit Health also supports a range of community health programs, research programs, virtual care services, and home health programs addressing the root causes of poor health such as access to quality care and health equity, affordable housing, safe neighborhoods, and a healthy environment. Learn more at www.commonspirit.org.
CommonSpirit Health™ and its organizations are an Equal Opportunity/ Affirmative Action employer committed to a diverse and inclusive workforce. All qualified applicants will be considered for employment without regard to race, color, religion, sex, sexual orientation, gender identity, national origin, age, disability, marital status, parental status, ancestry, veteran status, genetic information, or any other characteristic protected by law.
CHI Health (Nebraska) has implemented a nicotine free work policy and will consider only qualified nicotine free candidates. As of March 1, 2019, cotinine (nicotine) will be added to the list of substances screen for during the post offer, pre-employment testing for all external job candidates offered employment. A positive result for cotinine (nicotine) will eliminate eligibility for employment. consideration.