CHI MEMORIAL HEALTH CARE SYSTEM SEEKING QUALIFIED NEUROSURGEON
CHI Memorial is a not-for-profit, faith-based healthcare organization dedicated to the healing ministry of the Church. Founded by the Sisters of Charity of Nazareth and strengthened as part of CommonSpirit Health, it offers a continuum of care including preventative, primary and acute hospital care, as well as cancer and cardiac care, stroke care, orthopedic and rehabilitation services. We are currently seeking a full-time fellowship-trained neurosurgeon to join our world-renowned neuroscience team. Our hospital is currently undergoing a major expansion in neuroscience care from primary to comprehensive stroke center status, serving one of the largest catchment areas in the country.
Opportunity:
· Inpatient and outpatient practice as part of a large team of clinicians offering neurocritical care, advanced endovascular therapies, and cutting-edge biomedical research.
· Our strong referral system and broad patient base provides excellent opportunity for a qualified neurosurgeon to develop a robust practice as part of our tertiary care neuroscience center.
· Specialty neurosurgery interests and cross training in endovascular treatment will be strongly considered but is not required.
· Opportunities for administrative directorship will be offered to qualified candidate.
· Candidates should have a license in good standing and be board certified or board eligible in neurosurgery.
· Excellent compensation package and favorable call schedule will be offered.
· Direct tie to CommonSpirit Health offers extensive opportunity for collaboration on clinical and research protocols nationally. The Barrow Institute and the Arkansas Neuroscience Institute are sister neuroscience organizations within CommonSpirit Health.
· Sign On Bonus & Relocation Assistance
· Full Benefits & CME Allowance
· 200+ Physician/APP Multi-Specialty Group
· 3 Hospitals, 40 OR Beds
About CHI Memorial
· CHI Memorial is a not-for-profit, faith-based 459-bed healthcare system with 3 campuses (Chattanooga and Hixson in TN and Fort Oglethorpe in GA). CHI Memorial is a ministry of CommonSpirit Health, a faith-based network of hospitals and other care centers covering 21 states and accessible to nearly one in four U.S. residents.
· CHI Memorial is a regional referral center of choice with 4,000 employees and more than 625 affiliated physicians providing health care throughout Southeast Tennessee, North Georgia and Northwest Alabama. CHI Memorial Medical Group is an expansive network of 250 physicians and advanced practice clinicians in 46 practices across our region.
· CHI Memorial is an award-winning provider of stroke services for the Chattanooga region. As a recipient of the American Heart Association's Get with the Guidelines Stroke Gold Plus and Target Stroke Elite Plus Honor Roll awards, our physicians and advanced practice clinical team have aggressively worked to provide the region with the highest quality stroke care.
· CHI Memorial is ranked the Best Regional Hospital and ranked #2 in TN by US News and World Report and is high-performing in eight specialty types of care.
· CHI Memorial was recognized as one of "100 Great Community Hospitals" in America by Becker's Hospital Review.
About Arkansas Neurosciences Institute
The Arkansas Neurosciences Institute (ANI) located in Sherwood, Arkansas is a comprehensive program incorporating all aspects of neurosurgery including complex cranial and skull base procedures as well as the spectrum of neurological disorders

Our team of experts, led by Ali Krisht MD an internationally-known neurosurgeon, are specialists in complex skull-base surgery including cavernous sinus techniques, vascular neurosurgery, neuro-oncology, spine and spinal cord surgery, epilepsy surgery and surgery for movement disorders.

Our outcomes have superior results leading to minimal recurrence rates.

ANI treats patients from all 50 states.

We strive to advance the field of neuroscience by educating and collaborating with neurosurgeons from around the globe to develop the skills necessary to tackle the most complex cases and improve patient outcomes.
About Chattanooga Community
· Population: 180,273 | Metro Population: 574,922
· No State Income Tax
· Chattanooga, Tennessee is noted as "The Scenic City" and "GIG City" – fastest internet in the South; nestled in the heart of the mountains where the states of Georgia, North Carolina and Tennessee meet.
· Two hours to Atlanta, Nashville, and Birmingham.
· "America's Top-Rated Cities" and "Top 10 City" in which to live and play; "Top 10 Southern Mid-Markets with Highly Diversified Economies" and one of the "Smartest Cities in the World" in which to live. Voted "Best Town Ever" by Outside Magazine in 2015 and 2011.
· This vibrant city blends "Big City" amenities with an ease of a smaller city offering: a family friendly and safe atmosphere in which to live, easily commutable, moderate cost of living, $120 million revitalized riverfront, very active Arts Council, Museums, and an extensive green way system.
· The public school system in the area is very good and offers excellent local private schools providing unsurpassed educational opportunities from Signal Mountain to Lookout Mountain.
· The University of Tennessee at Chattanooga offers a wide range of majors in undergraduate, graduate courses and medical education - 9 residency programs and 4 fellowship program.
Catholic Health Initiatives (CHI) is a part of CommonSpirit Health™, a nonprofit, Catholic health system committed to building healthier communities, advocating for those who are poor and vulnerable, and innovating how and where healing can happen—both inside our hospitals and out in the community.
CommonSpirit was created by the alignment of Catholic Health Initiatives and Dignity Health as a single ministry in early 2019.
Our commitment to serve the common good is delivered through the dedicated work of thousands of physicians, advanced practice clinicians, nurses, and staff; through clinical excellence delivered across a system of 137 hospitals and more than 1,000 care centers serving 21 states; and through more than $4 billion annually in charity care, community benefits, and government program services.
With a large geographic footprint representing diverse populations across the U.S. and a mission to serve the most vulnerable, CommonSpirit is a leader in advancing the shift from sick care to well care, and advocating for social justice.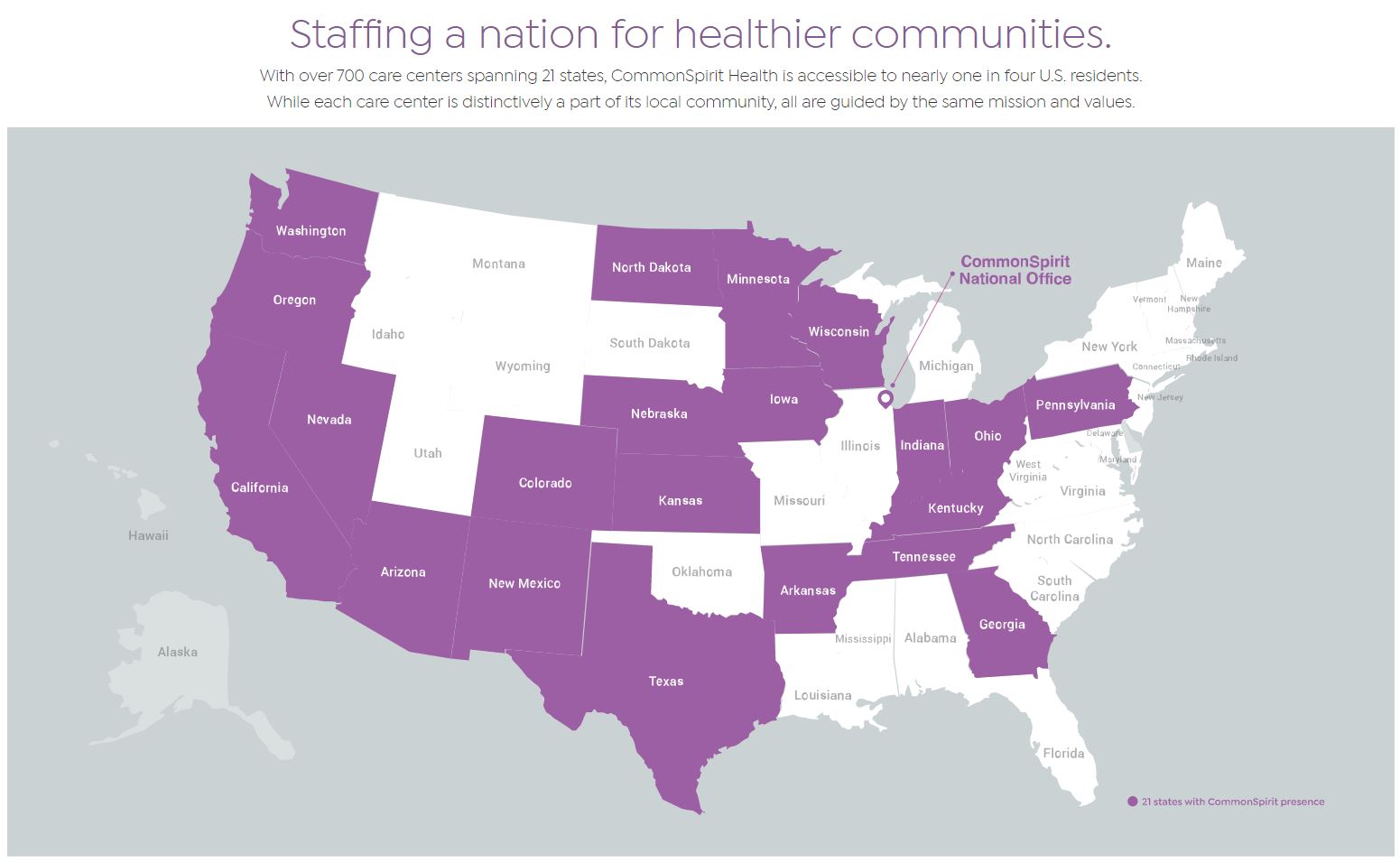 CommonSpirit Health also supports a range of community health programs, research programs, virtual care services, and home health programs addressing the root causes of poor health such as access to quality care and health equity, affordable housing, safe neighborhoods, and a healthy environment. Learn more at www.commonspirit.org.
CommonSpirit Health™ and its organizations are an Equal Opportunity/ Affirmative Action employer committed to a diverse and inclusive workforce. All qualified applicants will be considered for employment without regard to race, color, religion, sex, sexual orientation, gender identity, national origin, age, disability, marital status, parental status, ancestry, veteran status, genetic information, or any other characteristic protected by law.
Chattanooga's ONLY 5 STAR rated hospital. CHI Memorial tops CMS list in the region.
CHI Memorial is ranked the 2nd BEST HOSPITAL in TN by US News.
CHI Memorial is recognized as one of the nation's 100 Top Hospitals® by Thomson Reuters, the health care industry's leading source of information on hospital quality and "100 Great Community Hospitals" by Becker's Hospital Review.
A survey, by Medicare.gov, intended to help consumers purchase the best health care insurance ranks CHI Memorial Healthcare System as tops in the Chattanooga area for patient satisfaction.
To see the story, Control and click on the link:http://www.timesfreepress.com/news/local/story/2016/jan/07/memorial-ranked-top-local-hospital-patient-sa/343529
CHI Memorial is a not-for-profit, faith-based 443-bed healthcare system with 3 campuses (Chattanooga and Hixson in TN and Fort Oglethorpe in GA). The acquisition of formerly Cornerstone Medical Center was completed in December 2017.
CHI Memorial is a Regional Referral Center of choice… over 700 Physicians on staff and over 4,000 associates, and 550 very active volunteers providing healthcare throughout Southeast Tennessee and North Georgia. Our Center of Excellence core service lines include Oncology, Cardiac, and Orthopedics.
With the completion of our 320 million dollar renovation in July 2014, 300,000 sq. ft. have been added to the campus, added 96 patient rooms to a brand new seven-story tower, St. Anne's Chapel with original stained glass windows, a 52 bed, State of the Art, ICU; Guerry Heart and Vascular Center, 7 cardiac catheterization rooms, State of the Art Cardiac Short Stay and Critical Care Unit and grew our patient navigation program to encompass all cancer centers of excellence and the congestive heart failure program.