MercyOne Des Moines Pediatrics is seeking a BC/BE Pediatrician for our central city outpatient practice opportunity. The role offers competitive compensation including a sign on bonus, paid malpractice and a generous retirement program.
Opportunity Details:
Collegial practice with 5 experienced Pediatricians and Nurse Practitioners
Equitable citywide outpatient call
Moderate Complexity Lab & Full X-ray capabilities
Spanish speaking skills a PLUS
Medical Student and Residency teaching
J-1 and H1B candidates encouraged to apply
MercyOne, which has faithfully served the central Iowa community since 1893, has a total of 875 beds and includes the MercyOne Des Moines Medical Center, MercyOne West Des Moines Medical Center, MercyOne Children's Hospital, MercyOne Centerville Medical Center and MercyOne Newton Medical Center. The MercyOne Children's Hospital encompasses a 13-bed PICU, 44-bed Level III NICU, 24/7 ED, a 22-bed Medical Surgical Unit and the region's Pediatric Heart Surgery program. MercyOne Children's is supported by several subspecialties including Cardiology, Neurology, Surgery and Gastroenterology.
Greater Des Moines is consistently ranked nationally among the best places to live with a low cost of living and strong job market. Spend Saturdays at the nationally-renowned Downtown Farmers' Market and afternoons strolling in the Pappajohn Sculpture Park. Bike to the job you love and come home to the community of friends and family. Enjoy abundant trails for walking, running and biking. Surrounding suburbs are known for top-notch schools, clean and safe neighborhoods. Cultural events, music and art festivals, the Iowa State Fair and Iowa Cubs games at Principal Park are just a few attractions Des Moines has to offer. This is a place where culture flourishes and opportunities can grow, where a work/life balance can be achieved, where education is unmatched and award-winning arts and entertainment is always just around the corner. Live life without compromise. For more of what Des Moines has to offer check out www.catchdesmoines.com and www.dsmpartnership.com or A City with No Limits video.
To learn more contact:
Roger McMahon, Physician Employment Services
(515) 358-6923
Catholic Health Initiatives (CHI) is a part of CommonSpirit Health™, a nonprofit, Catholic health system committed to building healthier communities, advocating for those who are poor and vulnerable, and innovating how and where healing can happen—both inside our hospitals and out in the community.
CommonSpirit was created by the alignment of Catholic Health Initiatives and Dignity Health as a single ministry in early 2019.
Our commitment to serve the common good is delivered through the dedicated work of thousands of physicians, advanced practice clinicians, nurses, and staff; through clinical excellence delivered across a system of 137 hospitals and more than 1,000 care centers serving 21 states; and through more than $4 billion annually in charity care, community benefits, and government program services.
With a large geographic footprint representing diverse populations across the U.S. and a mission to serve the most vulnerable, CommonSpirit is a leader in advancing the shift from sick care to well care, and advocating for social justice.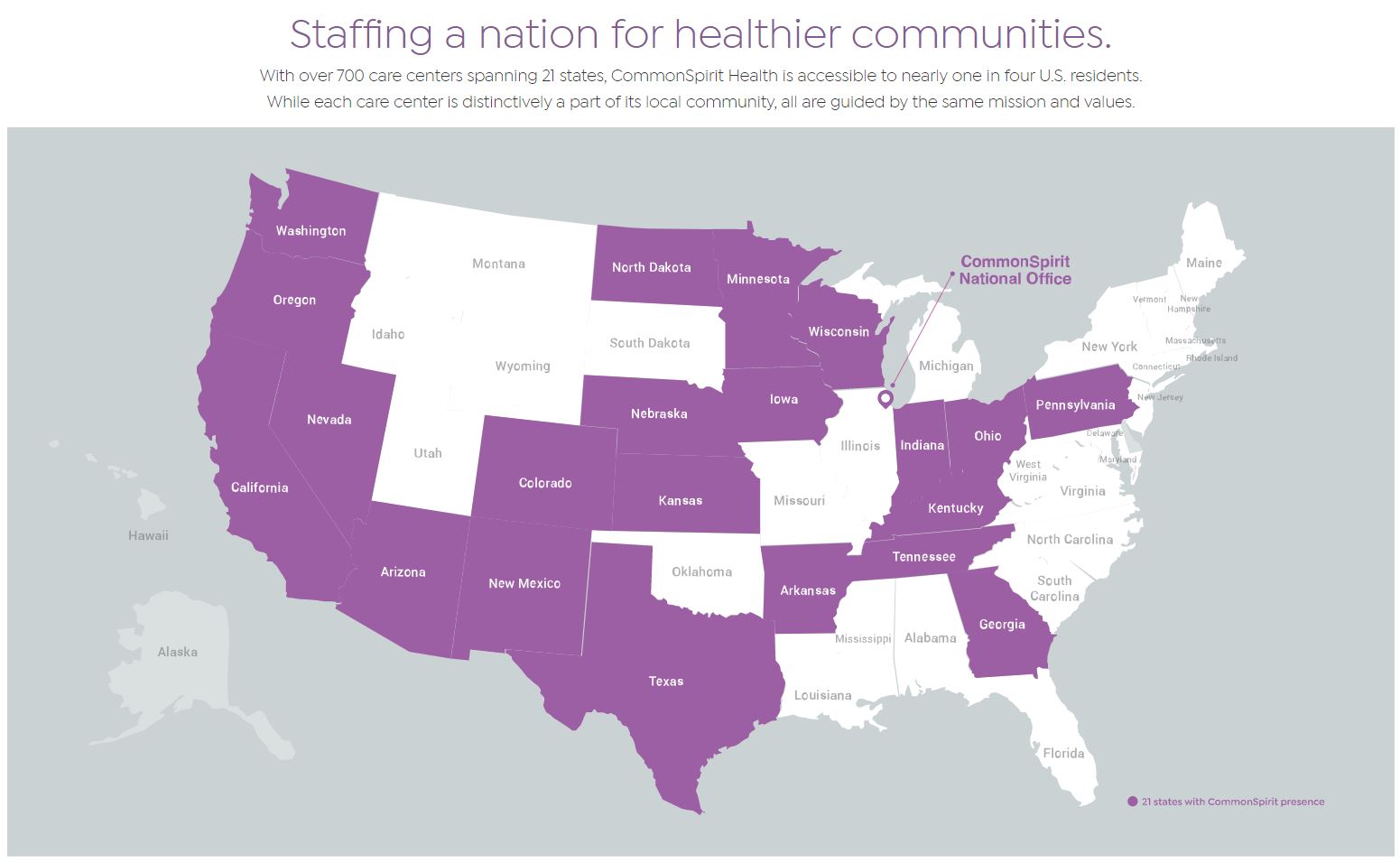 CommonSpirit Health also supports a range of community health programs, research programs, virtual care services, and home health programs addressing the root causes of poor health such as access to quality care and health equity, affordable housing, safe neighborhoods, and a healthy environment. Learn more at www.commonspirit.org.
Committed to welcoming everyone.
At CommonSpirit Health, we believe in cultivating a workplace in which diversity is celebrated and all people are included, respected, valued and celebrated. We lean on the variety of our colleagues' perspectives and backgrounds to challenge ourselves and to create a workplace that supports diversity, equity, inclusion and belonging.
CommonSpirit Health™ and its organizations are an Equal Opportunity/ Affirmative Action employer committed to a diverse and inclusive workforce. All qualified applicants will be considered for employment without regard to race, color, religion, sex, sexual orientation, gender identity, national origin, age, disability, marital status, parental status, ancestry, veteran status, genetic information, or any other characteristic protected by law.
MercyOne Central Iowa operates four not-for-profit, Catholic medical centers, as well as two specialty hospitals, providing a total of 965 licensed beds:
MercyOne Des Moines Medical Center
MercyOne West Des Moines Medical Center
MercyOne Newton Medical Center
MercyOne Centerville Medical Center
MercyOne Children's Hospital
MercyOne Clive Rehabilitation Hospital
With more than 7,000 colleagues and a medical staff of more than 1,000 physicians and allied health professionals, MercyOne Central Iowa is one of Iowa's largest employers.
MercyOne Medical Group – Central Iowa is one of Iowa's largest multispecialty clinic systems, made up of more than 50 primary care, pediatric, internal medicine and specialty clinics located throughout Dallas, Polk and Warren counties.
MercyOne Central Iowa has several additional ministries including: Mercy College of Health Sciences, MercyOne Des Moines Foundation, MercyOne Health & Fitness Center and MercyOne Population Health Service Organization.
MercyOne has long history in training the next generation of Physicians. MercyOne sponsors residencies in Internal Medicine, Family Medicine, General Surgery and Psychiatry. Additionaly MercyOne offers a Cardiology Fellowship as well as numerous educational opportunities for Medical Students.
In addition, 14 of Iowa's community hospitals – from Bloomfield and Webster City to Greenfield and beyond – have chosen to affiliate with MercyOne Central Iowa. Through contracted relationships, MercyOne provides management and support services to these community hospitals, who work together to share best practices and process improvements, improve quality and service, and lower the cost of care.
MercyOne Central Iowa is a member of MercyOne, which was founded in 1998 through a collaboration between CommonSpirit Health and Trinity Health – two of the country's foremost, not-for-profit Catholic health organizations. The MercyOne system has more than 20,000 colleagues in Iowa and surrounding states.