PracticeMatch
Empowered Physician Scholarship
Congratulations to our 2018 Winner!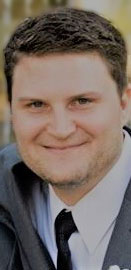 Chris Hamilton
I am honored to accept the PracticeMatch Empowered Physician Scholarship award. The journey of medical education is both long and costly but well worth these sacrifices to be part of such an exclusive group of people that get to care for patients in their time of need. As a resident nearing the end of my training I can say there are many expenses that this can help pay including interviews for fellowship, board costs and moving expenses to my next phase of training in New York City. This really will help some of the financial burden and allow me to focus on my studies and surgical training.
…even the biggest challenges can be conquered…
Not many people have experienced life as I have. I grew up living in the projects outside of Detroit, Michigan. I lost my mother to domestic violence and was raised by various family members growing up. I did not have much guidance in life and when I was in my teenage years I was eventually forced to make a decision. I had to choose what type of man I wanted to become and what kind of friends I wanted to have in my life. I had a long talk with my brother and his good friend one night and they planted the idea of joining the Marine Corps into my head. I went to a recruiter to discuss what my options were and left with a four year enlistment. I had an incredible time in the Marines and most importantly I developed leadership, teamwork skills, discipline, motivation, physical and mental strength, self-pride, and fortitude.
While working full time as a marine, I took college courses throughout my time in the military and ultimately decided to pursuit a degree in mechanical engineering because of my interest in science and how it can be used to benefit society. I was afforded the opportunity to work at the University Hospital doing bioengineering research and that is when I fell in love with medicine. It was amazing to me that people can study the human body and use that knowledge to treat patients.
Medical school was an entirely new experience for me as it has introduced a wealth of new information as well as clinical skills. I continued to do research while in medical school and made the decision to apply to an orthopaedic surgery residency as that was what I wanted to do more than anything else. I did get accepted into an orthopaedics and things were going well until my second year of training. I started the year off getting a really bad case of shingles then shortly after I felt terrible for a couple months and was ultimately diagnosed with walking pneumonia. I was also having issues with family members that lived nearby. I had not had to deal with much adversity since I was a child until this point in my life. I was not able to focus and I felt my family life and my personal health were suffering as a result of everything going on. I made a very tough decision to leave my residency program. This was not an easy decision as it is very difficult just to get into any residency program and especially orthopaedics. I worked very hard for this.
I moved back to Arizona with my wife and worked as a PCP for a year while I actively looked for a new residency position. Another bomb was dropped on me when I got a phone call in December 2015. My father had been out of prison for a few years and was getting massive amounts of pain medications from one of his doctors. He had legitimate problems apparently but he was giving pills to my brother. My brother was going through a divorce around this time and was not taking it well. He had talked to me about a fever he was having then said that he did go to the emergency department and had an antibiotic prescribed to him. He did not show up for his accounting job the next day and his ex-wife found he had passed away during the night.
I had dealt with a lot in my life up to this point but my brother was everything to me. We had been through so much together. He was around for all of my graduations and cared for me like a parent would have. We had each other and that is what made growing up without parents manageable. I did not know what to do. I was crushed. I wanted to give up and stop caring about anything. I did not give up though. I knew my brother would not have tolerated that. My wife certainly was not going to allow me to give up. I searched daily and found a few orthopaedic residency openings which I interviewed for, got accepted for a new position, and now I am about to complete my residency.
As you can see I have lived through a tremendous amount of adversity in my life. I feel I have so much to offer other people who are going through similar difficulties. I relate very well to the patients I encounter every day and I am so thankful that I get to continue doing what I love. I hope to be involved with outreach programs in the near future. Life can be hard and some obstacles can seem impossible to overcome but given time and determination even the biggest challenges can be conquered. I think I can help others conquer similar life problems so they can achieve their goals.
Chris Hamilton