Advanced Practitioner Job Search:
Tips and Advice
Are you an Advanced Practitioner considering a change of clinical specialty? Consider taking a look at Orthopedics. As part of an ongoing Specialty Spotlight series we will show you the ins and outs, stats and advantages associated with a variety of specialties. It may just make you want to consider changing up your specialty status.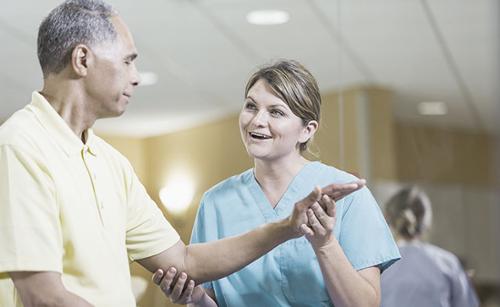 Orthopedics
Orthopedics is a popular specialty amongst Advanced Providers who like providing musculoskeletal care. It is a stimulating and rewarding specialty that can provide both challenges in and out of the Operating Room. Orthopedic APs are often an Orthopedist's right hand and indispensable in the hospital setting.
Most Orthopedic APs provide services that include:
First Assist with surgery, minor outpatient procedures, joint injections, post-op follow up, pre-op H&Ps, admission/discharge paperwork, hospital rounding, cast/brace application or removal, joint aspirations, reduction of fractures or joint dislocations, order DME/orthotic devices, wound care and treatment to name a few.
Orthopedic Subspecialties
Many Orthopedic practitioners treat the entirety of the musculoskeletal system but some choose to specialize in a particular surgical specialty area like:
Spinal Surgeons
Hand Surgeons
Oncology Orthopedists
Foot and Ankle
Joint Reconstruction
Sports Medicine
Pediatric
Trauma
Practice Locations
Most Orthopedic APs work in both office and hospital settings and are frequently called upon to first assist in the operating room.
Optional Additional Specialty Training:
While Orthopedic specialty practice is considerably more popular amongst PA's than NPs, Physician Assistants are not the only ones that have post graduate training programs in this area. Post Graduate training programs in Orthopedics are available for both Advanced Practitioner groups and endow the recipient the added distinction of being certified in the Orthopedics. These Fellowship programs are frequently 12 months in length and provide advanced orthopedic techniques and training.
Compensation
As with most areas of medicine, the more specialized the practice, the higher the compensation. This can be especially true with surgical specialties. The average Physician Assistant salary for PAs working in Orthopedic surgical practice is $125,208 a year(1). For Nurse Practitioners working in Orthopedic care, the average salary is about $113,500 a year(2). These salaries are notably higher than what an average PA ($101,480)(3) and NP ($100,910)(4) earn per year and are reflective of the specialized care provided by these Practitioners.
To view opportunities for Advanced Practitioners in Orthopedics click here.
References:
(1) Clinical Advisor.com "2016 nurse practitioner and physician assistant salary survey" . Accessed on 07/27/2017.
(2) Payscale.com "Orthopedic Nurse Practitioner Salary". Accessed on 07/27/2017.
(3) Bureau of Labor Statistics, U.S. Department of Labor, Occupational Outlook Handbook, 2016-17 Edition, Physician Assistants, on the Internet (visited July 27, 2017).
(4.) Bureau of Labor Statistics, U.S. Department of Labor, Occupational Outlook Handbook, 2016-17 Edition, Nurse Anesthetists, Nurse Midwives, and Nurse Practitioners, on the Internet (visited July 27, 2017).
For more information and valuable career resources please:

Create a Profile Browse Our Job Board Attend a Career Fair