Advanced Practitioner Job Search:
Tips and Advice
Becoming a psychiatrist's assistant is a great opportunity for Advanced Practitioners seeking a challenging and rewarding medical specialty. Gone are the days of Freud and the Psychiatrist's couch. Working in psychiatry today is dynamic and ever expanding as our knowledge of the human mind grows.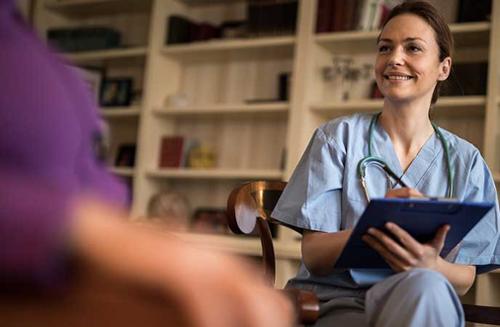 For APs wanting to help patients suffering from behavioral and mental disorders, becoming a psychiatrist's assistant may be a perfect fit.
Most APs Working in Psychiatry provide services that include:
The diagnosis, treatment and prevention of a variety of behavioral, emotional and mental disorders. Examples of such disorders include schizophrenia, substance use disorders, ADHD, conduct disorder, anxiety, depression and bipolar disorder to name a few.
Working in psychiatry requires APs to evaluate both the physical and mental causes of a patient's issues. This can require the use of physical examination techniques, extensive history assessment and as needed, diagnostic testing.
Advanced Practitioners working in psychiatry frequently utilize cognitive testing, medications and psychotherapy/counseling to address their patients disorders.
Some Psychiatric APs also assist Physicians with the performance of advanced procedures like Electroconvulsive Therapy (ECT), Transcranial Magnetic Stimulation (TMS) and Deep Brain Stimulation.
Working in Different Psychiatric Specialties
Advanced Practitioners working in psychiatry who are interested in expanded psychiatric practice options may find employment opportunities in areas like:
Addiction Medicine
Telemedicine
Child and Adolescent Psychiatry
Emergency Medicine
Occupational Therapy
and Geriatric Psychiatry
Practice Locations for APs Working in Psychiatry
Most psychiatric Advanced Practitioners provide care in hospitals (general and psychiatric), inpatient and outpatient treatment facilities, prisons, military settings, VA clinics, rehabilitation centers, private clinics and with government agencies.
Additional Psychiatric Specialty Training:
Nurse Practitioners and Physician Assistants have different options when it comes to additional training opportunities when becoming a psychiatrist's assistant. According to the American Nursing Credentialing Center, Nurse Practitioners can pursue a variety of psychiatric specialty certifications. Those interested in working with an adult patient population can obtain a Nurse Practitioner certification in Adult Psychiatric-Mental Health (PMHNP-BC) and Psychiatric-Mental Health, Across the Lifespan (PMHNP-BC). A pediatric certification as a Pediatric Care Mental Health Specialist (PMHS) is also available through the Pediatric Nursing Certification Board.
Physician Assistants are not required to obtain any specialty certifications to work in Psychiatry but may choose to pursue further educational options. There is a Certificate of Added Qualifications (CAQ) in Psychiatry, awarded by the National Commission on Certification of Physician Assistants (NCCPA) that is earned after passing an exam and completing focused CME requirements. Some PA's may choose to enroll in a Psychiatry Fellowship in order to advance their knowledge of this field. These Fellowships involve both didactic and clinical work at an Academic Medical Center that generally spans a year.
Compensation for APs Working in Psychiatry
Nurse Practitioner salaries working in psychiatry can vary considerably based on geographic location but average $116,857 a year according to Indeed.com. Physician Assistants working in Psychiatry can expect to earn about $93,600 a year according to reports from Payscale.com.
To view opportunities for Advanced Practitioners in Psychiatry go to PracticeMatch Advanced Practitioners Jobs.
Find A Psychiatry Advanced Practitioner Position with PracticeMatch
Is the field of psychiatry right for you? PracticeMatch is a free online resource for advanced practitioners providing a comprehensive database on nation-wide positions in psychiatry. Search available jobs today.
References:
American Psychiatric Association. What is Psychiatry? Psychiatry.org Accessed on 3/20/18.
How to Become a Psychiatric Nurse Practitioner. Registered Nurse. Accessed on 3/20/18.
Payscale.com Psychiatric Physician Assistant Salary . Accessed on 3/20/18.
Indeed.com Psychiatric-mental Health Nurse Practitioner Salary. Accessed on 3/20/18.
Pediatric Nursing Certification Board. PNCB.org Accessed on 3/20/18.
American Nurses Credentialing Center. Nursingworld.org. Accessed on 3/20/18.
NCCPA.net Accessed on 3/20/18.
For more information and valuable career resources please:

Create a Profile Browse Our Job Board Attend a Career Fair