Advanced Practitioner Job Search:
Tips and Advice
If you find yourself wanting to pursue medicine but you want a non-physician career, you can always consider Allied Health as an option. Allied Health includes jobs such as dental hygienist, dietitian, speech language pathologist, and more! In this article, we've outlined for you the 5 most popular Allied Health careers, in terms of salary, in hopes that you find it easier to decide which career path to go with! We've also included some information about what each profession entails.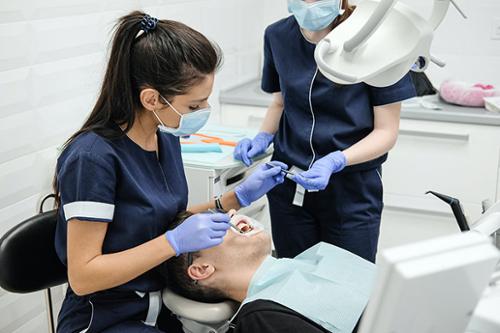 Cardiac Catheterization Lab Technologist
Cardiac Cath Lab Techs specialize in running tests to determine heart health and function. They assist in performing cardiac catheterizations, allowing the medical team to use a catheter to determine whether there is any blockage or electrical issues. Techs perform tests to see how well a patient's heart is working. They are also well-versed in pacemaker implantation and cardiac anatomy.
Education Requirements: Associate of Applied Science degree in cardiovascular technology
Certifications: RCIS
Salary Range: $51,500-$128,500
Average Annual Salary: $92,717
Occupational Therapist
Occupational Therapists work with patients of all ages who have an illness, injury, or disability, whether that disability is mental, physical, or is a cognitive disorder. They assess patients, develop treatment plans, and provide treatment designed to improve strength, dexterity, and motor skills. Treatment plans created by an Occupational Therapist will help their patients reach their specific goals.
Education Requirements: Master's degree in Occupational Therapy
Certifications: OTR
Salary Range: $39,000-149,000
Average Annual Salary: $92,159
Speech Language Pathologist
Speech Language Pathologists are communication experts and specialize in helping patients of all ages learn to communicate more effectively. SLPs evaluate, diagnose, and treat a range of language, speech, and cognitive communication issues that require individualized treatment plans. Their patient population can include anyone from small children with developmental disorders to elderly stroke victims.
Education Requirements: Master's degree in Speech Language Pathology
Certifications: CCC-SLP
Salary Range: $42,000-$146,500
Average Annual Salary: $92,093
Clinical Lab Scientist
A Clinical Lab Scientist, also called a Medical Lab Scientist, specializes in analyzing biological specimen to identify the absence or presence of disease. They analyze things like blood, urine, tissue, cells, and other materials derived from humans. They perform a multitude of analytical tests, using various analytical and diagnostic equipment. These tests are used to diagnose and treat diabetes, heart disease, cancer, and many other medical conditions.
Education Requirements: Bachelor's degree in Medical Laboratory Science
Certifications: MLS(ASCP)
Salary Range: $31,500-$147,000
Average Annual Salary: $91,309
Physical Therapist
Physical Therapists specialize in helping patients with illnesses, injuries, physical disabilities, or other health conditions that may impact daily function. They evaluate each patient to identify a specific problem and assess overall function in order to create a plan for rehabilitation. These treatment plans are created in order to help their patients increase coordination, agility, range of motion, flexibility, and strength. The overall goal is to relive pain, improve mobility, limit or prevent permanent disability, and restore function.
Education Requirements: Doctor of Physical Therapy
Certifications: ABPTS-Certified Specialist
Salary Range: $47,000-$135,000
Average Annual Salary: $89,349
And there you have it! Those are the top 5 Allied Health professions based on salary, as of August 2021. Feel free to send us an email at information@practicematch.com with any information you'd like to share! We can't wait to hear from you!
For more information and valuable career resources please:

Create a Profile Browse Our Job Board Attend a Career Fair