Advanced Practitioner Job Search:
Tips and Advice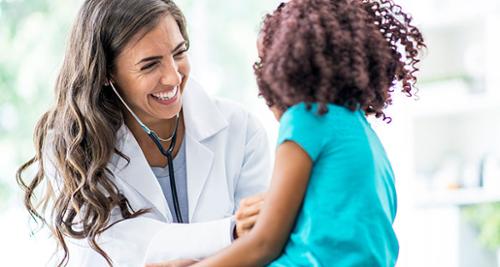 Do you have a passion for medicine and enjoy working with children? If so, then becoming a Pediatric Nurse Practitioner (PNP) may be the perfect career choice for you. So what does it take to work in this exciting field? Take a look to see what a career as a Pediatric Nurse Practitioner is all about.
What is a Pediatric Nurse Practitioner?
Pediatric Nurse Practitioners are advanced practice registered nurses who provide medical care to infants, children and adolescents. Most Pediatric Nurse Practitioners provide services that include, but are not limited to:
Well-child checks from birth through 21 years of age
developmental screenings
Immunizations
Diagnosis and treatment of a variety of illnesses
Sports and school physicals
Pediatric Nurse Practitioners also help educate parents regarding normal childhood development and both acute and chronic medical conditions.
What Are the Educational Requirements for Pediatric Nurse Practitioners?
Nurse Practitioners interested in pursuing a career in Pediatric Care will need to obtain a specialized education in the field. This specialized training is provided through Pediatric Nurse Practitioner (PNP) programs. These programs give PNP students an opportunity to learn about the prevention, diagnosis and care of childhood medical conditions through a focused, pediatric based curriculum and clinical rotations.
After completing a PNP program, most Nurse Practitioners pursue a certification to practice in the Pediatric Care specialty. The Pediatric Nursing Certification Board has two certification options for Pediatric NP's:
The Certified Pediatric Nurse Practitioner (CPNP-PC) certification, which covers generalized pediatric care
The Acute Care Certified Pediatric Nurse Practitioner (CPNP-AC) certification, which is an option that has a more focused practice scope.
Additional Educational Opportunities
Nurse Practitioners seeking further education in pediatric practice may pursue a Pediatric Care NP Fellowship. These Fellowships provide advanced training and educational opportunities for NP's through a yearlong, paid fellowship that rotates them through a variety of clinical settings while working with instructors.
Where are the Practice Locations of PNPs?
The majority of Pediatric Nurse Practitioners provide their services in private/community clinics, Hospitals, Academic Medical Centers and Pediatric Emergency Rooms.
How Much Do Pediatric Nurse Practitioners Make?
Pediatric Nurse Practitioner salaries vary according to Practitioner experience levels and practice location. Most Pediatric Nurse Practitioners can expect to earn an average of $102,493 year(2). This salary is lower than the national average Nurse Practitioner salary totaling $108,643 a year(2).
Pediatric Nurse Practitioner Employment Opportunities
Are you ready to start your job search for open PNP positions? Browse up-to-date listings on our advanced job search tool where you can filter by specialty and location. Discover new Pediatric Nurse Practitioner job opportunities today!
References:
1. What is a Pediatric Nurse Practitioner? Nurse Practitioners Schools.com. Accessed on 10/31/18.
2. 2015 National NP Compensation Survey. AANP.org
For more information and valuable career resources please:

Create a Profile Browse Our Job Board Attend a Career Fair