Advanced Practitioner Job Search:
Tips and Advice
Nurse Practitioners interested in challenging and rewarding work with newborns should consider a career in Neonatal Medicine. Due to advancements in newborn care and an increasing population, there are more jobs than ever for Neonatal Nurse Practitioners to pursue in this field.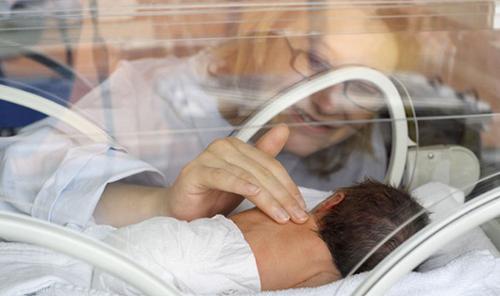 Neonatal Nurse Practitioner Educational Requirements
Neonatal Nurse Practitioners (NNP) obtain education in the care of newborns through specialized Neonatal Nurse Practitioner programs. These programs focus on the care of normal, critically ill, and premature newborns. Most programs require an applicant have 1-2 years' experience working in a level 3 Neonatal Intensive Care Unit (NICU) prior to acceptance.
Certifications for this specialty are obtained after passing a certification examination. The National Certification Corporation (NCC) offers a Neonatal Nurse Practitioner (NNP-BC) certification. This certification designates that the recipient has successfully mastered the content associated with the specialty.
The NCC also offers core certifications in Inpatient Obstetric Nursing, Maternal Newborn Nursing, Low Risk Neonatal Nursing, and Neonatal Intensive Care Nursing.
Neonatal Nurse Practitioner Job Responsibilities
As part of their daily job functions, NNPs must be able to successfully complete the following responsibilities on a regular basis. These job responsibilities can make the difference in the lives of patients and their families, and must be performed with absolute care and accuracy.
The diagnosis and treatment of premature or acutely ill newborn infants suffering from a variety of medical issues both congenital or developed.
Monitoring and use of specialized medical devices, labs and testing modalities.
The performance of history and physicals, admission/discharge paperwork, hospital rounding and parent education regarding treatment plans and basic infant care to name a few.
Neonatal Nurse Practitioner Practice Locations
Most Neonatal Nurse Practitioners provide their services in Hospital Neonatal Intensive Care Units (NICU), Obstetrical Wards, Emergency Rooms, and specialty clinics. Neonatal Nurse Practitioners are needed throughout the United States to provide care to both urban and rural patients.
Nurse Practitioner Educational Opportunities
Nurse Practitioners seeking further education in neonatal practice may pursue a Neonatal Fellowship. These Fellowships provide advanced neonatal training and educational opportunities to NPs through a yearlong, paid fellowship that rotates them through a variety of clinical settings. There are also National Certification Corporation Subspecialty certifications in Electronic Fetal Monitoring and Neonatal Pediatric Transport.
Neonatal Nurse Practitioner Job Compensation
Neonatal Nurse Practitioner salaries vary according to the location of practice and experience levels. The average salary base for Neonatal Nurse Practitioners is $118,991 a year (1). This salary is higher than the national average of $104,610 a year for practicing Nurse Practitioners (2).
Neonatal Nurse Practitioner Job Opportunities
Neonatal Nurse Practitioners are in increasing demand throughout the United States. PracticeMatch provides easy access to job listings for advanced practitioners. Browse by specialty, location, and more to find the right NNP job for your unique skills.
References:
1. Salary.com Nurse Practitioner Neonatal. Accessed on 06/12/18.
2. Bureau of Labor Statistics, U.S. Department of Labor, Occupational Outlook Handbook, 2016-17 Edition, Nurse Anesthetists, Nurse Midwives, and Nurse Practitioners, on the Internet at Nurse Anesthetists, Nurse Midwives, and Nurse Practitioners. Accessed on 06/12/18.
3. Neonatal Nurse Practitioners. Graduate Nursingedu.org.
4. National Certification Corporation Org.
For more information and valuable career resources please:

Create a Profile Browse Our Job Board Attend a Career Fair