Advanced Practitioner Job Search:
Tips and Advice
Starting a new job can be a challenging and exciting time for an Advanced Practitioner. Working with new colleagues, procedures, and work dynamics can make transitioning into a new job difficult unless you have strategies ready to help you make a smooth transition.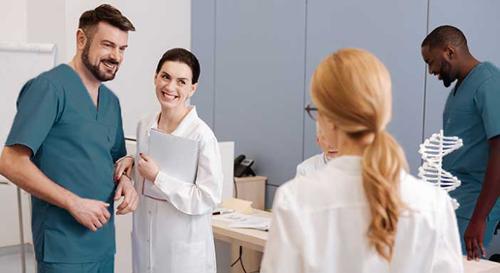 Do Your Research
Before you start your first day of work, try to research as much as possible about the new workplace. Who are your future colleagues, what EMR will you use, what are the practice's strengths? Evaluate whether or not you need to spend time refreshing your knowledge about the specialty or if you require any new equipment or clothing prior to starting (i.e. scrubs, business wear, footwear, lab coats).
Organize Your Personal Life
Be sure to have your personal life in order before starting a new job. Consider how it will affect any personal appointments, vacation days or childcare scheduling issues so that you can address any potential conflicts before starting. This allows you to focus on the job and hit the ground running without distractions.
Be a Keen Observer
Relying on your powers of observation when you first enter a new job will help you gain considerable knowledge and useful insight. Insight into interpersonal interactions between staff, office flow, or conflicts can be uncovered and help you understand how to best navigate the new setting.
Ask Questions
Never be afraid to ask questions. Whether you are asking how something is done or how colleagues feel about the workplace and its practices, there are no stupid questions.
Get to Know the Staff
Who are you working with and what makes them tick? Knowing everyone's background can help create a stronger, more bonded team that plays to everyone's strengths while minimizing internal conflict.
Institute New Changes Slowly
You are the new kid on the block and still an outsider so make changes slowly. Be sure to gain the staff's trust and fully understand the system you are making changes to before altering any workplace procedures.
Be Flexible & Positive!
A positive attitude is contagious and always preferable to a negative one. To ensure that you will be open to new people and experiences, it is essential to have a positive and flexible approach when integrating into a new workplace.
For more information and valuable career resources please:

Create a Profile Browse Our Job Board Attend a Career Fair