Advanced Practitioner Job Search:
Tips and Advice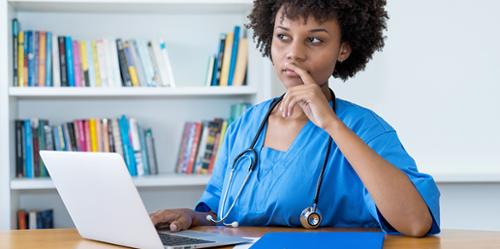 Nurse Practitioner demand is projected to increase by 28% over the next 6 years as healthcare provider shortages continue to rise3. This means that an estimated 16,900 vacancies a year will become available as NP's are called upon to provide care to an ever-aging American population3. While employment opportunities may abound for interested Nurse Practitioners, some locations are projected to be more fruitful for NP's on the job hunt.
According to analysis results from the Bureau of Labor and Statistics, Nurse Practitioners looking for job opportunities may want to focus their search in the following states:
New York- The "Big Apple" has a big need for Nurse Practitioners, with a 41% projected increase in demand expected by 20282.. This increase in demand is expected to create 1,450 vacancies annually, in a state where Nurse Practitioners make an average of $122,550 a year3.
California- In a state boasting the largest population in the union, it is not surprising that California also has a notable demand for Nurse Practitioners. By 2026, California is projected to increase its NP demand by 35%1. This is expected to produce an additional 1,200 vacancies annually, in a state where an average NP makes $138,660 a year3.
Texas- Everything is bigger in Texas…. including the demand for Nurse Practitioners. This state is remarkable for having the largest projected increase in demand for NP's nationwide, with an estimated 46% growth in vacancies by 20304. Texas is also a great state for NP pay, with most Practitioners reporting an average salary of $115, 440annually.
Florida- If sunny beaches and no personal income taxes sound good to you, consider looking to Florida for your next job opportunity. This state has a projected 45% increase in demand by 2026 for NP's interested in making around $101,510 annually3. This profession is also the 6th fastest-growing occupation in the state of Florida, making these professionals a top commodity.
Ohio- The "Buckeye State" is a favorable location for Nurse Practitioners seeking employment, with a projected 30% increase in demand expected by 20263. This state's NP population has a significant focus in the suburban, northern regions of the state, where salaries average $103,780 annually*.
For more information and valuable career resources please:

Create a Profile Browse Our Job Board Attend a Career Fair