Advanced Practitioner Job Search:
Tips and Advice
Competitive compensation packages can make or break your relationship with prospective Nurse Practitioner hires. While many employers provide industry-standard incentive packages, some are offering more to entice NPs to their organizations. To stay competitive in your hiring game, it is essential to know what Nurse Practitioner benefits are expected.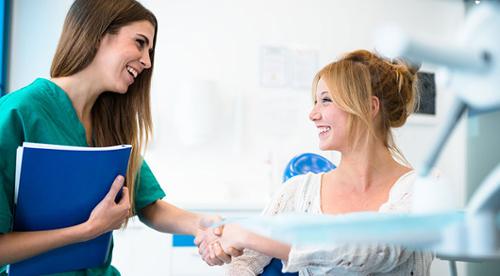 Top 6 Nurse Practitioner Benefits
Paid Vacation
A top Nurse Practitioner benefit is paid time off. 77%* of NPs surveyed by the AANP report paid vacation as an offered incentive as part of their employment agreements.
Malpractice Insurance
72%* of NPs report that their medical liability insurance is covered by their employer. This is a commonly expected nurse practitioner benefit for employees who are not working under a self-employed practice model.
Allowances for Continuing Education
Continuing Medical Education is a great nurse practitioner benefit that allows your employees to keep abreast of medical changes while also meeting licensure requirements. 71%* of NPs report receiving monetary compensation for the purposes of Continuing Education.
Professional Leave
Many NPs receive paid time off to attend conferences and educational meetings while working. This incentive is offered to 66%* of Nurse Practitioners seeking employment.
Retirement
Retirement benefits were offered to 69%* of NPs seeking employment opportunities as part of their incentive package. As more Millennial practitioners enter the workforce, this will be increasingly critical to this financially-minded generation.
Disability Insurance
Disability insurance is a popular benefit being offered to active Nurse Practitioners. 45%* of NPs surveyed endorsed this benefit as part of their incentive package.
Additional Incentives To Attract Nurse Practitioners
While the majority of actively employed nurse practitioners will expect to receive the top benefits, offering additional incentives can help attract top talent to your hospital or practice. These nurse practitioner benefits are reported as desirable among surveyed NPs.
Allowances for Certifications/Licensure
More than half of Nurse Practitioners are offered monetary compensation for their licensure or certification expenses.* This is an attractive benefit for many NPs, as these expenses can reach several hundred dollars a year depending on requirements.
Professional Association Due Allowances
Employers offering compensation for an NPs Professional Association dues has increased over time, with 36% of NPs endorsing this added benefit. *
Long Term Care Insurance
Employerslooking to offer especially competitive incentive packages may want to consider offering Long Term Care insurance. This attractive benefit is currently endorsed by 25%* of NPs and will continue to be relevant as America's healthcare Providers age into retirement.
Professional Journal Allowances 24% of NPs surveyed report being offered compensation to cover their professional journal subscriptions. This has an added benefit of helping NPs maintain their continuing medical education requirements for licensure.
Relocation Bonuses
Offering NPs additional compensation to relocate to hard to fill locales has become an increasingly popular option as healthcare provider shortages increase. These offers are variable and can reach into the tens of thousands of dollars depending on the position.
Signing Bonuses
Many employers have added signing bonuses to their Nurse Practitioner benefits packages to edge out their competition. These bonuses vary and can add thousands to an incentive package, making it an attractive benefit.
Nurse practitioners who are entering the job market are aware of the available compensation plans and benefit offerings from a variety of employers. Be prepared for prospective hires to expect to negotiate for additional benefits and be clear about your offerings from the initial meeting. This will help ensure that the qualified candidates that you speak to are those who are prepared to join your practice with full knowledge of the associated benefits.
References:
(*) 2015 AANP National NP Compensation Survey
For more information and valuable career resources please:

Create a Profile Browse Our Job Board Attend a Career Fair