Advanced Practitioner Job Search:
Tips and Advice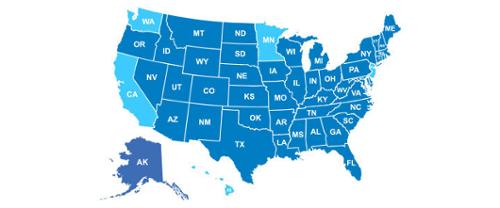 Compensation plays a big role when making decisions about new employment opportunities as a Nurse Practitioner. According to the Bureau of Labor and Statistics, the median pay for NP's nationwide is $109,820 with some locations offering even higher pay to offset cost of living differentials and Practitioner demand levels1. To maximize your potential earnings for the services you provide, consider relocating to the states that offer the best Nurse Practitioner pay.
California- This state is the second largest employer of Nurse Practitioners nationwide with 13,900 NP's making this state their practice location of choice. According to the BLS, Nurse Practitioners practicing in California make an average of $138,660 annually and are projected to enjoy a 35% growth rate over the next few years. This growth will produce 1200 new jobs annually2. While salaries often vary with location, Nurse Practitioners who work in cities like Fairfield can make a remarkable $175,060 a year, San Francisco/ Oakland area $157, 150 annually, while Redding & Salinas NP's earn around $145,000 a year1.
Washington- Washington state is home to more than just Mt Rainier and the Space Needle, it's also home to some great paying Nurse Practitioner jobs and a 31% professional growth rate2. NP's working in Washington make an average of $126,920 a year, with cities like Spokane ($160,110) and Longview ($150,520) offering even more to their Practitioners1.
Hawaii- Have you ever dreamed of vacationing in Hawaii? Instead, try imagining how amazing it would be to live and work there while making top level pay. This is a reality for some lucky Nurse Practitioners that have choose to make Hawaii their home while making $124,000 a year for their services. While this island has less NP's than most states, there is still room for interested Practitioners to join thanks to its projected 37% growth rate2.
New Jersey- This mid-Atlantic state offers something for everyone with ready access to some of the east coast's most popular destinations and great Nurse Practitioner pay. In a state with a projected 31% Practitioner growth rate, there is plenty of space for future NP's to enter the workforce and earn an average salary of $123,810 annually.
Minnesota-"The Land of 10,000 Lakes" is a great place to consider working if you are a Nurse Practitioner seeking new employment opportunities and great pay. NP's working in this state earn an average of $122,850 annually, with cities like Rochester offering Practitioners an attractive salary of $144,980 a year1.
For more information and valuable career resources please:

Create a Profile Browse Our Job Board Attend a Career Fair