Advanced Practitioner Job Search:
Tips and Advice
If you enjoy exciting, face paced and rewarding work, you should consider working as a Surgical Nurse Practitioner. This emerging area of Nurse Practitioner practice has increased in popularity over the last decade and is an in-demand specialty. Surgical NP's provide care both in and out of the OR to patients in need of surgical assistance. Their work provides crucial support to surgical teams working in a variety of clinical settings.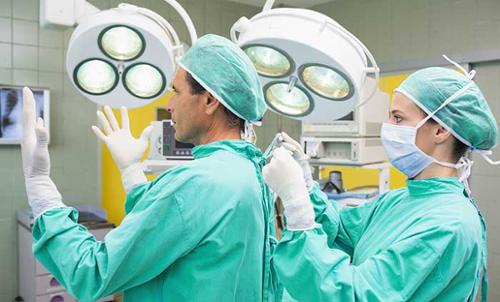 Surgical Nurse Practitioner Educational Requirements:
There are several roads an NP can take to become a Surgical Nurse Practitioner. Many NP's entering the specialty are either Acute Care or Family Nurse Practitioner (FNP) credentialed. The FNP credential is preferred when a surgical specialty involves treating both adult and pediatric populations due to the adult only restrictions related to the Acute Care NP designation.
There are several surgical training options available to Nurse Practitioners in order to meet the requirements to practice in this specialty. NP's can seek credentialing as a Registered Nurse First Assistant (RNFA), Medical-Surgical RN (CMSRN) or pursue a Master's Degree in Surgical Nursing. When choosing a surgical training option it is important to first check with your state Nursing Board as many states have educational requirements. The most commonly required Surgical NP credential is the Registered Nurse First Assistant (RNFA).
Most Surgical Nurse Practitioners provide services that include:
First Assist with surgical procedures, pre-op H&P's, admission/discharge paperwork, hospital rounding, post-op follow up, wound care, pain management and patient education to name a few.
Surgical NP Subspecialties include:
Orthopedic Surgery
General Surgery
Vascular/Cardiothoracic Surgery
Plastic Surgery
Neurosurgery
Transplant Surgery
ENT Surgery
Practice Locations:
The majority of Surgical Nurse Practitioners provide their services in Hospital Operating Rooms, Ambulatory Surgical Centers, VA Medical Centers, Academic Medical Centers and private surgical specialty clinics.
Additional Educational Opportunities:
Nurse Practitioners seeking further education in surgical practice may pursue a Surgical and Critical Care NP Fellowship. These Fellowships provide advanced surgical training and educational opportunities to NP's through a yearlong, paid fellowship that rotates them through a variety of clinical settings.
Compensation:
Surgical Nurse Practitioner salaries vary according to the location of practice and surgical specialty choice. An average salary base for Surgical Nurse Practitioners is $108,547 a year(1). This salary is higher than the national average of $104,610 a year for practicing Nurse Practitioners(2).
Employment Opportunities:
To view Surgical NP job opportunities go to: PracticeMatch Surgery Jobs for Advanced Practitioners.
References:
(1) Cardiovascular Surgery Nurse Practitioner (NP) Salary. Accessed on 8/29/17.
(2) Bureau of Labor Statistics, U.S. Department of Labor, Occupational Outlook Handbook, 2016-17 Edition, Nurse Anesthetists, Nurse Midwives, and Nurse Practitioners, on the Internet. Accessed on 8/29/17.
(3)A Day in the Life of a Surgical NP. Accessed 8/30/17.
For more information and valuable career resources please:

Create a Profile Browse Our Job Board Attend a Career Fair